Quote:
Both my boys pretty much grew up on horses. We owned a feedlot and I barrel raced. They started out riding with me and graduated into having their "own". They didn't ever compete or show they just enjoyed riding and goofing around. At rodeos I would have one on my horse with me warming up and after a run I would hop off at the gate and throw up one of the boys to cool out the horse. In the feedlot, the boys enjoyed taking cattle that had been treated that day back to the pens. They would also sit up on their geldings playing Gameboys as we ran through cattle through the chute. We spent hours playing tag and jousting (with pool noodles). It was just part of our lifestyle.
But it all started to change with the divorce. My ex and his mother did a good job of pulling the boys away from the horses. And then first my younger son's horse died of old age. A year later I lost my older son's gelding and my barrel horse in an accident. That was the end of horses for the boys even though I did purchase new horses a year later.
Now, at 16 and 18, my boys don't ride at all unless I force them and I am not going to do that. My older son will take care of my horses if I am away though. Except every year at Christmas time one or both of the boys will hop on and take a ride with me. I just have to accept that they are fine young men who have their own interests, they don't have to share mine.
But here is Brody with all three of my horses at Christmas this year...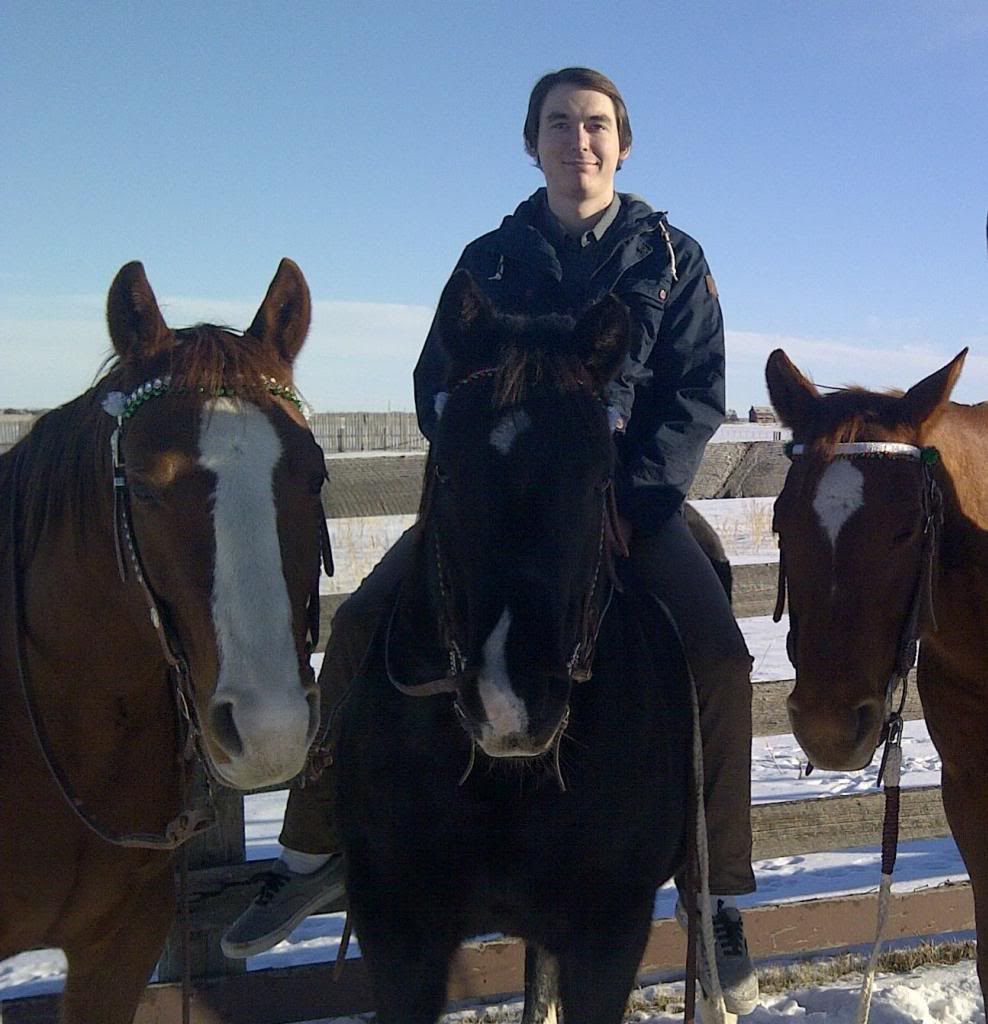 Tell him he looks good on a horse and that girls thing it's insanly hot, he will keep riding lol
BTW I totally love his hair, he styles in the same as my husband. They gotta be the only two people in the whole world.
My daughter is 5... she has been around horses since birth but just really isn't that into them. Don't get me wrong, she likes them - to an extent. But she is also afraid of them at times. She likes me to lead her around every now and then, but shows little interest in riding independently. She will give it a half-hearted go every now and then, typically ending with "Mommy, take him. I can't do it." She has ridden a number of different horses (and ponies) and it is always the same. Finally I conceded defeat and leased the horse I had hoped would be hers. Every now and then she will ride my horse around for 5 or 10 minutes (under close supervision as he is sometimes a pill), and every now and then she will slide on behind me and we will ride him double. I will say though that she has bonded with our 10 month old pony colt...he is basically just a big dog - very gentle and sweet and laid back. There is something about him that she really likes and he is by far her favorite of all the horses. Who knows but that maybe someday when they both are older she will show an interest in riding him:)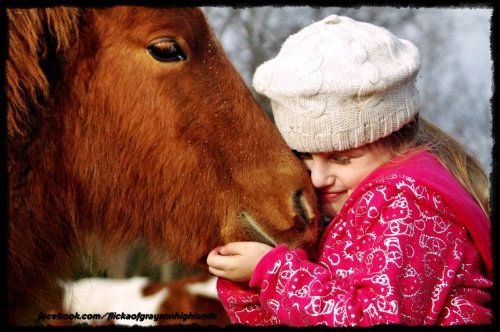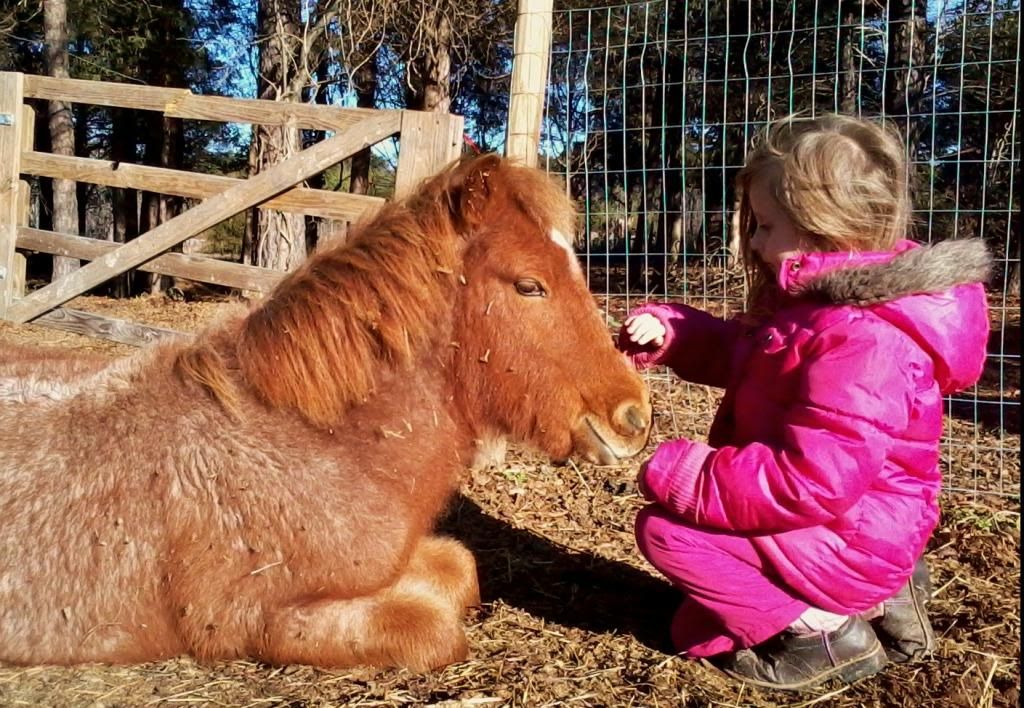 ---
Last edited by prairiewindlady; 01-23-2013 at

01:10 PM

.
Trained
Join Date: Sep 2011
Location: Hour and a Half from Town!
Posts: 6,324
• Horses:
2
Well, if you looked at her room you'd think she was horse crazy!
But as far as being a rider, wellll, I still have my hopes. DD is just too timid and not assertive enough to ride. I've had her on them since before she was two. I too have used her to back a few younguns, with a death grip on her legs! She is great on the lead line, but the horses just walk all over her. Not like me at all. At her age I was galloping around bareback whooping like an indian, on any horse, pony, cow, or dog I could get my hands on...
My dream would be for her to get into 4-H, and possibly be a future Rodeo Queen... Living vicariously much? LOL! I've never told her that!
She says she wants to be an artist like me... DOH!
So I let her ride when she asks, usually it's only on the days I want to get out.
No pressure.
Her first pony.
Her new horse Cowboy.
Good buddies!
---
You can get a lot further with a ladder than you can with crutches!!
What do you mean what do I mean?
While she isnt my child she is my neice, my neighbor, and my riding buddy!
She's been riding for two years now on her mare. The same mare i used in 4-H for three years. She wants to barrel race, and jump. She's already got her next horse lined up xD a current racing QH whom is just starting her racing career, that way when the mare retires she'll have more experience riding and she can give the filly a good home haha!
Kind of, but kind of not really. A new foster kid stole a radio out of the barn when I first moved there, sigh, I got a call from my new BO and I did a room search, and made the kid return it and apologize.

BO and I made a rule that the kids are not to be in the barn, or any buildings. Which means they could be with my horse as he is in the bank barn and so on 24/7 turnout. But I made the rule that the kids are in the car or the outdoor if it's not in use. This means the kids don't bond or get it on any level.

In the past with different kids, they rode, and loved it. I'd like that for my kids, but it's a new barn to me, so I need them to just keep a low profile as one idiot messed it up for everyone.
I don't have kids, but if I did and they didn't like horses, I would trade them off for ones that did.
Is my kid into horses? My daughter is the reason we have a horse! The kid lives for it. We keep our horse a mile or so from our house and it is all self care. We are there every morning before school to turn out, feed & water and muck the stall. Three years later and she is still the first one ready every morning. She rides every opportunity she gets, rain or shine. Of course I get to ride too - once a year when she gives me my Mother's Day lesson!
About the time she turned 11 she wanted to go to an upcoming 4-H show and I told her I wasn't up for it. She told me I wouldn't have to do a thing and she would take care of everything if I just take her. The next thing I know she had found a "horse show checklist" on the internet and started getting ready. She cleaned all of her tack, polished her boots, packed her show clothes, packed her hair bag, loaded the trailer, you name it she did it - completely on her own. She decided that she likes knowing what all she brought and where it is so she is the one in charge. Now that's how we do every show and I do almost nothing except gas up the truck and drive. She even loads and unloads the horse!
Oh, and I told my daughter that during the school year school must be her first priority and that she must earn the horse with good grades. Academics do not come easy to her but she works very, very hard for her grades. The first report card she brought home after we talked about her "earning her horse" was the best she ever had. She showed it to me and the first words out of her mouth were "do we still get to keep Lily at the new barn?". Third year now and the lowest grade she has come home with is an A-.
Now, her brother on the other hand....
Trained
Join Date: Sep 2011
Location: Hour and a Half from Town!
Posts: 6,324
• Horses:
2
NHM I wish you had been mine! Great job!
---
You can get a lot further with a ladder than you can with crutches!!
What do you mean what do I mean?
Thanks Flygap. She's a pretty special girl. I realize that her drive and passion at her age is not common so we try and support her the very best we can. I always make sure that to let her know that all of her hard work and dedication does not go unnoticed with us. It's not always easy financially but somehow we make it work. Whenever my husband gives me the ol' "it's going to cost how much?!" I tell him we are investing in her teenage years and we won't regret it down the road. Besides, I'm thinking that retirement is completely overrated!!
My kids all love our horses, but they are my daughters life, and I swear to this day they have saved her life. She's always been awesome but was having a very frustrating time when we got her rescue....who she poured her love into. The we got red, and he rescued her riding. She's now a member of this forum as she's the most awesome 14 year old and I trust her .....
I work so she can horse, and that should tell you how much faith I have in horses being the best thing for kids.
Posted via Mobile Device