It is a super comfy saddle. I had rode in metal Crooked Stirrups for my cranky knee and didn't realize how HARD they were until I got this saddle with the padded endurance stirrups. The leathers were already pretty much turned. I have another set of stirrups that are embossed to match the saddle that are not endurance but they are padded. I haven't used them yet because I LOVE these stirrups. I rode 10 miles last weekend and could have just kept going. My butt loves this saddle.
Thank you for sharing QOS! I'm going to look into a pair of stirrups like that for a christmas gift for my mom. She was a trainer back in the day and hadn't rode in over 10 years until recently when I begged her to come ride with me a couple days a week. She said how much she missed it but also how painful it is. Would you mind if I printed out your picture to show her physical therapist to get her opinion?
---
Life is like a camera. Focus on what's important, Capture the good times, Develop from the negatives and if things don't work out, Take another shot.
Am I the only one who doesn't like endurance stirrups? I tried them once and was not impressed. *shrug*
Anyway, my saddle is a 17.5" Aussie saddle from an unknown maker. I bought it used at one of the local tack shops for $125 and I LOVE it. Super comfy seat (not padded at all). It didn't come with stirrups, so I use the stirrups off my friend's Circle Y saddle (she uses endurance stirrups now, so she didn't need the western stirrups that came with the saddle). I'm hoping to get a pair of Aussie oxbows (like the fourth ones down:
Stirrups
), but I can't afford $70 plus shipping from the Australian Stock Saddle Co, which is the only place I've found them.
Anyway, here's a pic of my saddle: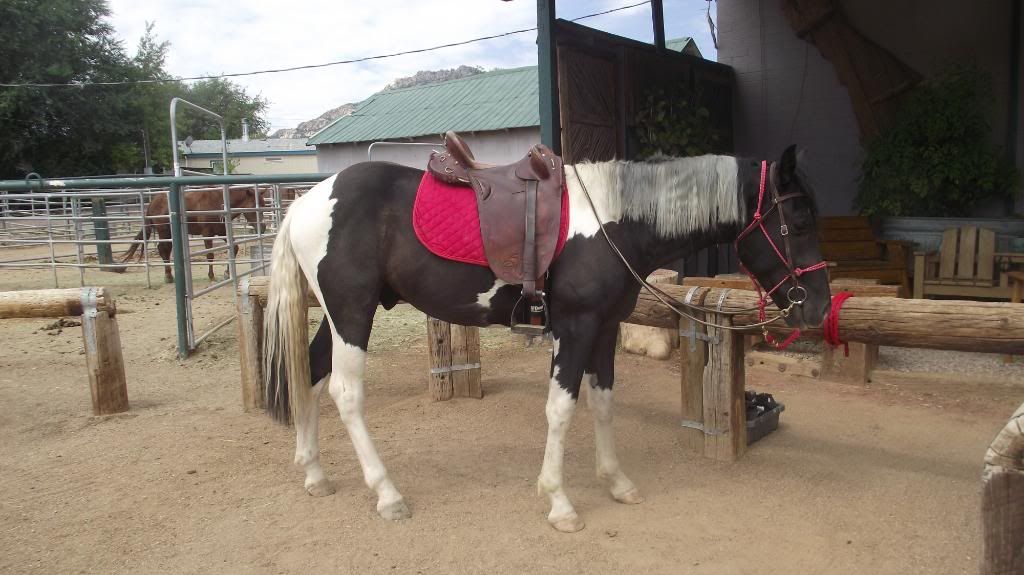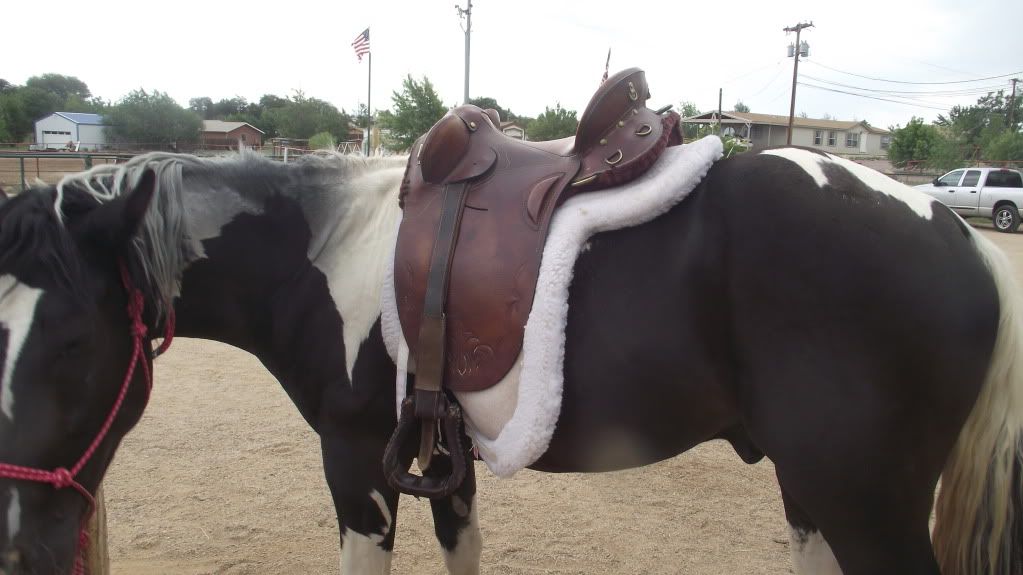 ---
Do not tell me I can't...because I will
show
you that I can.
Hey when you order those drafty, I'll take the croc pair right after them for christmas ;)
---
Life is like a camera. Focus on what's important, Capture the good times, Develop from the negatives and if things don't work out, Take another shot.
MHFQ - feel free to do that. There is all kinds of info on my blog about the saddle. I used to have Aussie saddles and they are awesome and really are easy on the knees but they slipped on every horse I ever put it on...but I am a chunky bunky. I had two but they didn't fit The Biscuit. Crooked Stirrups are great for cranky knees BUT make sure you get them wrapped and padded....so much better!!
I don't have a pic yet, but i just got a silver royal, 15.5" seat. It's really comfortable. I have a big butt, when i got my saddle, i "tried on" sat on all the different saddle, i know i drove the lady crazy, but it was way more comfortable than the 17" one was. It's a show saddle, so has all the silver stuff on it, that wasn't what i was going for, but it was good leather, put together well, and sat much better than the higher priced ones.... I wish i could have gotten a "better" one as in name brand, expensive ones, but i'm just a lowly nurse living paycheck to paycheck... Love that aussie saddle, wish i would have found a bargan like that..... I'll give you your money back, and pay for shipping and handling! Lol i'll take a pic soon and show ya.
MHFQ, yeah, I can't even afford a pair for ME! lol If anyone can find them cheaper somewhere, I'll love you forever!
And nuisance, I was lucky to get my saddle for as cheap as I did. It was listed at $250, but the lady at the tack shop suggested offering half that because it'd been there for several months. So, I tried it on Aires (fits like a dream!), loved it and told the lady to offer $125. I really wasn't expecting the owner of the saddle to accept my offer. I was expecting to have to dicker. But nope, very next day I got a call saying the owner had accepted my offer. I was going to do payments on it, but my friend was afraid I would lose the saddle if I waited, so she went and bought it for me (I had to pay her back). So, yeah, no...not even remotely interested in selling my happy saddle!
---
Do not tell me I can't...because I will
show
you that I can.
I ride in a 18" older thornhill dressage, a 19" aussie synthetic from down under saddle co, and a 17.5" Jefferies "the huntsman" English jumping saddle
---
"Action cures Fear, take a small risk every day". Jane Savoie
I ride in a 16 inch Wintec synthetic saddle. I love it. So lightweight and easy to haul around and comfortable too. My dad sat in it once and said it was horrible. LOL Oh well I like it.
---
Guy 36 yr. old TB gelding, Cash 26 yr. old paint gelding, Kodie 7 yr. old AMHA/QH gelding, Hillary 6 yr. old X mare. R.I. P. Street Chief...1/5/85-6/26/11 TB gelding. Hating this hot and humid weather!!!
Similar Threads
Thread
Thread Starter
Forum
Replies
Last Post
Question for the Ladies. :)

ShannonSevenfold

Horse Talk

0

03-10-2010

10:17 PM

Ladies First

RegalCharm

Jokes and Funnies

9

11-06-2008

03:08 PM