And here is my "pretend western horse" :p
The saddle was brand new out of the box, so it was still stiff. I was so geeked to have it on him, I had to take a picture.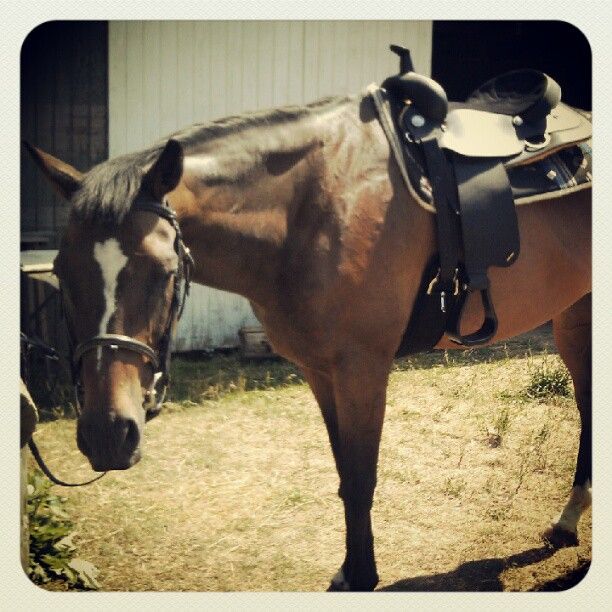 ---
"A rider who would trade partnership for obedience
will have to settle for neither."
Yearling
Join Date: Sep 2012
Location: Central Western NSW, Australia
Posts: 1,120
• Horses:
4
I will tell you the one thing I have learned about dressage - it's hard work!
I'm a little like you in that I pretty much just got on a horse and rode. I never had lessons, and have never, ever had any interest in dressage apart from watching the beauty of the horses.
So when I did a horse course a couple years back, I was thrown into the deep end. The focus was on dressage, so I had to go from riding however I wanted in a stock saddle to riding properly in an AP. I had to learn to leg yield, have mouth contact (a hard thing when you're used to using long reins), and look like a proper rider. I did okay, up until the time came to really get into the dressage side of things. I was pretty much dying after 5 minutes of posting (and I was getting ridiculously bored!). Didn't help that the two horses I rode, one of them was a headstrong Clydesdale x mare and the other a lazy QH gelding. The gelding had the same feelings as me towards dressage - I was doing a mock test and he sidestepped straight out of the arena and flat out refused to get back in!
I wish you luck though, as a fellow large rider
Having a horse that wants to and knows how to do the job should be a blessing.
Yikes! Well hopefully we can start a little slower and build up to that pace! That makes my legs hurt just thinking about it.
---
"A rider who would trade partnership for obedience
will have to settle for neither."
Your saddle is definitely AP, but as the term says "all purpose" includes dressage =) You'll be fine with it. As for the breeches, once you get over the awkward look, they're insanely comfy and the full seat ones keep you from sliding around. As for your lessons, if you have jeans that a bit snugger fit and that you can perhaps wear chaps on top of, you're set.

For everything else, dressage is fun, so don't worry! Especially if your horse can be your schoolmaster, you're doomed to succeed! =)

Enjoy!
Thanks for the advice and the encouragement! I can't wait to get started. I think Riley will be happy to be working again on something he loves to do. I've been looking into some english attire, I'm thinking I'm going to order some boots, half chaps, and breeches. That's all down the road a ways though, I think I'll stick with my skinny jeans and riding shoes for the moment.

When the time comes to place an order, who should I shop through? And what brands are good, but not outrageously expensive? I don't need show quality stuff at first, I just don't want to waste my money on things that are going to fall apart quickly. Let's say... one step up from cheap, maybe two. Something a broke college kid with a part time job can afford! :p

Also, I have big duck feet, has anyone come across a pair of boots that are wider than the average pair? I tried a few styles at a tack shop by me and they were all pretty slim, the sole and the calf.
---
"A rider who would trade partnership for obedience
will have to settle for neither."