Yes it's funny that everyone knows and understands that some horses are very easy keepers and some are very hard keepers. why don't they understand that people are just exactly the same?? HELLO??
I have always said that i come from a family of VERY easy keepers LOL!

but its cool there are getting to be more of "US" then there are of "them"
so i just go about my life and don't let it bother me one bit. Honestly until I heard people talking about it on the forum i never really put much thought into what anyone else thought who saw me riding.....

My butt is probably as big as my horses from behind LOL but oh well that's life. We all have to play the hand we are dealt right. I just try to be healthy, surround myself with supportive and loving friends and family and what mean spirited strangers think... well I can't let that bother me.
---
"Action cures Fear, take a small risk every day". Jane Savoie
So true WildAcre, We are happy that there are hard and easy keepers, and heavy and lightbuilt horses, but all sorts of convinced that people are all the same.
Also come the famine all us easy keepers will survive, while the skinny fast burners will starve!
so TRUE Golden Horse SO True!! I totally think that myself!

i GROW an organic garden and raise my own meat for that very reason :)

Adopting these Thoroughbreds was a real Eye Opener as far as how much one individual can eat and stay skinny VS another horse eating 1/4 that amount and being butterball fat. It proves to me what I have LONG SUSPECTED and I think what Science is just now discovering that Metabolism is largely Hereditary.

I mean I was skinny in high-school but I starved myself on about 500 calories a day in order to stay slim, which is eating ONE very light meal a day NO pop no candy or chips EVER, no rich cream sauces, nothing GOOD LOL ....! I think as we get older and more secure in life we come to question "what is the point of life if you don't ENJOY your life./" Its simply not worth it to ME to starve myself and walk around forever hungry and grumpy in order to fulfill someone else s ideas of beauty. which is not realistic for the majority of women in the first place. I choose not to buy into the media's and the advertising consumer driven idea of what "beauty" is. I truly believe that there are beautiful women of all sizes shapes and ages.
I'm reminded when i watch kids movies with my little Nephew that we teach our children (via movies, cartoons and books) from a young age that beauty is on the INSIDE, it funny but as women I think that WE forget that sometimes ;)
---
"Action cures Fear, take a small risk every day". Jane Savoie
your foal is GORGEOUS btw
---
hey Golden Horse your foal IS gorgeous!! super cute little head and the pic os absolutely adorable!! what kind of horse is your baby??
---
"Action cures Fear, take a small risk every day". Jane Savoie
Quote:
hey Golden Horse your foal IS gorgeous!! super cute little head and the pic os absolutely adorable!! what kind of horse is your baby??
totally special precious one of a kind, yeah you could say I'm a little in love with her
Her momma is my beautiful arab mare, Ace, here she is, very big because she was still cooking my little Angel
And the sire is my very handsome Haflinger Stallion, Alto.
I'm overjoyed at the pairing, they managed to give me everything that was on my wish list, little bay filly, lots of chrome, beautiful head, plenty of substance. Now to see how she matures, she does have some faults, some she may grow out of, some she may just have to grow into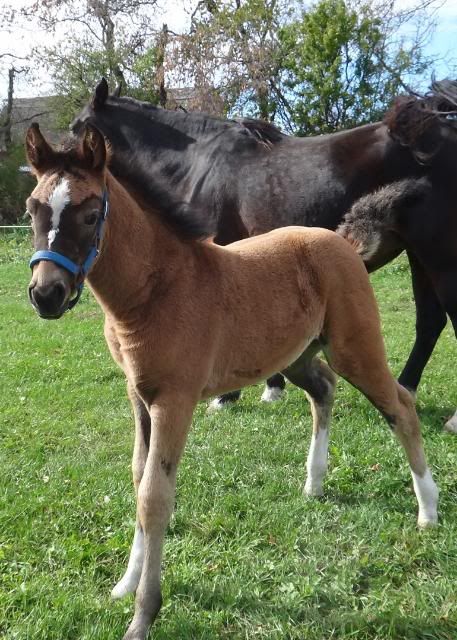 I'm usually around 90kg and had a 16.1hh tb mare for almost 2 years.
Of course they are all different but I felt she carried me with no issues, even though I'm not the most balanced rider out there!
Goodness! I lived in England from 89-92, and I could have SWORN that England had both men & 'plus-sized' women!
I'm a bit overweight, but a 5'8", 175 lb male. If I'm on short rations and working hard (like I was in Afghanistan in 2007), I get down to 165. Butt naked, which is a mental picture no one needs...
Put clothes & boots on my 175 lbs, and add a western saddle (30 lbs - tho an Aussie saddle in the pic below), and I'm at 210-215 mounted. My gelding is 14.3 & 835 lbs. We do fine. Trooper agrees. At least, we trot and now canter with his neck lowered, ears forward, and when I slow him down he kind of prances like he's saying, "Let's get going again!"
I've now had 10 days since I started cantering with him, and he'll transition from a walk if I ask him to...no hard breathing, and no sign of tenderness whatsoever in his back.
Now, unless no male in England rides horses, I'm sure there are guys who weigh more than 120 lbs in the buff who ride. Where in the world do they get some 10 stone limit? No offense to anyone, but I don't remember England as an island filled with pencil-thin women and tiny men!
835 lbs, 3/4 Arabian Trooper hauling my somewhat prosperous body around on our first day cantering (he hadn't cantered in a year, so he was rusty too!):
BTW - a thread where I posted some research links on weight and horses - links found in post 16 on up:
Articles on riders weight effecting a horses soundness?
Started
Join Date: Sep 2011
Location: In Sunny, HOT and HUMID S.C.
Posts: 1,516
• Horses:
2
I've come across so many threads that touch on, in some way, the weight a horse should carry. So I'm going to put out some information that may be useful (or not) to anyone who really wants to know.
You may often here people talk about a horse carrying 20%, 25%, 30% of it's weight. There are different reasons for these % being used.
20% is probably from the old US Cav (when they rode horses). They went by a 20% rule, although it was probably more like 18%-23%.
People have competed in endurance races with their horses carrying 30% of it's body weight and so they will argue that 30% is correct. (25% is just in-between so I won't address if
)
Actually, both can be argued as correct depending on what you are requiring from you horse.
Can a horse carry 30% of it's body weight? Yes, but it's not obtimal. There are physical and chemical effects.
Several years ago a study was done, but I don't keep copies of everything I read
. However, in this case I was able to locate the study and result thanks to the to wonders of the internet.
Ohio State University Agricultural Technical Institute did a study.
To read about it check out:
http://www.ker.com/library/EquineRev...pdate/SU41.pdf
It was an interesting study and certainly worth reading for those who really want to know the effects of what happens with their horse when they ride.
Now, don't read this and think that a persons weight should keep them from ever being able to ride. While it's true that heavy people shouldn't ride lighter horses, I can assure you that there are horses out there that could carry virtually anyone who has the ability to pull themself into the saddle on it's back. Most of the draft horse of today originated as war horses for armor clad knights. A 2,000 lb Shire can have a 350 lb rider on a 35 lb saddle (girth, etc...) and still have 15 lbs to spare before even reaching the 20%.
And before you think that sounds stupid looking (for those who have never seen it). The sight (and sound) of seeing or riding a large Percheron (I never saw a Shire do it, so I'm sticking with first hand knowledge) galloping across a field is like nothing else with the power that it conveys and that you feel when you're the rider. No light riding horse can match that, althought the light horse will be faster and more agile. Both are fun to ride.