Welcome to the forum!
---
Life is like a camera. Focus on what's important, Capture the good times, Develop from the negatives and if things don't work out, Take another shot.
welcome I am new also so far everybody has been great I think you will get back to riding when you find the ride horse
---
ride a draft and see the world differently
It is amazing how little one's weight can come to mean when in the saddle. But, having a horse that is not troubled by one's weight is important. I ride a 16 hh appy, who I am sure is not troubled by my 200lbs. But even more fun is riding my friend's 17hh 1400 draft cross, for whom I am like a fly on his back!

Welcome to the forum !
I know how you feel, I just got my new horses and I have gained a lot from when I rode before, I worry about my horse lol. I did want horses 15+ hands for my size, and now I have a horse thats so fat he makes me look like a super model lol. I am hoping working him in the round pen and so on will also help me
lol
Thought I would let everyone know - I tried the big Haffie today and he carried my big butt around like it was nothing, and we had a lot of fun so I put a deposit on him and pending the vet check, he's mine! =)
good for you
would love to see some pictures too
---
Country Woman


Oh! Hubby got one or 2 pictures before my daughter dragged him off to see the ponies. Here's one - not a good shot of me, but he looks cute =)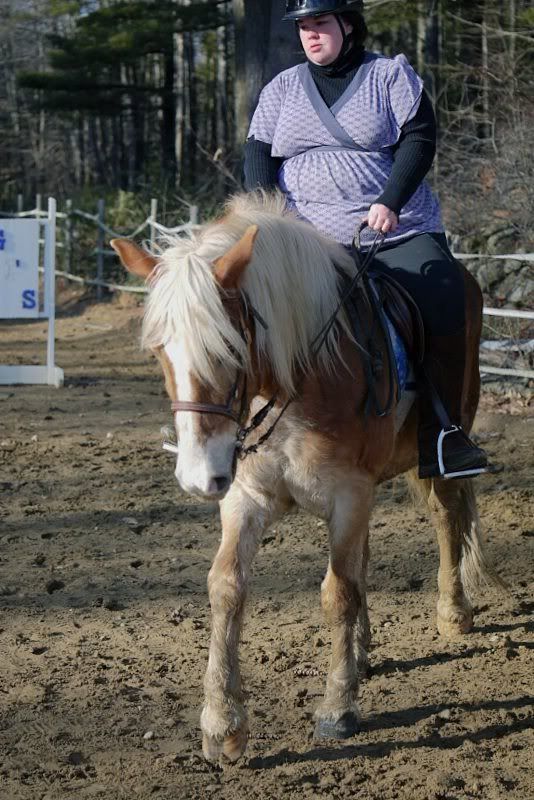 I look like I might be ready to cry. I actually did cry because I was so happy =P
Welcome to the forum, silver!
P.S. So is your daughter also looking into riding (based on your post)?
---
"Life isn't about waiting for the storm to pass: it's about learning to dance in the rain..."

"When we are no longer able to change a situation - we are challenged to change ourselves."

"How people treat you is their karma; how you react is yours."

Well, she's done lots of pony rides, and seems to have the bug, but she's only 3.5 years old so I have just been letting her do as much as she wants. She's asking for a pony now, so we're going to try to get an older small pony for her this summer - hopefully she really will love it as much as I do! I'd love to go riding with her =)
nice picture
---
Country Woman