Inspirational Breeches
---
Just got these babies in the post today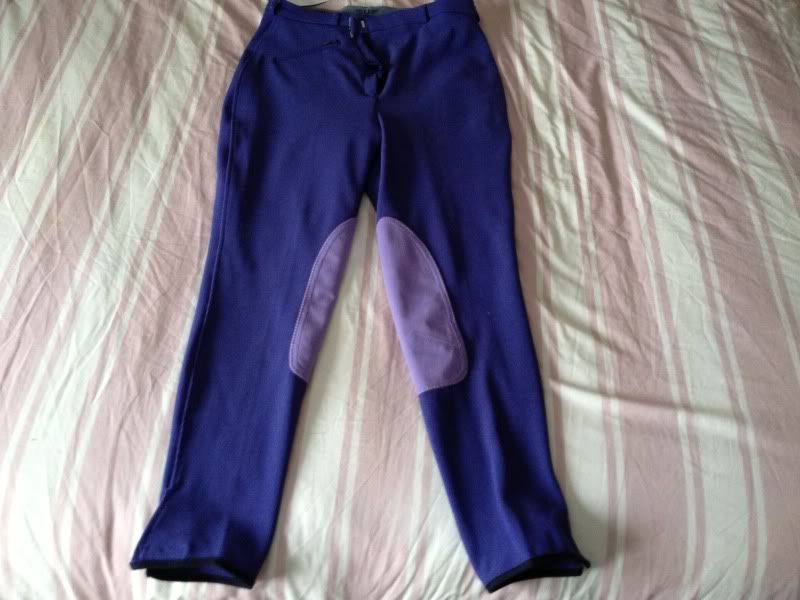 Tuffriders, 36" waist, purple, yes PURPLE.....
I managed to get them on today, they even pull up, I could probably do them up, but I was scared I may need surgical intervention to get them off again!
They are my first pair of inspirational breeches, I want to get in them and be able to actually ride in them!
I love the color!

I actually received a ratcatcher show shirt today in the mail with the exact expectations! I bought them a size smaller, and I can't wait till I fit in it, and go to a show. (It helps that it was on sale)
Yeah, mine was on sale as well!
Showing
Join Date: Jun 2011
Location: Cariboo, British Columbia
Posts: 11,770
• Horses:
3
Those look pretty darn good. I could see myself wanting to get a couple pair or more in different colours to match my riding mood for the day.
I got a pair of jeans that are 2 sizes to small! My friend bought them for me to help motivate me :) They have butt bling and cheetah print on the pockets. Quite badassed!
Started
Join Date: Jan 2012
Location: An English Girl living in beautiful Alberta, Canada
Posts: 1,606
• Horses: 0
Go Girl
You WILL ride purple
---
Get up, get going, seize the day. Enjoy the sunshine, the rain, cloudy days, snowstorms, and thunder. Getting on your horse is always worth the effort.
What a great idea! I might just have to get myself some inspirational blingy jeans :)
I tried them again today, can hook them closed now, but was scared to try the zip. Next month April they will maybe zip up :)
Posted via Mobile Device