Fiona is my kind of horse! that gaming video was wonderful. she and Z would make a great Pas de Duex
Thanks for changing the title. I didn't mean to be rude or make anyone feel bad, but I enjoy this threat because it's good support and it's nice seeing people having fun.
I am glad it was because you love showing photos of you and your horse and because you feel plus sized though. :)

Plus I can't bloody see photos on this computer grrr!
---
I am her eyes, she is my wings. I am her voice, she is my spirit. I am her human, she is my horse.


Here is one of me on my mustang. I'm +200 and he is 14.2 and 5 years old. This was our first camping trip (really just started saddle training this spring). He seemed to handle it very well.
---
All I pay my psychiatrist is cost of feed and hay, and he'll listen to me any day!


I am so thankful to find this forum! You gals and guys are so inspiring! I've always been a plus size rider, but after my kids were born I battled some health issues that caused me to get to where I am now, close to 300lbs. I haven't been on a horse in several years and it makes me so sad. My daughter rides and I am a doting and supportive horse show mom but I have the itch to get back in the saddle. I'm working hard to get my health (and secondly my weight) in order so hopefully soon!
Here's me, 80lbs ago, but still plus sized. Not a good quality photo but only one I have at work. Would kill to get back here!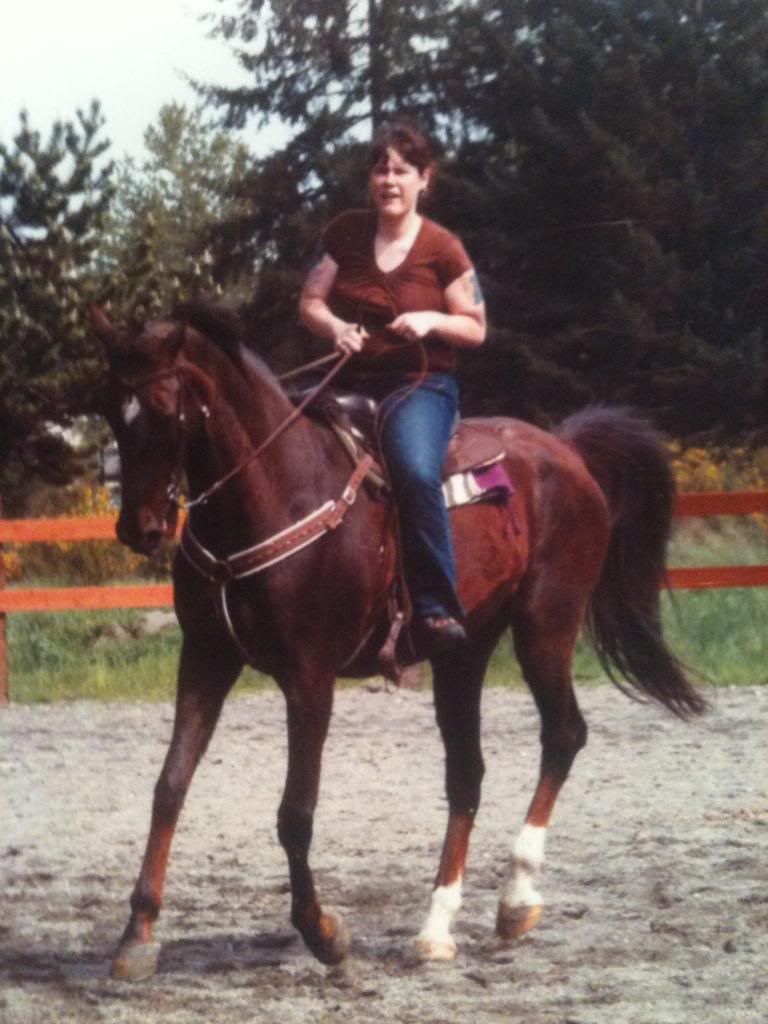 I'm also glad the title was changed... was getting the same feeling! "Wow, these people think they're plus sized? Then I'm FOR SURE not going to post because if THEY are plus sized... what the heck am I??? Extra plus sized?"

;)
Craftyerin--That horse is beautiful <3 Arab?
---
The sensitivity of the internet baffles me.
That's Marshall. American Saddlebred. 17.1Hh and all skinny legs and neck and long back. He was a rescue, failed saddle seat horse but the love of my life. He crossed the bridge at 29 years old. My 2 year old son's middle name is Marshall after him.
You're horse is to small I'd suggest a stockier taller horse for you
Posted via Mobile Device
You're horse is to small I'd suggest a stockier taller horse for you.
Posted via Mobile Device
Quote:
You're horse is to small I'd suggest a stockier taller horse for you.
Posted via Mobile Device
That horse was 17.1hh and has since passed. He also doesn't appear to be having any difficulty at all carrying the rider.
This isn't a thread for criticizing, unless someone asks if they look to big for their horse. Then put it at nicely as possible. Plus size riders have a hard enough time with their confidence, we don't need people telling us irrelevant opinions. Be supportive or butt out.
Sorry if that comes off as rude, but as a plus-size rider myself, my tolerance for unsolicited criticism like that is very low.
Posted via Mobile Device