How long does it take for you to get to your horse?
Why is your horse so far away?
---
Country Woman


I just bring over the 3 step mounting block and hop on. only takes a minute. he's so far away because I used to live out in his area and board him at a friend's house and can't afford to move him. (only paying $175/month and average in the area I live in is $1000/month) I love riding at the farm he's living at though. 100 acres with trails and the owners have been friends for 18 years (I was 12 when I met them!)
oh that explains it
good for you
---
Country Woman


Quote:
I don't even get on my 14hh pony without using something. I am limber enough to get my foot in the stirrup, but it just seems ******ed to put all that pressure on the horses' withers when you don't have to....no matter how light you are. Why struggle? You are actually doing your horse a favor!
I would agree with you normally. However, I don't struggle to get in the saddle from the ground. I probably should have clarified. I spent several months doing work to rebuild my upper body strength. In that time I would always mount the mare from a wooden box we have that is about a foot tall. When I first decided to attempt mounting from the ground it was (admittedly) a struggle for a couple of seconds. After I was able to pull up, I think it just gave me a lot of confidence. Note: My saddle is bad about rolling. Even my riding partner who is a very lean man cannot mount it from the ground without counter balance. Therefore, when I get in the saddle, he puts weight in the opposite stirrup. After that first time, I can mount my mare as quickly and efficiently as anyone else. I don't struggle and haven't since that day.
what are good upper body excercises that I can do
---
Country Woman


Quote:
what are good upper body excercises that I can do
I started by just getting back into a lot more physical activities (I now owned a stable, I had no choice haha). Our land has very dusty ground, and the stalls take a lot of work every day to keep clean. So basically, I was mucking out 6 stalls a day and also I began doing some arm exercises that my friend taught me as well as lifting some weights in my spare time.
In a month alone I could notice a lot of difference. I used to come home soooo sore, and now I have SO much more stamina and endurance and I only come home sore when I try something new. =)
Hope that helps a little.
I'm also dieting and want to start jogging on my land and hope to work up to running.
I like seeing bigger people ride--they stick in the saddle better and look alot smoother than the skinny little things.
I always get cramps when I mount. A long time ago I learned to just get on then stand in the sturps until then went away.
Quote:
ummm, kinda wondering what being brave has to do with anything. but here goes.
Gorgeous horse Joe, love the coloring.
Quote:
Riding on our acreage.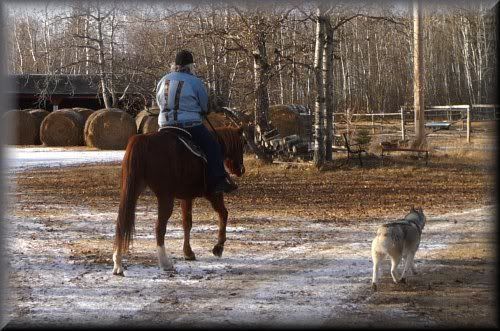 You look fantastic, Redgate. I know how you feel I'm not brave enough to post lol