Sorry to hear about your injury - I hope you feel better and feel confident to get back in the saddle soon.
I have a few pictures I like from riding, but I thought I'd add these as they are from last night - this is my new horse who I am being paid to ride for his owner three times a week. He is a OTTB like my last riding horse.
So.. say hello to Dimka, the 16.3hh OTTB gelding.
---
Superfine Aspen
2011 Warmblood Filly
Quote:
Hi Everyone --
I'm really hurting today from my injury I had last week riding. I'm feeling a bit discouraged and down.. and frankly, a little unsure if my horse is the right pick for me.
So I figured to lift my spirits a little.. I would love to see all those great pictures of you riding your horse. Feel free to post them.. give us a story.. anything :)
I don't have any pictures of me riding yet.. but I do have a video of me lunging him.. Feel free to take a look:
https://www.youtube.com/watch?v=PYXKGEsbuKc
I hope you get well soon so you can ride
---
Country Woman


Quote:
Pics, OK, here we go
Old one of me and Mr G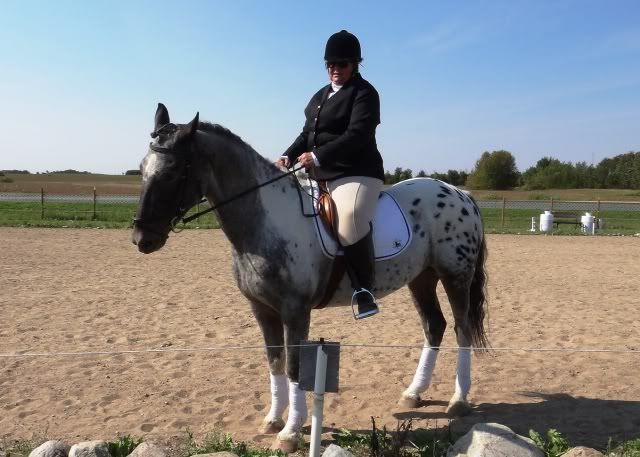 Fancy, the original Golden Horse.funny I felt fat then and that was 40 pounds lighter than I am now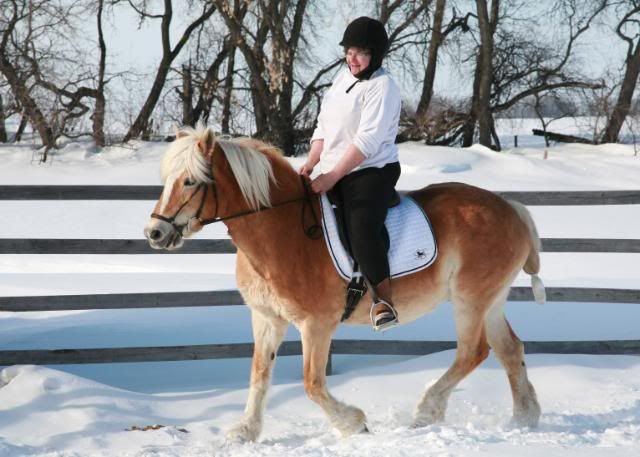 Big Ben
Little Emmy...need to lose a bunch to be happy on her
and my newest guy Gibbs, who is charged with getting me back in the saddle
Test riding him, trying to get a lope. This is a nervous person (me) riding a horse that I haven't seen ridden, and who I met about an hour before, loaded him up from his farm, trailered him to my trainers to try out. As I say nervous me, especially about loping, had only loped once in the last year
asking a horse who is not used to being ridden in the arena, turned out quite well I thought
First ride on the new guy - YouTube
I really like that grey! He seems to be happy to take you for a ride!
Thank you! I'm getting better each day.
Sorry to hear about your injury, I hope you're better soon!

Here are a few of me and my STB mare, Nell (I ripped my pants for that first picture, just btw, taking a photo without a camera man is not an easy task!)
---
Thank you for feeding us years of lies. Thank you for the wars you left us to fight. Thank you for the world you ruined overnight. But we'll be fine, yeah we'll be fine.
Here's a couple of me riding my boy Gaylen, some in Western and some in English.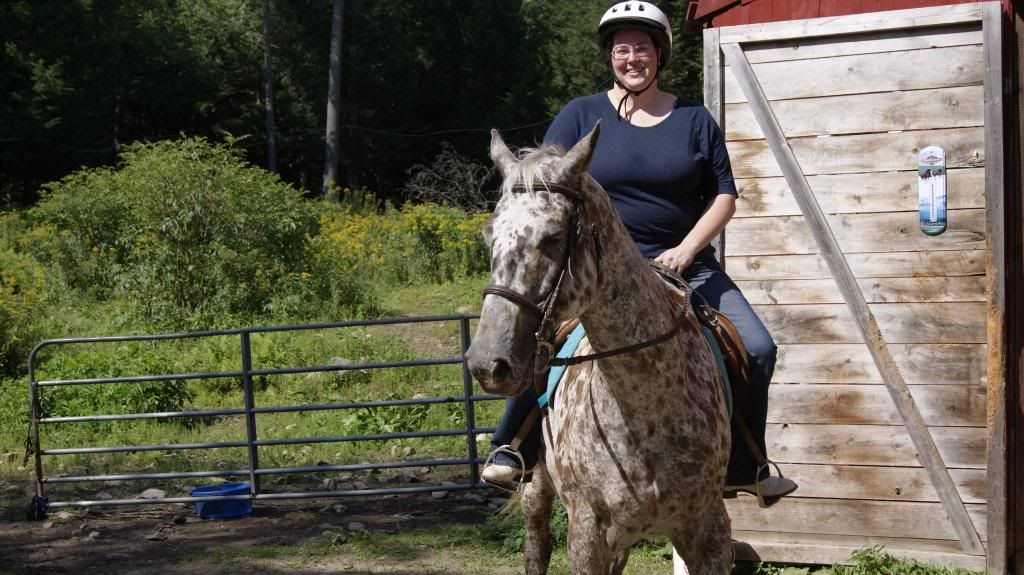 Showing
Join Date: Jun 2011
Location: Cariboo, British Columbia
Posts: 11,768
• Horses:
3
---
I am not here to promote anythingNo, that's not true, I am here to promote everything equestrian and everyone enjoying horses!
Everyone looks great!
I especially love Mr.G!
I am currently riding Abby. I love riding her.
Golden, your horses are stunners!! Wow.
Here's one of my on my former lease, Smokey, a 15.1 drum horse:
And I don't have any of me on my new boy, but here's my favorite with my cutie patootie Sammy, a fairly stocky 15.2 APHA:
EDIT: Sorry if these are huge...they look small in my browser but there's a link so I'm hoping they're not jumbo for you all
---
"...and may your life be filled with good horses." — Buck Brannaman
---
Last edited by SammysMom; 09-09-2013 at

02:49 AM

.