I am 5 '6'' and 184
I tried a 17'' Wintec but a 16 works too
---
Country Woman


Any pics of riders using 17" western saddles?
Wish I could help! I know very little about western! I'm 290# 6'0 and ride in a 19" Beval Natural english saddle
---
♞ Horse Crazy. ☀ Animal Lover. ☺Jeremy Renner Obsessed. ✇ Photo Taker. ♫ Country Music Listener.
♥ Erotic Romance Reader. ✯ Witch.
Anyone use a hornless western saddle?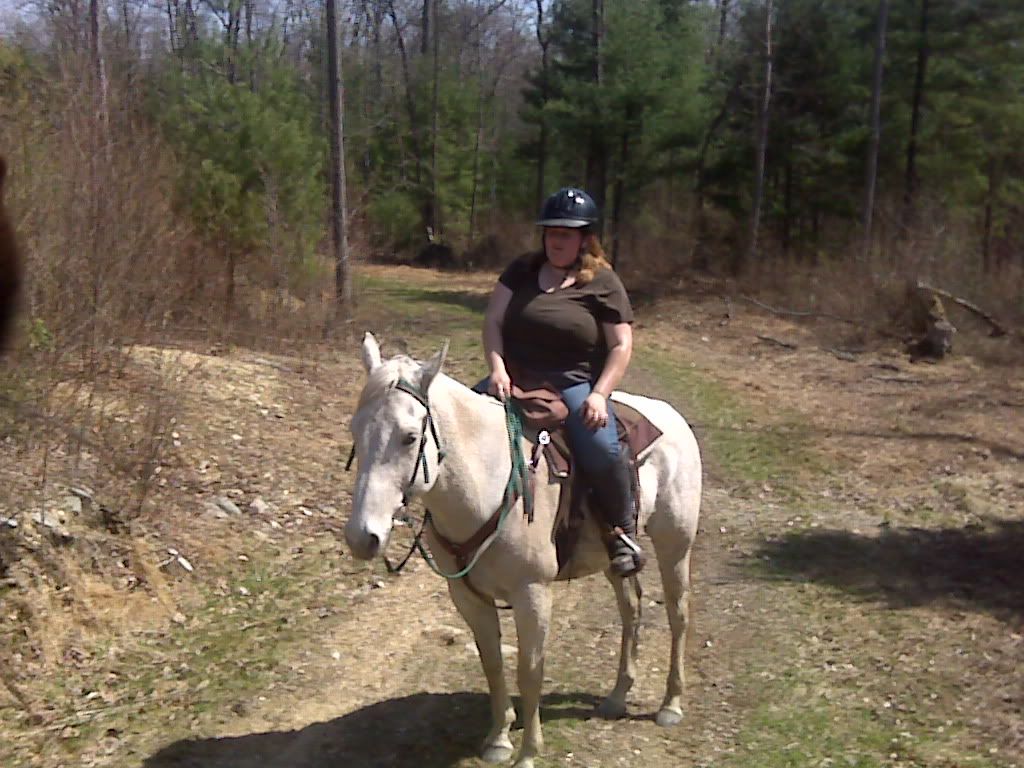 Me in my 17 inch Fabtron over two years ago on Kaiba. You're probably looking for pictures from the side, but I looked through everything and couldn't find any. I've ridden in my western saddle once this year that I remember. Lol. I've got a lot more english pictures than western.
Posted via Mobile Device
Ok here's one more picture. It's still not from the side but you can see the back. I think it's even older than the other picture. Anyways, my saddle has a high cantle because it's a trail saddle. So, I'm kind of settled into a deep-ish seat.
Posted via Mobile Device
I'm 5'3" & 218# & I ride in a Big Horn 16". It all depends on the individual saddle unfortunately. I'm also trying to find a new saddle & it's been hard to get one that my mare & I both like.
I'm trying to get a picture to upload for you. The saddle I'm on in this picture measures as a 16" but its a SMALL 16". It actually fits more like a 15", sits on top and no back to it at all. In this picture I'm still 5'5" and 270 lbs. (260 now..) I just got a Dakota 16" saddle and it feels SO much better and roomier. I think I would like a 17" better but I don't want to go bigger, I want to lose weight. ;) Ignore the HORRIBLE face I'm making. hah
I have an 18 1/2 Tucker model 159 Endurance saddle and love it-very comfortable. I am 5'8" and 265#s and pear shaped. Looking for an English saddle to fit me now.
Gunnerssugarbar, There is no way in the world that the saddle you are in or any 16" fits you. You may be able to get in it but it isn't good for you or your horse. I'm 5'10, weigh 195lb and ride in a 17" high back ranch saddle.

You need to be able to put your fist between your tummy and the saddle horn as well as space between your bum and the cantle for the saddle to fit properly.
---
I'm not arguing with you, I'm just explaining why I'm right.

Nothing sucks more than that moment during an argument when you realize you're wrong.

It's not always what you say but what they hear.