Are there any big girls who jump?
---
Hi everyone,
I was wondering if there are any plus sized girls out there who jump with thier horses (competitively or not)? I've seen bigger riders do just about everything else, but I have yet to see a rider of any size jumping with thier horses (except for1 slightly fluffy professional cross country competitor)
I have a 15.0 morgan/percheron cross and I am interested in learning how to jump (VERY low stuff, mostly for low level hunter paces and fun on the trails) but I'm afraid that I will be told I can't because I'm too big.
I don't want to strain my lovely horse or do wrong by him....BUT he used to jump clear over a 4" spring coil gate to get to the lawn on the other side before I added a foot to the fence and brought the gate up! (little brat!!!!!) so I know he CAN jump, LOL!!! I just figure if he can jump 4 feet without a rider, surely he can hop a foot or under with me on him.....?
If I am able to do this, can anyone reccomend a size-friendly barn in the MA, RI, CT area who would be willing to teach a fluffy girl correct jumping form? (again even if it's only to jump over small logs in the woods)
I'd love to here from the big girl jumpers out there...and feel free to share a picture or two
Giddyup!
Moi!! I'd be considered plus size for my age, size uk16 in clothes to give you a rough idea. I compete in show jumping regularly, upto 90cm & jumping 1m or so regularly! My built in airbags get in the way sometimes but other than that we have no problems at all :)
---
♥ Across the Border ♥
♥ Trasna na Teorann ♥
I also jump! I have never had a problem with my girl or any of the other horses I have jumped in the last few years.
here are a few pics
most recent
last year
i compete in not only showjumping but also in 3 day events
Posted via Mobile Device
Looking good Island, hope you don't mind but I had a go at changing your pic a little..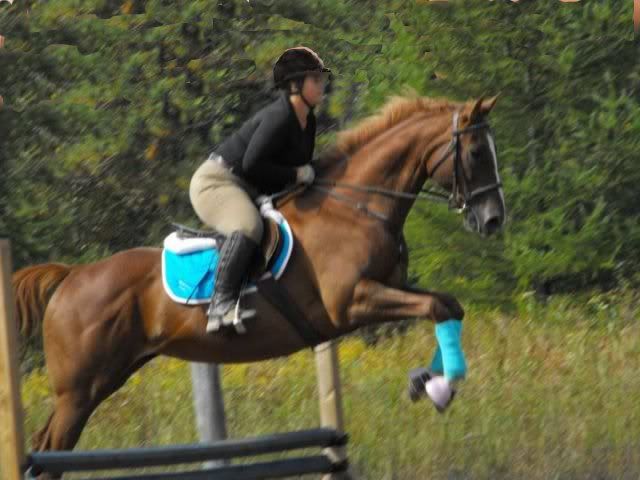 Only by accident, or a big hairy spider is after me!
I love jumping!


I'm not sure if you guys would consider me plus-sized, but the people around here definitely do. Doesn't do much for my (already abysmal) confidence.

And if you were wondering, yes this is the same video I posted on the "Horse Fall" topic. I don't have a more recent video of me jumping, unfortunately.
I jump! I do eventing and my horse is just fine with a plus sized rider! He loves to jump!
---
Life is about doing something you love and never giving up.

I used to jump as a chubby teen. Got a nervous with age (now 25) and so I haven't in about 4 years. Really want to get back into it with my mare, who is a bold, albeit green jumper.
I've regularly seen plus sized riders doing eventing and show jumping over here in New Zealand too :)

---
♥ Seoul Searchin' for the Lovebug ♥
I don't consider myself huge, but I am deffinatly not skinny as a rail. I jump! It has not affected my riding or anything!
---
Every second, every minute, that I am not on my horse is wasted time...