Quote:
Thank you.. to the both of you! I think I just needed someone's positivity. I'm becoming more comfortable with my decision. Sometimes the biggest battle, is myself. I don't like what I see.. but I'm changing it every day.
So you just wanted someone to pat you on the head and tell you what you wanted to hear?
There's nothing wrong with you being a heavier rider, however, you need the right horse. This fine boned, long backed, delicately put together gelding ISN'T the right horse.
I have a 15.2 h TB gelding that I wouldn't hesitate to let you ride, because he's built like a tank, has good strong bone, and is conformationally very nice. All the things this horse in which you're interested doesn't have.
The horse who is best for you is out there, but it's not this one.
---
You want the truth? You can't HANDLE the truth!
Just so everyone is aware.. I'm not taking this post personally. Clearly, I'm writing on the "plus size rider" section. It's not a huge shocker that I am, in fact, plus sized. lol. I just wanted to make sure I'm doing the right thing for the horse. The last thing I want to do is cause pain or discomfort to any horse I ride.

I'm still trying to understand the "light bone" theory. Here is a picture of a quarter horse. Is this the bone structure I should be looking for? This one is slightly smaller at 16.1.. But I think he's built more.

Lastly.. please try to be respectful of other posters. Everyone is entitled to their opinion.. Whether they may be different than yours or not. It's just a forum. Get along :)
When we say "light bones" that usually means their legs are very delicate and very small. I've also heard it called "having chicken legs".

I can't say whether that QH you posted has better bone or not because of the boots, but I like the rest of him quite a bit more than the TB you were riding. His overall conformation is a lot better.
---
Always remember that feeling of looking at a big, open country over the ears of a good horse, seeing a new trail unwind ahead of you, and that ever-spectacular view from the top of the ridge!!! Follow my training blog:
http://robertsontraining.blogspot.com/
I'm sorry, but yes, you are too big for this horse. He's not in the best condition, and though it's hard to tell from the video, it looks to me like he's struggling. Also the saddle is way too small for you, and a longer saddle would probably be too long on his back, and because of that alone, you can't ride this horse, that would just be asking for trouble.

I think it's great that you care and ask for advice, instead of just doing it :)
I thought the horse was really sort of scrawny and out of shape. With groceries he'll look a lot better, there was something I didn't like about his movement but I'm not sure what you want to do with him, is he just for pleasure or show?

I don't have a major issue with your size versus his size at all. You are a heavier rider but your not a pile of flab, you appear to be fit and that's what folks were kind of alluding to regarding weight I think. A mashed potato with no lower leg muscle and no stamina will be a lot harder for a horse to carry then someone that is padded but in shape.

I don't know if he is the horse that I would pick for you but I don't see an issue with your weight vs his size. He is a little bit of a fragile looking beast though.
---
"Be a best friend, tell the truth, and overuse I love you
Go to work, do your best, don't outsmart your common sense
Never let your prayin knees get lazy
And love like crazy"
Here are some links with food for thought:
Heavier Riders' Guide
How Much Weight Can Your Horse Safely Carry?
You mentioned jumping in post #1...to be honest, I think that is a bit unfair to the horse. I'm a fan of heavier riders riding, but I also think heavier riders need to think about low impact for the horse.
I would also consider switching to a western saddle. While it isn't possible to see the tree size, this photo of my Circle Y, Abetta (the smallest western saddle tree I've ever seen) and Bates still gives heavier riders something to think about:
A western saddle tree may distribute the rider's weight over an area that is 1.5 times greater than an English saddle. While the total weight affects the back, the pounds per square inch affect the muscles under the saddle. That turns a 275 lb rider into a 185 lb rider, for purposes of surface pressure on the underlying muscles. Changing to the Abetta wouldn't make much difference, but changing to the Circle Y would.

---
"Make the right thing easy and the wrong thing...well, ignore it mostly."
English saddle tree: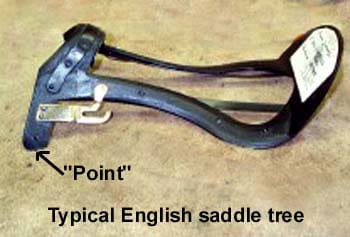 Western saddle tree: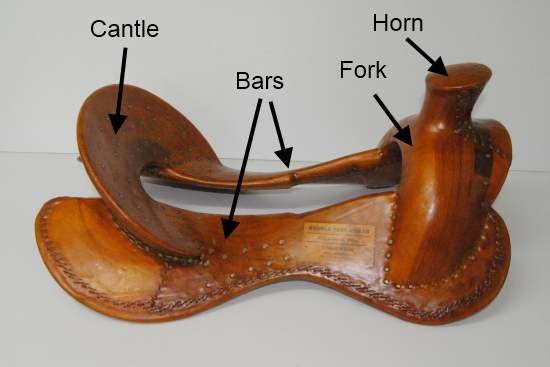 ---
"Make the right thing easy and the wrong thing...well, ignore it mostly."
No offense.. But I'm not switching my riding style. I'm not an off balanced rider. I'm not a western girl. I enjoy dressage, and jumping. If the horse is able to safely carry my weight, then there should be nothing stopping me from enjoying what I like to do.
Actually, there is - the horse. It is physically much easier on a horse to walk or trot than to jump. Collection - dressage level collection - is also physically demanding for the horse. I've carried almost 100 lbs of combat gear on my back before, and there was a huge difference in what I could do vs when I go out in running shorts and sneakers. And if I need to carry a heavy pack, you can bet I want a pack with a wide shoulder harness.

If someone is overweight, then some adjustments in what one asks of the horse and what tack one uses is reasonable. IMHO. Maybe not in yours...
---
"Make the right thing easy and the wrong thing...well, ignore it mostly."