Weight keeping me from getting back into riding :(
---
I've had the horse bug ALL my life and as a kid/teenager I did Dressage. Even back then I was the chubbiest kid at the barn! But now I am 26 and I want to get back into riding so bad It's ALL I can think about. Last summer I was 210lbs (I am a shortie.. 5ft) and I told myself if I lost the weight I would start up lessons again. Well, I've gotten down to 169llbs and I am still too self conscious. I keep inquiring about getting lessons but I don't go through with it :(
My biggest fear is just to have someone tell me I am too fat for their lesson horse! I know most lesson horses are geared towards kids and I am a fat adult.
I decided my goal is to lose another 10lbs and then proceed with lessons.. But I've been stuck at the same weight for 2 months and it's getting me down!

Anyone else deal with this?? I applaud those that have done it anyway. I am just so thinned skinned and self conscious :(
Honestly, I'm 5' 8" and 170# and I ride my 14.3hh arab without any problems. My husband is 240# and he'll be taking lessons. You'd be surprised just how many lesson facilities aren't just ponies for kids and light, dandy horses for 12 year old, 100# girls. You'd be prettily fibe to ride just about any full-size horse - as in not a pony breed. After all of your hard work, you absolutely should be proud of what you've accomplished and go for it!!
Posted via Mobile Device
Don't be so hard on yourself! I would never tell someone your size that they were too heavy for ANY of my horses. If I had a little pony, then maybe..... I'm bigger than you are, 192 at the minute (shudder), and my horses are all just fine with carrying me, though we'd probably all be happier if I weighed less. If some stupid person tells you you're too big for a fully grown lesson horse, just tell them their bony butt is bad for the horses back and find a different trainer.
Kathy
Congratulations on your weight loss - the loss you have already attained is no small thing and, ime, puts you well within the limits that barns that have limits usually set (200 is what I have heard from others- none of the places I have personally had contact with have ever even expressed a limit).
As someone who also struggles with weight, I can tell you that, in general, the self conciousness never stops - regardless of what weight you attain or how much you gain/lose. The number on the scale doesn't really have much to do with it. I finally just had to bite the bullet and just get on with it, getting back in the saddle is what gave me that confidence that a number on a scale never could.
Plateaus in weight loss are a common issue/struggle. I, personally, would not let 10 pounds stand between me and being back in the saddle. I would call around and visit some barns just to get a feel for what the atmosphere is in various places to find one that feels welcoming to you.
I agree don't be too hard on your self! My mom is about 170 and she rides my 14.2hh Appy he is stocky and my good friends have horses and they are BIG people 260lbs and they have a larg 16hh Quarter horse and a young paint they are training. Horses are made to carry weight and many places you can call and see if they have larger horses. :)
Quote:
I've had the horse bug ALL my life and as a kid/teenager I did Dressage. Even back then I was the chubbiest kid at the barn! But now I am 26 and I want to get back into riding so bad It's ALL I can think about. Last summer I was 210lbs (I am a shortie.. 5ft) and I told myself if I lost the weight I would start up lessons again. Well, I've gotten down to 169llbs and I am still too self conscious. I keep inquiring about getting lessons but I don't go through with it :(
My biggest fear is just to have someone tell me I am too fat for their lesson horse! I know most lesson horses are geared towards kids and I am a fat adult.
I decided my goal is to lose another 10lbs and then proceed with lessons.. But I've been stuck at the same weight for 2 months and it's getting me down!

Anyone else deal with this?? I applaud those that have done it anyway. I am just so thinned skinned and self conscious :(
I am 5'6 195 lbs. and it's never stopped me from riding and it's never stopped anyone from letting me ride their horse! Lesson horses aren't geared towards kids....one of my lesson horses was 17 hands and built like a tank
don't let your weight get you down. You have lost a lot of weight and 169 is no where near heavy to ride horses.
---
My horse's feet are as swift as rolling thunder He carries me away from all my fears And when the world threatens to fall asunder His mane is there to wipe away my tears.
Losing the weight is such a great accomplishment and you should be proud of what you have achieved! I have a 15h gelding about 1250 lbs and I am 178lbs. If he can't carry me effortlessly we have bigger issues than my weight. Horses are built to carry weight. Most lesson places will have a variety of horses with different builds and there will be one that will fit you perfectly. I wouldn't wait to start lessons, your missing out on the fun! Believe me there are a lot bigger people riding a lot smaller horses than you will be. I would love to see an update/pictures of your lessons once you are comfortable starting them =)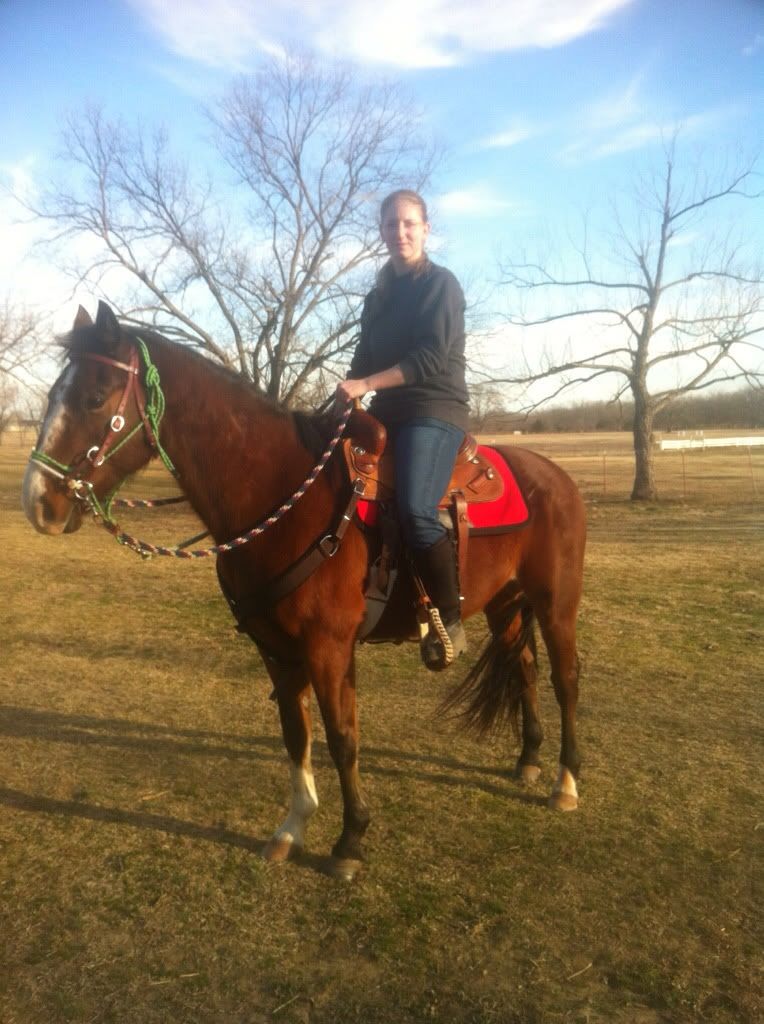 ---
All I pay my psychiatrist is the cost of feed and hay, and he'll listen to me any day. ~Author Unknown
---
Last edited by RedRacer7; 03-08-2012 at

04:56 PM

. Reason: Add Picture
Why not talk to a lesson coach and let that person decide. A good stable will have horses suitable for various sizes. Once you get back around them and inhale that wonderful "eau de cheval" there will be no turning back. Go for it.
Don't wait, you will end up in limbo, I fear. Get lessons now. You'll love it, be more active and the weight will come off naturally.
I agree with tinyliny, go now and get lessons.
I weigh in at 300 give or take three pounds at 5'7". My 15.2 had Saddlebred drags my fat butt all over the place and loves every minute of it.
Remember that riding is one of the best forms of exercise you can get. I used to be able to quote the calories burned per hour, but I don't remember right now. You may find that riding will let you get that next ten pounds off - or not... you may actually gain weight in muscle. This will mean that you weigh the same but your cloths will fit better.