ANOTHER reining question: Horse height
---
I've noticed reining horses tend to be on the shorter side. I'm 6' and I was wondering if I would look totall weird on a 14.3-15hh horse? As long as it's pretty compact and solidly built.
At least Reining horses are taller & have more substance than those little cutting horses
& You see some big guys on those little cutters. I don't think you will look bad at all on a 15hh reining horse
I am 5'10 and this is me on my Dun It mare. She is about 15hh. If you look for HJ86/HDI lines they tend to be a bit bigger horses. Same with the Shining Spark line.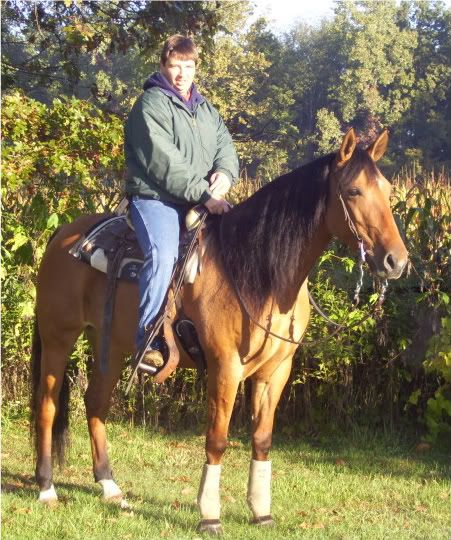 ---
-I'm so busy... I don't know if I found a rope or lost my horse.
-An Armed Man is a Citizen an unarmed man is a subject.
-Where ever free speech is stifled Tyranny will reign.
Green Broke
Join Date: Oct 2009
Location: Outside of Oklahoma City
Posts: 2,653
• Horses:
6
My colt in training is probably just now topping the 14 hand range.

The gelding I am considering is about 16 hands...night and day!
---
Be wary of the horse with a sense of humour. - Pam Brown