This was his first time at the beach, this was his face when he saw the sea for the first time.. it still cracks me up!
This is my reiner!
---
Jk Commander Bar a.k.a Badaboom BadaBling
Quote Gera Hoving: Justamightyfineprettyhorse
He is beautiful! A friend of mine has a pretty little Shining Spark filly he would LOVE! Another buckskin......
---
Signature undergoing edits. Please standby.......
Spooks Gotta Gun is gorgeous and throws foals with that blaze all the time!!! Your baby will be cute!
Quote:
A litte late but here's my mare.
She's by Footworks Finest and currently in foal to Spooks Gotta Gun =)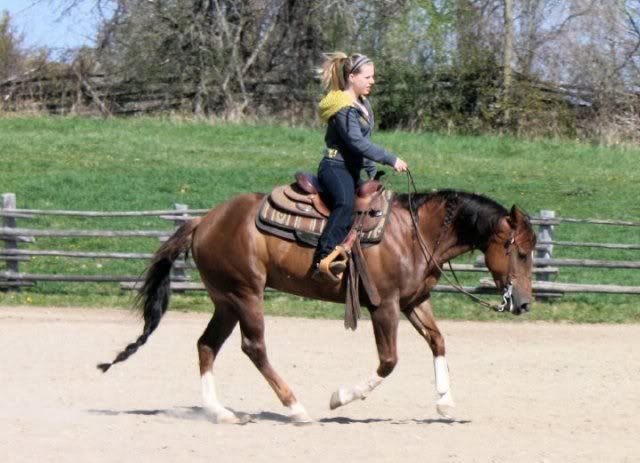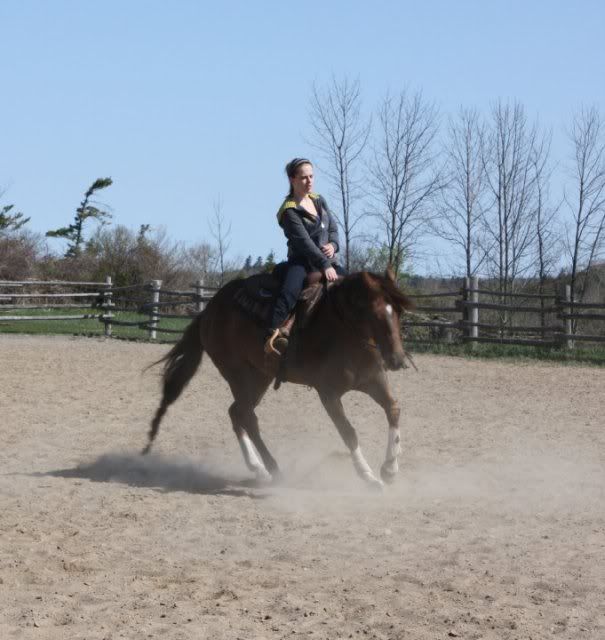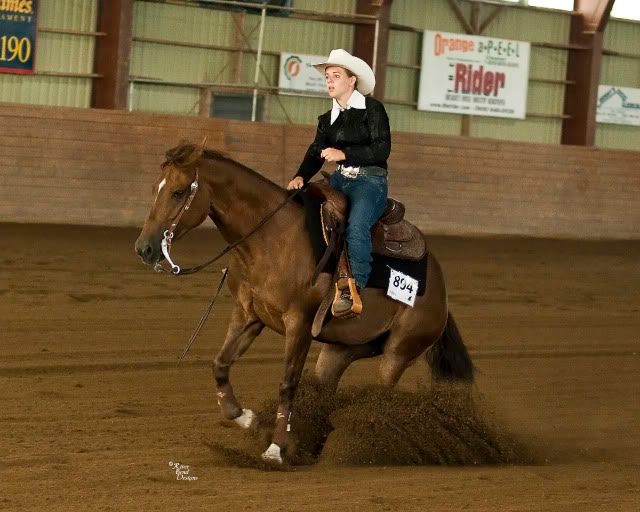 Here's a link to the stud we bred her too
www.spooksgottagun.com
---
"Equine-facilitated therapy employs a form of biofeedback for practicing self-awareness, emotional management, and relationship skills that human role-playing exercises and discussion groups cannot begin to access." Linda Kohanov (The Tao of Equus)
Sorry I have no good pics of us riding. He is a 14 yr old 15.2 hh foundation gelding. He was trained all the way through reining
, and shown very little. He was also ridden english for a couple years. A couple years ago he was sent to a barn by my bf's aunt and uncle to get worked and sold. But when they came to check on him he was completely emaciated
. They got him back up to weight in back in training. Then my bfs sis took care of him. He dropped weight when they ran out of weight builder, he was cribbing constantly (made him slow at eating, and then the other horses would steal his food). Anyway they gave him to me
!!! He also has bad allergies and sweet itch. So i brought him back to weight, and started riding him. I was having a hard time because i didn't know his cues and i felt like i was missing something. So my bfs sis showed me on saturday how to ride him. I learned how to get him to bend correctly, use my seat, lower his head and so on. So now i am set to get started and get him in shape again. I am a good rider, but my reining trainer took off before he could finish teaching me. So i taught myself a lot. Anyway now i need a new trainer, anyone know of a reining trainer in wa? im going to go watch a reining show this month so i can try and find one. anyway this is Peppy Doc Gold aka Pep, peppy, or pepper lol.
I can spin and stop him (correctly). But he is on his forehand in the canter so i have to fix that. We already got big improvement when my bfs sis helped me, she showed me how to help him. He is also stiff so i have to bend him, especially on his left side. Oh and you can see that his mane is roached
, he rubbed part of it out (sweet itch), so i have to grow it back. sorry if im typing too much. im really excited. I know that i need a trainer, reining is very complex, im already getting a taste of that. The pics of us riding is only after four rides, so don't judge us by it. He hadn't been worked on a year before that. I think he will be great for me, i get to learn from him. He will allow me to learn the ropes of reining. Oh and he is a very sweet boy, and loves to challenge people when they ride him. He is smart, and fast. He is a hard keeper and takes a lot of work. with the swat, farrier bill (needs all four pads on, his heels are way low), supplements, now i have to buy MTG, and i could go on. Free horses are never free lol.
---
No hour of life is wasted in the saddle.

Proud owner of Troopers Sweetie Pie and Peppy Doc Gold.
---
Last edited by kaleebreann; 09-06-2010 at

01:03 PM

.
My girls
---
Here are mine the one with the foal is peppy sand badger bred and the other one is out of smart little lena.