@
jgnmoose
, it is a high fat diet, and dairy in fat. The reason they were putting on so much weight is because they were getting the fat on top of the carbs. If you're solely eating fat for energy your body is going to burn it. Dairy that is carb heavy is forbidden, like milk and yogurt. You can have cheese (though you still have to watch) and butter.
Keto pancakes... awesome! And there is a little room for improvement. I accidentally put in a dash of cumin! Whoops! I had to add in some extra stevia and cinnamon to taste. All and all absolutely something I'm going to make again!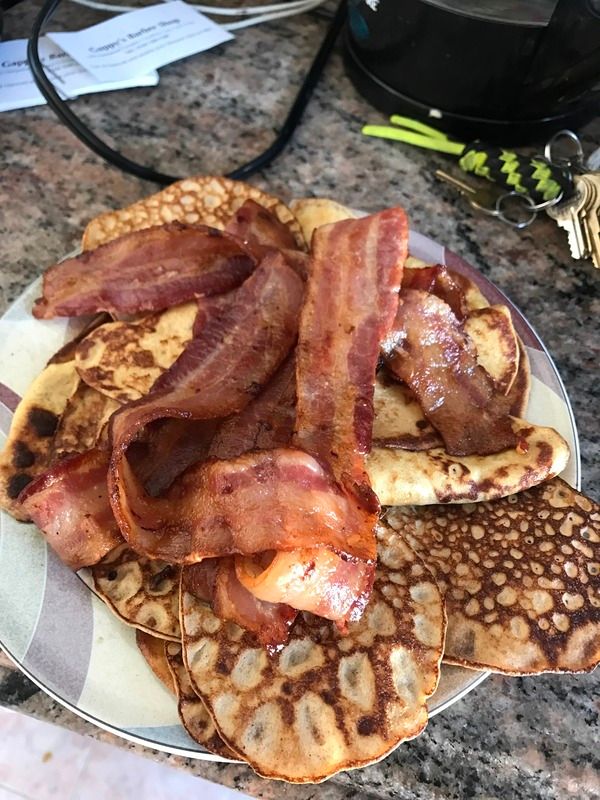 Cauliflower mash... AWFUL! I made it with sour cream, heavy cream, salt, pepper, cheddar, mozzarella cheese, and bacon. First of all, it stunk. The first two seconds of the bite was nasty, then it was ok. I'm willing to try it again, but I don't really like cauliflower to begin with. We shall see.
Was that the cream cheese recipe?

Last night I made a blackened burger stuffed with Brie, topped with mushrooms and more Brie.. it was fab.

Next week I'm making Charizo & green chili Cauliflower (mac) and cheese. So we'll see how that comes out. I need to be careful with all the cheese though. Right now I'm just trying to get into the no bread/no carb swing so I'm not paying too much attention to anything but the no carbs.
---
EQUUS KEEPUS BROKUS
I don't know about Cauliflower mash, but those pancakes look yummy!
Keep up the good work, everyone! <3
---
The sensitivity of the internet baffles me.
I was starving last night after my left over burger. So I scrounged the house for some pepperoni and cheese. That still didn't quite satisfy me, but I don't think it was actual hunger so much as craving for something chocolate. I've been looking up some of the Keto desserts but I haven't found what I want to make yet. But I decided to make some more cream cheese pancakes to see if that would help cut the craving, and I wanted to make extra so I could have one with sugar free syrup tonight if I needed.
I doubled the batch, and they came out much thicker. Though they are more eggy, you can't tell much with the syrup and the butter. I have two big ones left over for either breakfast tomorrow or maybe part of a snack tonight if dinner doesn't cut it.
---
EQUUS KEEPUS BROKUS
Those look much better then mine! Mine were like crepes!
Is your batter watery? I was thinking of adding some extra cream cheese to it too.
And I think the scale is messing with me. It's always slightly less then the the previous time. 230.3 :( come on 220's!!!
When I first made it, it was watery and came out like crepes. I doubled the recipe in this one, twice the cream cheese (Though I can't remember if I used 4 eggs or 3.. I think 4?) They came out much thicker, but also tasted a bit more like eggs. Was still good though. Batter was still runny but a bit thicker than last time
---
EQUUS KEEPUS BROKUS
Drifting -- That looks yummy!

How is everyone's progress coming? I always like to hear about the latest diets <3
---
The sensitivity of the internet baffles me.
I always try to like cauliflower mash...but I just can't. It's not potatoes and my taste buds will not be fooled. I think it's a consistency thing too.

I've been trying to stay under 100 carbs a day which really isn't getting me into Ketosis...but I'm seeing some nice benefits either way. My scale's battery died about a week ago and I haven't replaced it yet, but I DID have to get another belt Monday night. All mine are finally too big!