I don't mean to take a stab or sound rude, but with an attitude like that, rodeo is NOT for you, in any event. Cows or no cows, ropes or no ropes.

It is not cruel. Do a little research first.
---
Pssh.I didn't pick up the wrong lead
It's called a counter canter...
...A very advanced maneuver.
Green Broke
Join Date: Aug 2011
Location: Middle of Nowhere, Saskatchewan
Posts: 2,641
• Horses:
5
Well, I'm not a cow. But...
This topic has been beat to death. Best not to go there. Read up, search previous topics on this in the forum. Dont start another "popcorn thread" please.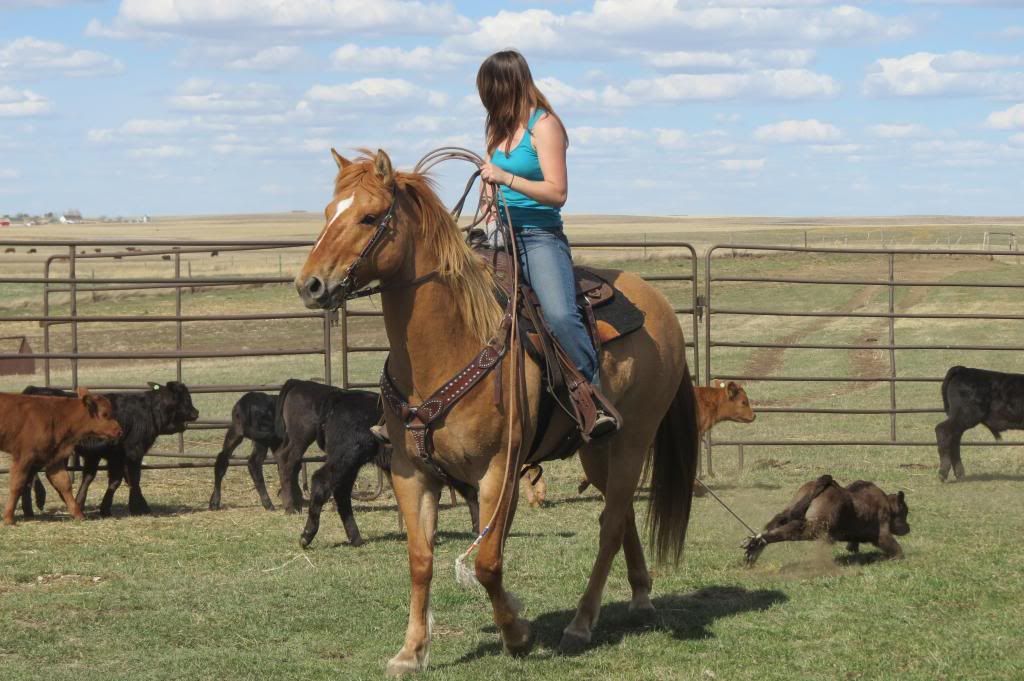 Calf was fine. Do you like steak? Burgers? Meat of any kind?
The steer was 100% fine.
Dont bash something until you've experienced it first hand.
---
Quote:
U could do the flags at the beginning......
Or barrels, or poles, or flags (the run not the ceremony) or dash for cash, there's options at local open shows. Big rodeos, maybe not, but our local rodeo has most contesting/ speed classes one night and stock shows the next.
If that's an option for you.
Posted via Mobile Device
Thanks for going a little farther than just barrel racing, what is flags??
And to answer you question QHriderKE I am a Vegetarian......
Green Broke
Join Date: Aug 2011
Location: Middle of Nowhere, Saskatchewan
Posts: 2,641
• Horses:
5
One second here. You want to rodeo, but know not a thing about it. Have you ever been to a rodeo?

Im thinking rodeo is not a sport for you.
Unless you are interested in rodeo queen pageants. But youd have to lie through your teeth about promoting the sport of rodeo to win. But some rodeo queens and runner ups have to chase roping critters to the catch pen. Eeeeeeeeek!
---
Yeah...Sorry, but I'm agreeing with QH. This isn't for the faint of heart.
---
Pssh.I didn't pick up the wrong lead
It's called a counter canter...
...A very advanced maneuver.
Quote:
Ok thanks for the tips.... But do you guys think if you were a baby cow, would you like to be chased by a scary guy and horse with a rope, only to be nearly stangled to death then flipped on your back and carried away, wondering where your mom is and what you did to deserve this? I don't think so....
What if you were a baby horse, and you were taken away from your mother. And then when you were 3 yrs old, you got a saddle strapped very tightly to your back, and then had a cold piece of metal shoved in your mouth. You were scared, and then a human climbed on your back and made you move by kicking you in the sides. Then you were forced to ride all over the place when all you are wondering is where is your mother and what you did to deserve this?
Oh, and "baby cow" is a calf. Get it right.
So just a vegetarian, huh?
You drink milk? How do you think the milk cows like being forced into a barn twice a day every day and being pumped dry? You eat cheese? Cheese comes from dairy.
You eat eggs? How do you think chickens like living in cages and forced to produce eggs, knowing there was a baby chick inside? Do you eat cake or cookies? Chances are there are eggs in the recipe holding everything together.
You have leather on the soles of your shoes? Some poor baby calf will grow up to be slaughtered and killed just so you can wear shoes. Do you have leather in your car? Same thing applies. What about a LEATHER saddle? Yup, same calf had to suffer.
Do you own a wool coat or a silk shirt? Some animal had to suffer for that. What about a wool saddle pad?
Do you have a down comforter on your bed? Some poor bird had all his feathers plucked from his body for that.
Do you own a violin? Some poor horse has his tail pulled out so you could have strings on the bow.
Etc. Etc. Etc.
I respect people who choose to make life choices such as vegan or vegetarian, but not when you create a rodeo thread (when you know
nothing
about rodeo) and then proceed to bash rodeo, and then cry
ignorance
. Don't walk around pointing fingers because there will always be four fingers pointing back at YOU.
Oh and don't get me started on Western Pleasure. Most of those horses are so abused in training they look like they're lame when they travel. Seriously, how much more cruel can you be to a horse to make them go round and round at an ungodly slow pace??? (Okay, I don't actually believe any of that about WP. But I said it to maybe get you to realize it is not nice to trash another sport just because you don't understand it.)
Either actually learn the facts about rodeo, or don't spout your mouth about it.
I'm not going to recommend a "rodeo" event for you because I think you probably need to stay where you are until you are willing to open your mind and learn.
End rant.
---
∞•*˚ Βгįťţαňγ ˚*•∞
It is not enough to know how to ride; one must know how to fall.
Foal
Join Date: Feb 2010
Location: In a snowbank up in Saskatchewan and Manitoba.
Posts: 150
• Horses:
1
You will end up crying by the end of your first rodeo. You need to find something else.

How do you think a baby calf likes having pneumonia and dying if nobody ropes it and treats the poor thing? Or foot rot? Roping is a necessary and important part of ranching. Without roping, cows all over the place would die very terrible deaths or be crippled and in pain.
And seriously, if I have to come back as an animal I am coming back as Calgary Stampede bucking stock. Those animals eat and are treated way better then I feed myself. If the worst thing in the world that can happen is I get some fleece fastened loosely to my flank and have to work for a grand total of 8 seconds once a week, well I would think I am living a pretty good life.
Yearling
Join Date: Aug 2011
Location: Central Texas, easily mistaken for a big bowl of dust!!
Posts: 1,427
• Horses:
1
If you don't know the rodeo events well enough to pick one you want to do, or to know a "baby cow" is a calf, you shouldn't rodeo. And you aren't educated enough on rodeo to judge by saying it's cruel.

I suggest you stay away from rodeo, you couldn't handle it is how it sounds.

Anyone who didn't ride could just as easily say "RIDING PONIES IS SO MEAN, DEY SHULD BE WILD AND FREE LIKE SPIRIT!" And you're reply would be, no it's not. And you would think they should educate themselves before they judge. Same goes for you. You don't like 95 % of rodeo events, I suggest you find something else. Honestly.
Posted via Mobile Device
Ok, Ok I know a lot about rodeos so calm down... I am just Bias towards the "calves" to be with there moms, not being roped.... I don't drink milk, eat eggs, eat cheese or where any animal products. I just prefer to think from the animals mind, and I do feel bad about yanking on a horses mouth, so I use verbal commands, so don't be so quick to scold.....