3 saddle options - short backed TB
---
Option 1: JC all purpose saddle: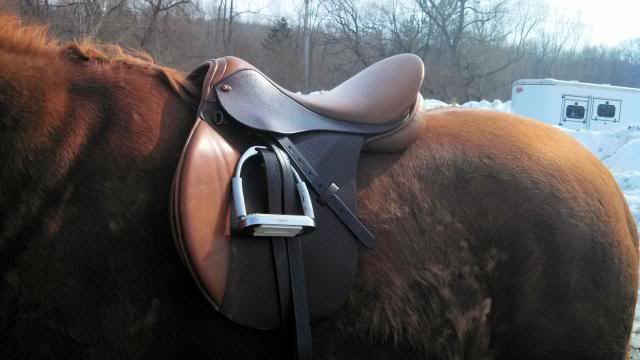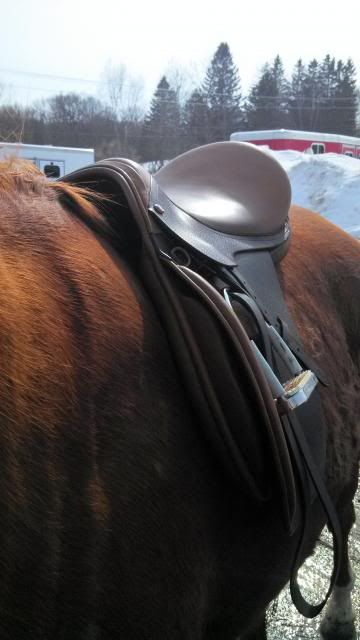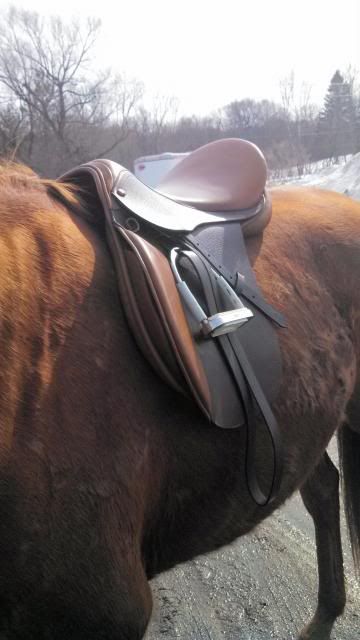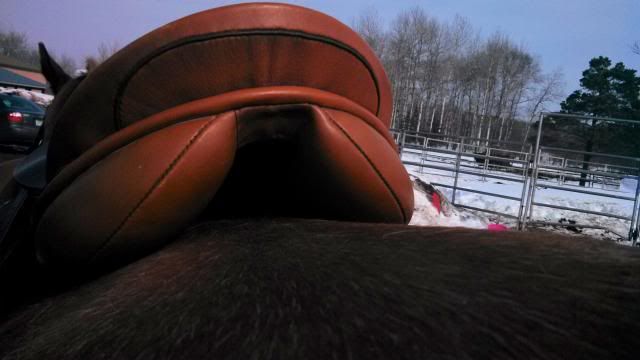 Option 2: Wintec Pro Dressage (medium plate installed)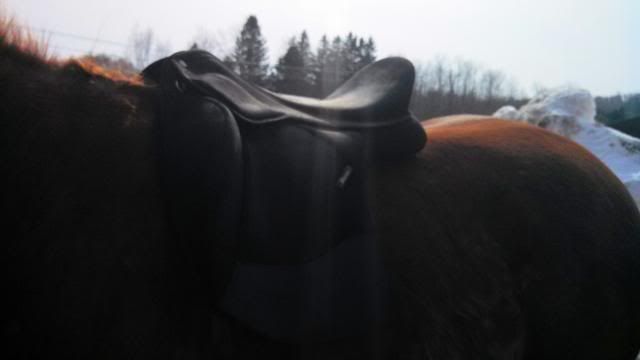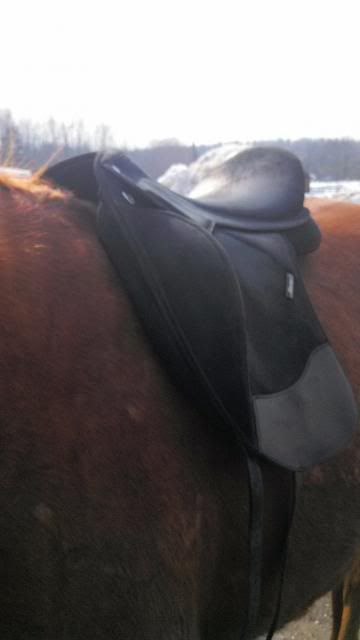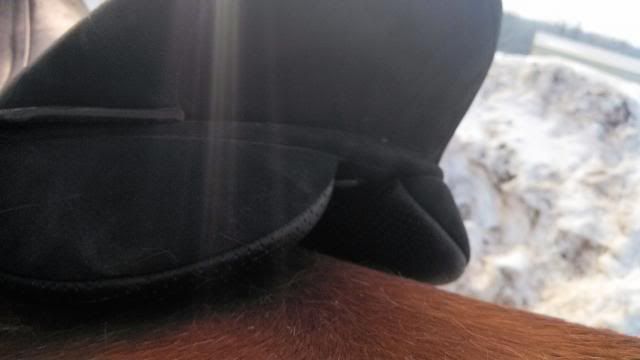 Option 3: Big Horn western (semi bars)
(I think I had it too far back in this picture):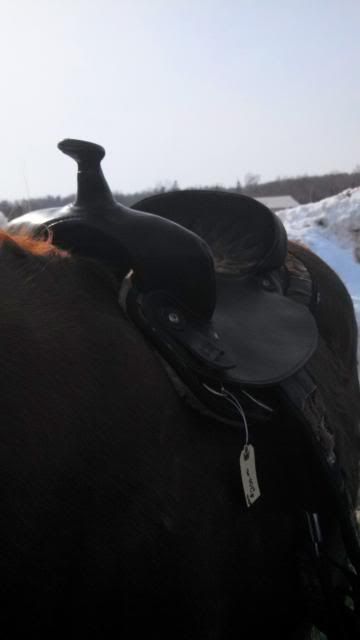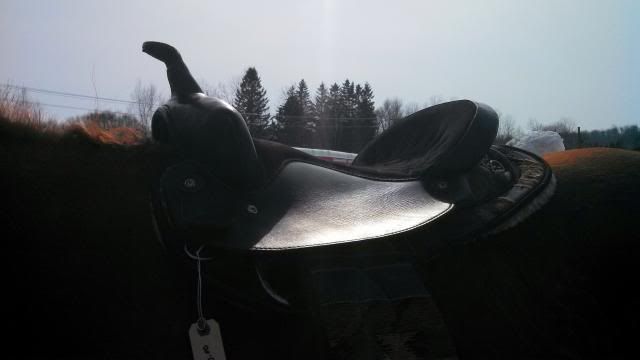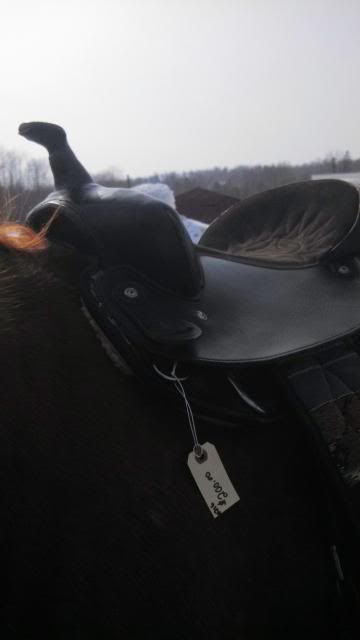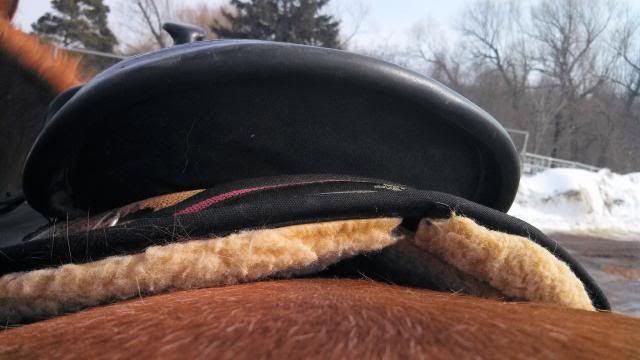 Anyone care to weigh in? Should I get better pics?
IMO, and I'm no expert, I can only comment on the english saddles. The pics on the western saddle are too dark to really tell much but I can't comment on western saddle fit. The JC saddle looks too wide and sits low on the withers. The wintec fits better in the front but doesn't sit well on the back. Looks like it will rock and cause pressure spots. The CAIR panels don't have much give IME plus the wintec has an odd tree shape. A thorowgood may fit better if you're looking for a cheaper synthetic saddle. They also have adjustable gullets and are wool flocked so can be fit more to your horse, unlike the CAIR in the Wintec. Another good alternative is the Tekna synthetic which I've read very good reviews about but never tried. They also have adjustable gullets and are wool flocked. I have a wintec and a thorowgood so can comment better on those. Pics from the side with the entire horse in pic would help to evaluate fit on length of the saddle and to see the balance.
Thanks for the input. I will get better pics when I can have someone help me out. :)

I actually dislike synthetic saddles and will likely buy a nice leather one for him.
is the wintec with the air filled panels?
it looks like it might be the better fit, by a smidge , from the AP. but, what kind of riding do you want to do? you have three totally different types of saddles there.
Right now I'm just riding. I do eventually want to do dressage... but haven't ruled out jumping and will also do trail. So, I may end up with three saddles: an AP for jumping, a dressage for dressage, and a western for trail.

I'm not sure I'm a fan of the Wintec because of the contourblocs. Of course, I haven't ridden in it so I will have to see how it feels. And, yes, it's the CAIR (air filled panels). It was an impulse buy and I've regretted it ever since. It's a lovely saddle... but I'm just not a fan of synthetics and I paid too much for it.

The AP is my favorite saddle of the three, but it will be very easy to sell if I want to sell it.. my trainer wants to buy it. I've been using it on the school horses for lessons.