Dressage Saddle Fit
---
I have this saddle on trial for a couple days. Can you let me know if it is fitting the shoulders correctly and if it's wide enough in the back. Thanks.
---
A woman can NEVER have too many horses.....
looks to be good to me, though cannot see the back as well when you have a pad on , but i understand it is necessary to keep the saddle clean.

what kind of saddle is that? it looks a lot like my Klimke.
It is a Passier Antares. And yes, they don't let you put the saddle on the horse without a pad or you get to pay a 10% charge for dirtying it. The saddle overall is in excellent condition. I have emailed Passier with the serial number to find out how old it is. The lady at the consignment shop told me it should be a newer saddle since the channel is wider than the older models. I am trying to figure what to offer the owner since it seems to fit correctly.
---
A woman can NEVER have too many horses.....
Additional question
---
Can someone give me an idea of the value of a Passier Antares made in 2003, that is in excellent condition. It looks barely used as the billets show little to no wear. The leather is all intact and as with the billets has only minor usage showing. It is from a consignment shop and the lady said it was priced by the owner and to make an offer it it fits the horse and I like it.
---
A woman can NEVER have too many horses.....
I cannot tell fit from those photos as we need to see one from the side to see if it is sitting level.
I agree with Clava. The back looks as if it's lifting slightly - pretty typical of a used saddle that needs a flock adjust to fit better.

Can't really see the tree point angle either. Open-head trees are difficult to judge because of the way the leather is applied, If you look at the first two pics the top of the front arch looks too narrow but the angle looks right lower down. I suspect the angle is consistent, but trees with flared points sometimes look the same as this and they're often too narrow at the top before the points turn outwards.

Second pic suggests it's sitting slightly to the right in front, but that might be the angle of the photo. Given the width is okay that's usually a flock tweak because the horse is uneven - left shoulder looks a bit bigger.
New pics without dressage pad
---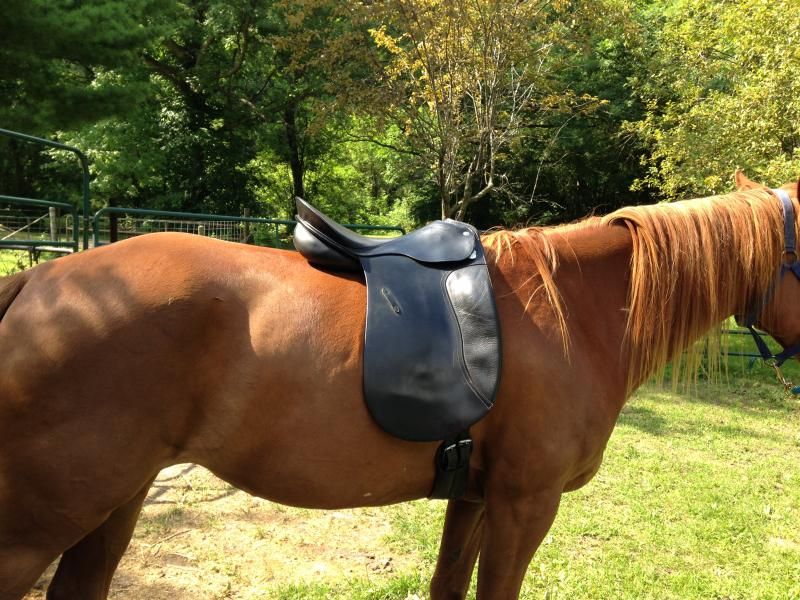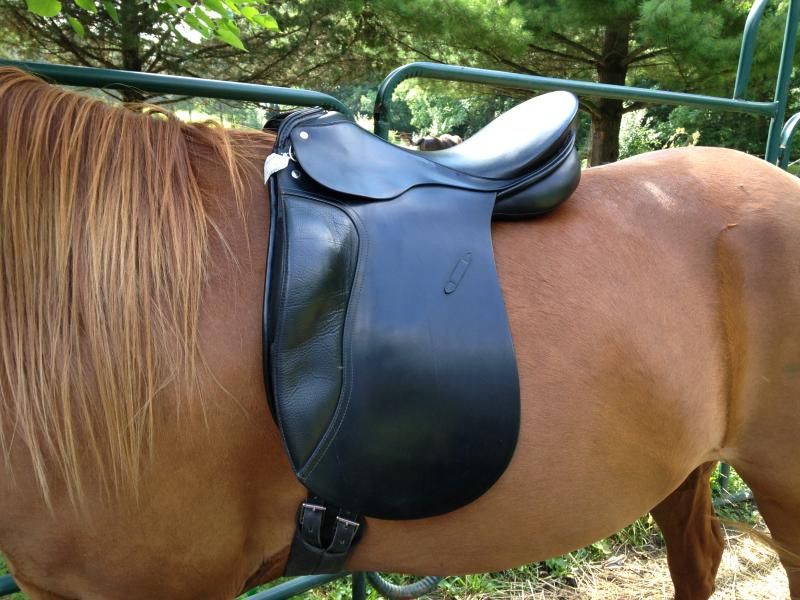 ---
A woman can NEVER have too many horses.....