New (Used) Saddle. Does it fit?
---
So after a really bad day, I was given two hundred bucks, and turned lose in a tack store. The result? I came home with a 16 inch King Endurance saddle of my own. My grandfather has one, though with a 17in seat and I loved it, but it doesn't fit my main riding horse or me. This one fits me amazingly, and I think it fits Harley pretty good. But a second opinion would be great.
I had not idea how to take fitting pics, so I did my best.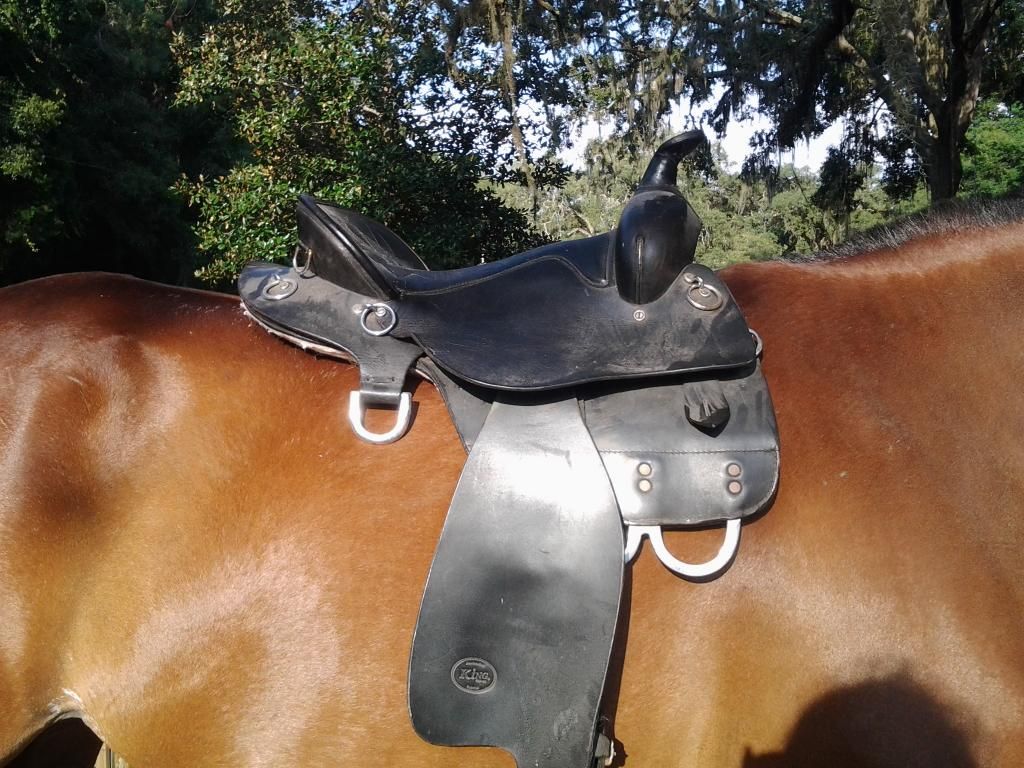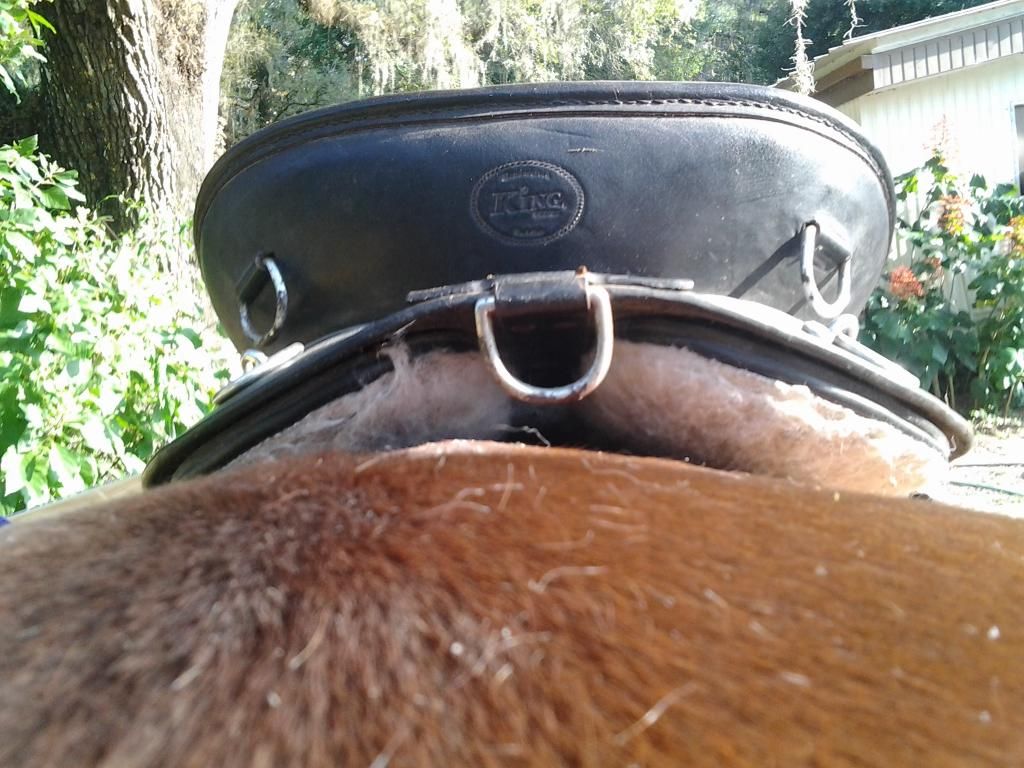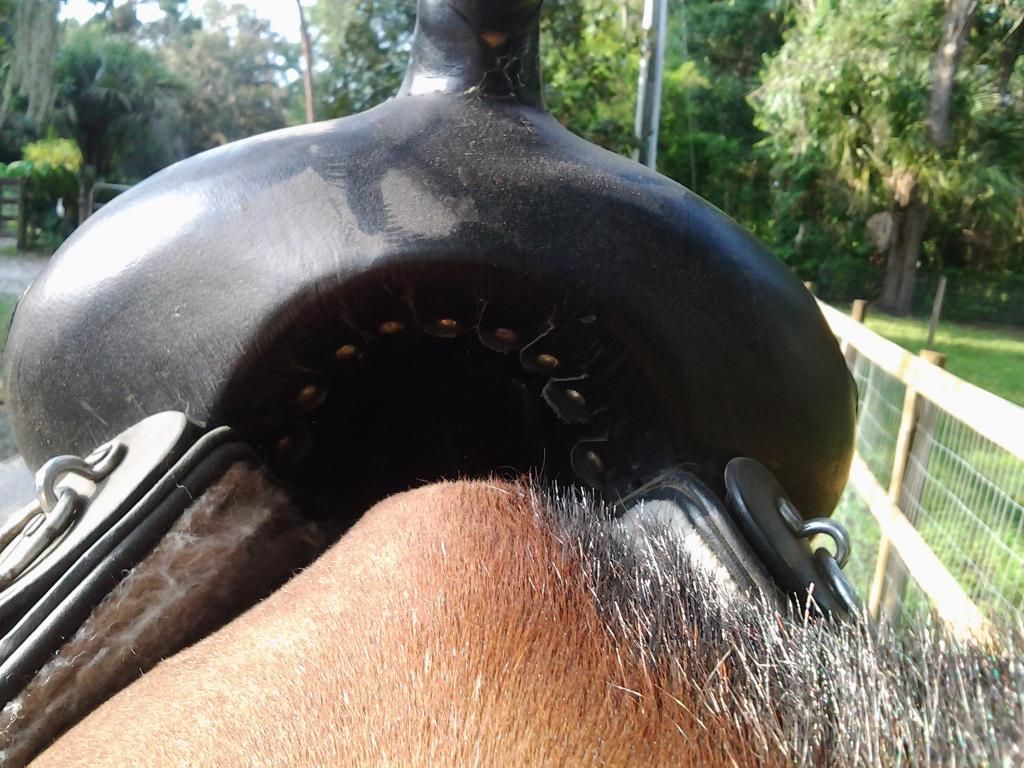 With pad: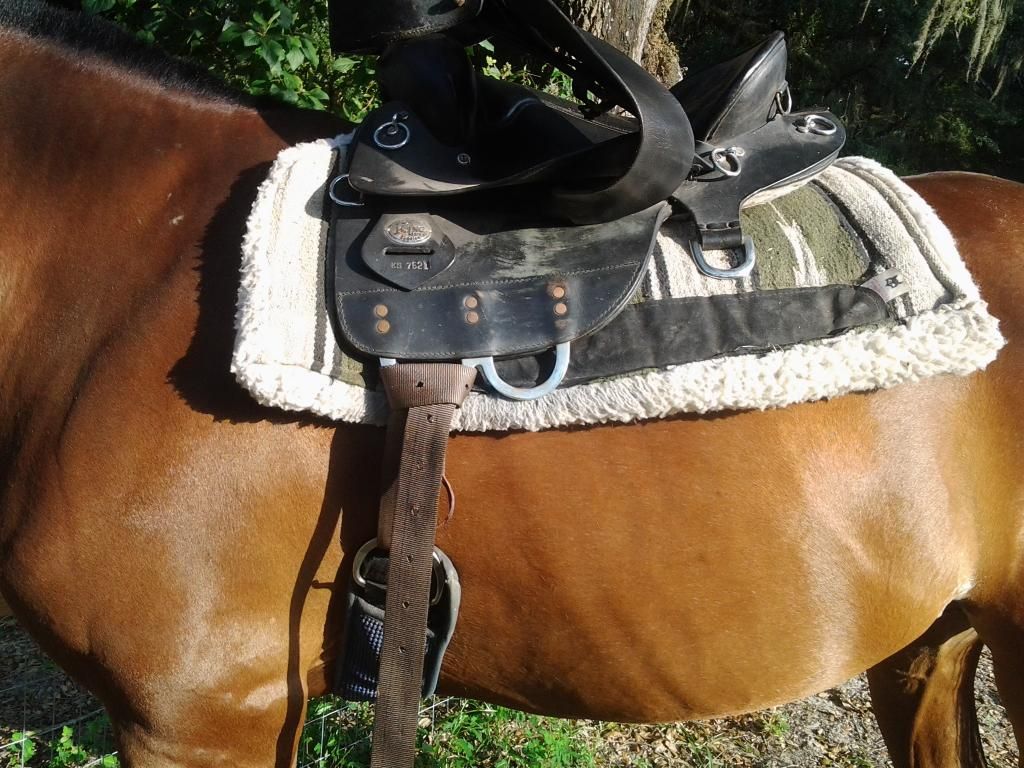 I would be a bit worried that the gullet is too big. There is not much clearance between the underside of the gullet and your horse's wither. I also hope you usually adjust the saddle pad to take the pressure off that wither before you ride! Once you put weight in that saddle it will press down and with that small amount of clearance, I would be afraid that the horse's wither will be jammed as you ride.

The saddle tilts forward as well which is another indicator that the gullet is too large.
Posted via Mobile Device
Yes, the saddle pad is to far forward. He was being a pain about sitting still. I had to play with about 5 cinches to find one that would fit so he was getting annoyed with me taking the saddle on and off, while having the hear the other horses getting fed, the poor abused boy. He was 5 minutes late to dinner.

Darn, I was hoping this one would fit. For a QH he's a pest to fit. Do you think it would work after he muscles up? He had most of the winter, and all of this year off except for like three rides so he has no muscle mass

I'm annoyed now. Since I had a friend trailer Harley to the tack shop so the fitter there could fit it.
Showing
Join Date: Jun 2011
Location: Cariboo, British Columbia
Posts: 11,775
• Horses:
3
It does look a little wide.
---
I am not here to promote anythingNo, that's not true, I am here to promote everything equestrian and everyone enjoying horses!
Sorry
that sucks that you went to all that trouble and still didn't find a good fit. Did the saddle fitter say it fit him? There is the potential that muscling him up will improve the fit some, but it's hard to say whether the amount of muscle he builds there would be enough to make this saddle fit him properly. As it stands, I hate to say that I would not be riding that horse in that saddle. Bummer!!
Posted via Mobile Device
The saddle fitter said it was a perfect fit. But they were also trying to make a sale. That was after they were done trying to sell me a 3,000 dollar costume saddle that they could make for him. Which is why I decided to get a second opinion.

I wonder if my old Wintec would fit him. I've never had him so undermuscled before, but I was hurt, then he managed to abscess his hooves, followed by me hurting myself again, a new project horse, and lots of other things that kept him from being ridden.

He normally does 3 or 4 days a week of 20 mile rides. That is a semi QH tree, last year in full work he was in a full QH bars saddle.

Hopefully it will fit my mare better.
Here is a picture of his back from riding around in my Wintec last week. The Wintect fits him well, or so I was told, its a 15in seat and I like a 16.
A lot of my issue is that I'm lookign for a saddle for under 300 or so. Its just going to be used until I get him muscled back up, then he can go back to my usual saddle. So I can't really see spending a ton on it, where it won't be used except for a few months.