The saddle my horse likes will cripple him?
---
I am faced with a dilemma. I have a 4 year old gelding who has been under saddle for a bit less than a year. Before we started riding him, we had a professional saddle fitter come out and take all of his measurements and adjust a saddle to fit him just so. The saddle has interchangeable gullets, and she has the training to adjust the wool flocking -- so theoretically this saddle should fit him wonderfully.

Things were more or less fine and dandy for a while. We had some of what we considered fairly "normal" training dilemmas for a greenie. Recently, he seemed to become a bit more resistant to contact, wouldn't always pick up the correct leads (which had been just fine initially), and just generally didn't want to move out. I also noticed that when I took the saddle off, he would often have roughed up patches of hair behind his shoulders. All of this indicated to me that he had probably grown and changed a bit, so we might need to have the saddle adjusted. I made an appointment, but it was a couple of weeks out and in the mean time we were signed up to go to our first schooling show. With so many problems, I agreed to try out one of our trainer's saddle on him just to see if it would work better until his saddle could be addressed.

We tried my trainer's saddle -- and all of a sudden I had a completely different horse. There was more suspension in his stride, he seemed more willing to accept contact, and he was much more willing to move freely. We took my trainer's saddle to the schooling show and had a wonderful time. The day after the show, he had his saddle fitting appointment. I talked to our saddle fitter about the problems that we had been encountering and told her about our trainer's "magic" saddle that seemed to have resolved so many problems. The moment she heard what brand the saddle was, she dismissed it as a horrifically bad saddle and told me that while he may have seemed to do so well with it during a few rides, if we continued to use it we were almost certain to experience all sorts of horrific back pain problems. She had quite a passionate "rant" against the tree of my trainer's saddle and the fact that the panels are filled with foam as opposed to wool. I was a bit put off that she wasn't even interested in seeing the saddle on him and comparing what it might be that he liked so much better. Our saddle fitter took new measurements and readjusted our saddle. The balance of our saddle did feel better, and it didn't create the same rub marks.

A few days later, I had a riding lesson with my trainer. The lesson was going poorly. My gelding (Aurelio) didn't want to move, and was very resistant to contact. My trainer commented that he looked like an old stiff horse, not a 4 year old -- and suggested that we try her saddle again just to see if it made a difference or if he just wasn't in the mood to move out. We swapped saddles, and suddenly I was sitting on a firecracker. We went from me tapping him with the whip every couple of minutes to having to have a discussion about listening when I half-halt or ask for downward transitions. He was more willing to accept contact, and we had a few of those 'aha' moments where he started to collect and extend a little more.

So now I have no idea what to do. Theoretically his own saddle should be adjusted to fit him wonderfully, but it just isn't working out for whatever reason. He's performing beautifully in a saddle that I have more or less been told will cripple him. Do any of you think it's true that my horse could be telling me that something is so "right", only to find later that it really was "wrong"? Do I call the saddle fitter back out? Do I sell our saddle and buy another like our trainer has despite the fact that we have a young horse who could still grow and change a bit? Do I find a different saddle fitter?
---
Last edited by Eolith; 07-11-2014 at

10:14 AM

.
It kind of sounds like she doesn't want to loose a customer. May I ask what brand your trainer's saddle is?
Posted via Mobile Device
My trainer's saddle is a Hermes -- a French brand. My trainer told me that many saddle fitters despise it because of its foam panels. I compared the panels of her saddle with mine, and the Hermes definitely does feel quite a bit firmer... while mine is pretty squishy. I don't know if that's a "bad" thing, a "good" thing, or just an irrelevant observation. My horse sure seems to like it though. Maybe he is one who would prefer a firm mattress if he were a person!
Showing
Join Date: Jun 2011
Location: Cariboo, British Columbia
Posts: 11,930
• Horses:
3
Get a different saddle fitter, this one isn't doing your horse any favors.
Posted via Mobile Device
I second waresbear. You should hire a different saddle fitter and get another opinion. It sounds like this saddle fitter has a big brand bias. The fact that she wasn't willing to listen to you and just fired off a rant instead of giving you a reasonable explanation against the Hermes is highly unprofessional.

The down side to foam is that it's not adjustable. Wool is adjustable. Wool flocking is better for horses that are growing and changing and is the only way to get a true custom fit. However, wool can pack down and become hard or lumpy after a while, so it does need to be adjusted and reflocked periodically so it stays soft and smooth. (This keeps your saddle fitter getting repeat business.)

Foam, however, holds its shape better. If you have an adult horse who is not growing and does not change shape much through the seasons, and you find a foam panel saddle that fits, it would be just fine.

While I am not opposed to foam panels (my own saddle has foam panels), I don't think it would be the best choice for your horse at his age. If you were to buy a foam panel saddle now, you should be prepared to replace the saddle soon, as your horse is likely to do quite a bit of changing and maturing over the next couple of years. It is possible to change foam for wool, but I'm not sure what's involved with that or what the cost might be. I'm also not familiar with Hermes and don't know what your saddle fitter had against the tree.

You really just need to find a saddle fitter that's willing to look at the Hermes and tell you whether that really fits or not, and why your horse behaves differently between the two saddles. Then you can make a decision on whether you should buy a new saddle or not.
---
I agree that you need a different saddle fitter. My saddle fitter always says that the horse is the ultimate judge. We can try to adjust a saddle to what "should" be comfortable, but good luck explaining to your horse that you just spent $4k on a saddle custom built for him so he should stop acting uncomfortable and be appreciative
Posted via Mobile Device
I thought I'd add an update: Aurelio and I are exploring more options when it comes to saddles. We talked to the saddle fitter a bit more and it sounds like she really has no idea why he just isn't doing well with the saddle that she fitted for him, so we are more or less working from our own knowledge base.
I stopped by the local tack shop today and checked out three saddles to try out on him -- none of which worked out quite right. One of our issues is that he has such a short back that we have to be really careful that the saddle isn't too long. Does anyone have suggestions in terms of dressage saddle brands that might work well for a short-backed low-withered youngster? Here is a recent photo of the stinker: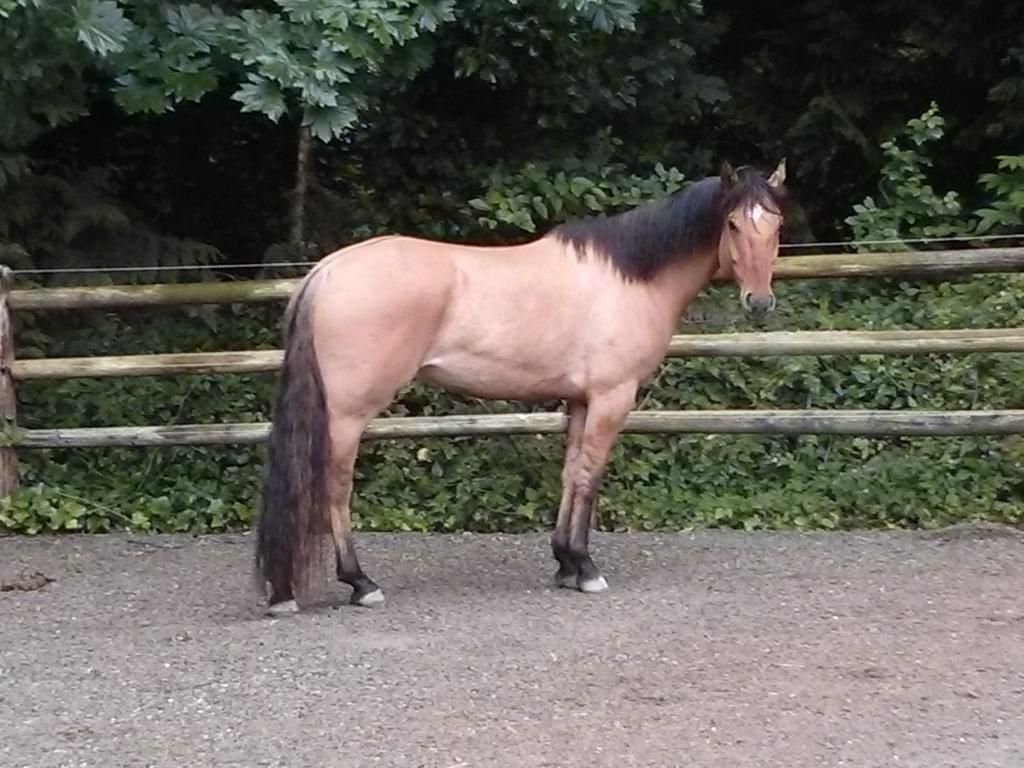 I'm sort of keeping an eye out for a reasonably priced Hermes, since he seems to do so well in our trainer's Hermes... but there aren't a whole ton of Hermes saddles out there. I'm somewhat intrigued by the M. Toulouse saddles -- especially the ones with adjustable trees. Does anyone know about those saddles?
Look at Kent & Masters S Series compact. I believe they make a specific tree for flat backed horses.
Posted via Mobile Device
When I was into showing, Hermes was considered a good saddle to get but not as popular as Passier or Stubben.

If I'm not mistaken, the Hermes company stopped making saddles for some reason which I'm not remembering not very long ago. Prior to that they'd been in the business for a couple hundred years or so.
If Hermes stopped making saddles it's probably because they were losing money in the tack market. They have become primarily a fashion/designer brand nowadays.
Edit: It looks like they're still selling saddles :
http://usa.hermes.com/equestrian/sad...es-cavale.html
---
Last edited by littlebird; 07-24-2014 at

01:30 AM

.