View Poll Results

: Does HYPP matter to you when selecting stallions for your mares to breed?

HYPP does not matter to me when selecting a stallion to breed to.
0
0%
I would only breed an HYPP N/N mare to an N/N stallion.
15
23.44%
For Halter purposes I believe HYPP gives them a better chance at winning.
0
0%
HYPP does matter to me & its HYPP results should be stamped on its papers.
7
10.94%
HYPP is much about nothing to me.
0
0%
HYPP is a serious problem which we can only treat the symptoms of.
2
3.13%
Its about time people get with the program and selectively breed for horses negative for genetic abnormalities.
36
56.25%
Stallion ads should list the HYPP status.
4
6.25%
Voters: 64. You may not vote on this poll
HYPP Complacency and Misinformation muddying the waters...or what?
---
For most, especially veterinarians, who are aware of what HYPP is, and how a horse with the flawed gene may spend its life, are against the continued breeding of horses simply because another side effect of this genetic abnormality is that in addition to the potentially lethal symptoms of Hyperkalemia, are horses who test positive for HYPP and due tend to carry a bulkier muscle type. In my opinion, designer horses bred for the sole purpose of appearing on the outside to be quality and worthy of breeding to, is unjust for many reasons that should not have to be explained here. They certainly do not have anything positive to add to their breed's gene pool, yet that is what the World Championships are supposed to showcase. In rare instances mares and stallion who are HYPP N/N are also World & National Champions, which does make the only reason presented to date for why stallions who are carry the gene for HYPP are allowed to breed.

Our stallion is HYPP N/N and is a 5-X National Champion and Res. Champion, and as a Yearling was Reserve Grand Champion Stallion over all the bigger more muscular aged stallions.

What are the opinions of our fellow breeders? Does your foal's HYPP status matter to you? Would you buy an HYPP H/N or H/H horse for breeding purposes? We hear many stories, but I would rather hear first opinions about how you feel the HYPP situation is being handled. Thanks!
---
Last edited by Sweetwater Farms; 02-11-2014 at

11:22 AM

. Reason: correct misspelled word & addition of another question
Personally, I think that breeding an H/H, and possibly even an N/H, horse should not be allowed in either AQHA or APHA.

When I was sixteen I purchased my first horse (after riding them since I was 7, and leasing two of them). She was an 8 month old APHA filly that I had planned to training myself (I was in WAY over my head, but that's a different story). Now, I had been a Hunter/Jumper rider all my life, and had ridden Warmbloods and Thoroughbreds almost exclusively. I had very little knowledge of the Paint world. Being young and dumb, I purchased this filly without doing much research on her.

Fast forward three years, and I realize this isn't the horse for me. She will likely never be competitive in the H/J ring, and that's what I love to do. As a 19 year old college student, I simply cannot afford a horse that I can't enjoy. So I try to sell her.

Needless to say, there are lots of crazy people out there, and I dealt with a whole handful of them.
Finally, I found someone interested in Mia as a low level Dressage mount and possibly for driving. Her first issue was that her horse horoscope didn't match up with the ladies (What?!) But she seemed to get over that problem, and we made all arrangements for her to purchase and pick up Mia.
The day before she was set to leave, I get an e-mail about HYPP. Apparently Mia's sire had it. He must have been H/N. I had never heard of this before, but the woman flew off the handle at me. She tried accusing me of lying to her about it, of being a bad person, the list went on and on. Yes I should have done my research. Yes, this something I should have known about. But no, she did not have the right to react the way she did. A simple "I have to pass on this horse for 'x' reason" would have sufficed.

I hurriedly did my research, read as much as I could on it. I contacted her previous owners (who claimed they knew nothing about it... But I find king of hard to believe, as they are very active in the Paint horse world), as well as the studs owners. I had her tested, and she was N/N.

So, yeah. That's where my feelings about HYPP stem.
I think people who knowingly breed H/H or H/N are selfish, and there is often dishonesty involved.
A foal's status DOES matter to me, as it could effect the quality of it's life for the /rest/ of its life.
I would never buy an H/H or H/N for breeding purposes. It should be something that ends here, but people are greedy.

Granted, this all happened a few years ago. (2. Boop.) I hope things have changed for the better.
---
The sensitivity of the internet baffles me.
From what I understand, AQHA is supposed to be phasing out HYPP. If I remember correctly, they will not register HYPP H/H horses. And HYPP status must be present on on papers...

Its great to see a responsible breeder. Congrats to you.

now here's a question for you. Do YOU breed outside mares that are N/H or H/H? Or are you strictly only breeding N/N mares and must see proof before breeding occurs?

To answer your questions. No, I will not buy a N/H or H/H horse. I will not support irresponsible breeding. I would never breed to anything that isn't N/N. For any genetic disorder as a matter of fact.

The only exception being LWOS. I would breed a N/O horse. To a N/N because there is no chance of there being a complication and getting a lethal white foal.
Posted via Mobile Device
HYPP, HERDA, etc are not present in my breed but I have seen what the conditions have done to afflicted horses and it is my opinion that horses testing positive should not be bred. The disease needs to be purged.
I personally think breeding H/H or N/H is a crappy, irresponsible thing to do. The only ones gaining from it are the humans breeding/showing/profiting from such horses.

I'm glad the AQHA is phasing it out.

I have an N/H gelding on a free lifetime lease, he is the horse I learned to ride on, I didn't even know he was N/H until he was offered to me. Although he is so far non symptomatic he was deemed too much of a risk to keep on as a lesson horse although he had been one for 6+ years.

Its not a nice thought to know my horse could literally die at any moment because his breeders were irresponsible. If he were not such a special horse to me I never would have gotten him and don't plan on ever getting another.
Posted via Mobile Device
H/H horses are not allowed to be registered in AQHA, and I think APHA is starting to follow suit. All horses with Impressive MUST be tested and the information provided on their papers in AQHA.

HYPP status is scientifically not linked to muscle size. There have been many successful N/H riding horses such as Vital Signs are Good who do not display the huge musculature.

I know of several people who own N/H horses and love them to death, know how to take care of their needs, and are largely non symptomatic with proper diet and care. The horses are happy and pain free.

My breed show friends and I have seen more horses die suddenly from either an aneurism or heart attack with a rider on than an HYPP attack...

I wouldn't own an N/H horse because I don't know how to take care of them, but the people who are responsible for taking care of their horses with special needs can certainly mitigate some of the risks involved with owning an N/H horse. They are being phased out, but the bloodlines attached to them are what make them popular show horses and give people income and make the horses valuable, which is why it's hard to get away from them.
My qh is NH and I have made minor feed adjustments and ignored the story that was meant to scare people that was all over the internet. I have no regrets. These horses drink a lot of water, something that can't be skimped on or ignored as it helps wash excess potassium from the body. He gets both a lick and loose salt to be sure he gets enough. He prefers loose.
Impressive was used extensively without the knowledge of his condition because it began with him. It wasn't for a number of years that this was researched by the equine medical community that it was discovered. By then his bloodlines were spread far and wide. At that time Impressive babies were winning at halter but nowadays there are so many other fine stallions that this will one day be a thing of the past.
I'm against breeding ANYTHING with a genetic disorder. Its called a disorder for a reason. HYPP is bad, HERDA is worst, and OWLS is just irresponsible breeding. If I bred a horse and I get something out that was not healthy (JEB, HYPP,HERDA, OWLS) I would never breed that mare again. If it was something she had never produced (assuming I'm nob and had not had a genetic panel done) I would have the mare tested for everything. If she came back negative I would not only confront the breeder, I would NEVER use that stud. Some show breeders forget we are breeding animals for longevity, not for them to last maybe 5 years.
If you dont know What JEB is here is a link
Junctional Epidermolysis Bullosa (JEB) in Belgian Draft Horses: AAEP 2003 | TheHorse.com
The idea that you need an HYPP horse to be well muscled for halter is just not true. The Impressive line obviously (to me) contains other characteristics besides HYPP that contribute to their conformation. Consider our Impressive line N/N mother/daughter mares, both built like tanks.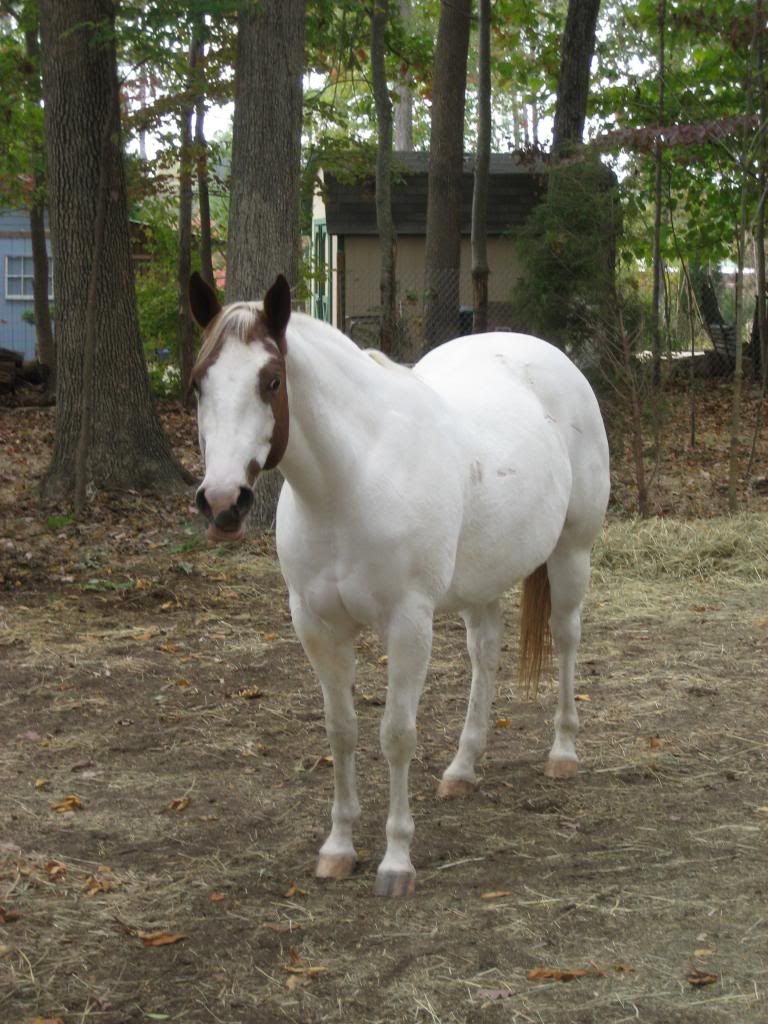 ---
On the sixth day, God created the Quarter Horse.
On the seventh day, he Painted the good ones.