View Poll Results

: Does HYPP matter to you when selecting stallions for your mares to breed?

HYPP does not matter to me when selecting a stallion to breed to.
0
0%
I would only breed an HYPP N/N mare to an N/N stallion.
15
23.44%
For Halter purposes I believe HYPP gives them a better chance at winning.
0
0%
HYPP does matter to me & its HYPP results should be stamped on its papers.
7
10.94%
HYPP is much about nothing to me.
0
0%
HYPP is a serious problem which we can only treat the symptoms of.
2
3.13%
Its about time people get with the program and selectively breed for horses negative for genetic abnormalities.
36
56.25%
Stallion ads should list the HYPP status.
4
6.25%
Voters: 64. You may not vote on this poll
I like a stocky bulky horse, as long as its healthy. Your mares are beautiful! I love that type of QH/Paint and am glad to see them healthy. I have nothing against these lines, as long as they are healthy and HYPP free :). (And as long as their legs don't look like fence posts)
Quote:
I like a stocky bulky horse, as long as its healthy. Your mares are beautiful! I love that type of QH/Paint and am glad to see them healthy.
Thanks. We're anxiously waiting to see how their grandson/son 2013 colt turns out. It's always hard to tell with the little ones, but here at 8 months he's looking like he's going to be a big boy, too.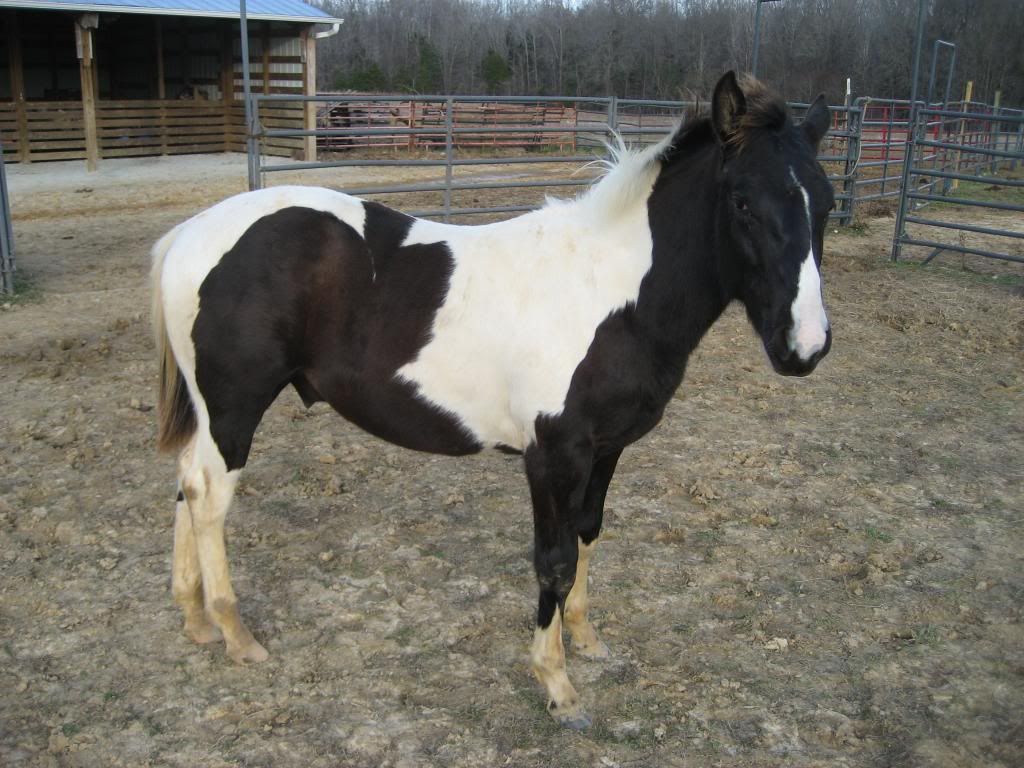 ---
On the sixth day, God created the Quarter Horse.
On the seventh day, he Painted the good ones.
Quote:
I'm against breeding ANYTHING with a genetic disorder. Its called a disorder for a reason. HYPP is bad, HERDA is worst, and OWLS is just irresponsible breeding. If I bred a horse and I get something out that was not healthy (JEB, HYPP,HERDA, OWLS) I would never breed that mare again. If it was something she had never produced (assuming I'm nob and had not had a genetic panel done) I would have the mare tested for everything. If she came back negative I would not only confront the breeder, I would NEVER use that stud. Some show breeders forget we are breeding animals for longevity, not for them to last maybe 5 years.
If you dont know What JEB is here is a link
Junctional Epidermolysis Bullosa (JEB) in Belgian Draft Horses: AAEP 2003 | TheHorse.com
I agree somewhat with you kigerqueen. However with SCID and a few other genetic disorders a carrier bred to a non carrier will not cause the horse to be symptomatic of the disorder. In fact as long as you do not breed to carriers then the disorder is benign.
All my mares are genetically safe and so are my stallions.
I would not hesitate to breed them to a SCID carrier if the mare or stallion had something to add to my herd.
HYPP however is different and breeding any horse not NN to me is unsafe and unethical. Shalom
I have never breed horses, but I have raised many litters of puppies in the past. My problems with breeding any animal with a genetic disorder is, you can not control what goes on with the offspring of that animal, if you end up selling it. Who's to say that the next owner of a carrier of said condition, will not breed it with another carrier of said condition & continue the condition to the next generation. Even if you have a contract saying that the animal is not to be breed because of genetic disorder, you can't guarentee it wont happen
---
Cowgirl up!
Ah but there in lies the question. Where do you draw the line. Quite breeding frame overos/OLWs horses? Say goodbye to that pattern. Etc, etc.
When i mean OWLS i mean to not breed two horses that WILL make a lethal white foal.
It's still breeding a technical genetic defect.
I'm also pointing it out to the other people in this thread as well.
Breeders have tests available to them that allow safe responsible breeding of carriers to non carriers. HYPP being the exception of just being a carrier and having symptoms of the disorder.
To address something an earlier person posted. Impressive had no signs of HYPP. Shalom
My personal opnion on OWLS is a positive animal should not be breed. Neat color patterns should not over rule a genetic defect. How many times have people been told not to buy for color or that color should be the last factor in deciding to buy a horse.
---
Cowgirl up!
OLWS can be bred safely if one tests and knows if either sire or dam is a carrier.
Just because a horse if frame or a carrier should not keep it out of the genetic pool. Since thousands of horses are frame carriers this just makes since to know the status of breeding stock.
I think breeders understand this more than most in the horse industry. Shalom