TOTALLY jealous!!! Looks like a fantasy picture.
Its amazing how many are out there for next to nothing....at least when I'm NOT looking for anything, lol. Just yesterday,an Afire Bey V son, free....
My boy in my avatar I sorta rescued from low end auction...Huck, Khemo, Gdansk, Aladinn, Bask- bred.......tragedy, really.
Super Moderator
Join Date: May 2012
Location: CT USA an English transplant
Posts: 24,590
• Horses:
3
It would be great to see a move back to arabians like the amazing Skowronek. I love the painting of him attached.
They brought Grojec to the US - he was real sturdy model so what went wrong?
What went wrong? People started looking at pretty heads only....
I'm also short so 14 hh and maybe a bit more is perfect hight for me. the mare i ride now is almost 15 hh if i remember correctly just one hand shy of reaching 15h.
---
I may seem small, but if you mess with my horse, I will break out a level of crazy that will make your nightmares seem like a happy place.
Quote:
Originally Posted by
blue eyed pony
View Post
I have the virus too, but for partbreds, because typically pures don't have the height I want. I like a big horse, 16hh or above, and very few pure Arabs are even close to that height, at least around here. My gelding [partbred] is perfect but too short haha. Thinking about trying to find or breed a taller partbred down the track. I have a lovely tall TB filly and she's a super type for crossing to Arabs so the breeding idea is a possibility, but only if her stifles don't flare up again.
Check out Selket Arabians-- theirs are 16- 16.2.
An Anglo-Arab is a good choice as well. There are some Arabs out there that'll fit your preferences. I have 2 up and coming that will be quite tall as well.. Keep in touch..LOL
---
For those who don't like me-- it's mind over matter; I don't mind - - and you don't matter.
www.obsidianarabians.com
Quote:
Check out Selket Arabians-- theirs are 16- 16.2.
An Anglo-Arab is a good choice as well. There are some Arabs out there that'll fit your preferences. I have 2 up and coming that will be quite tall as well.. Keep in touch..LOL
American though, right? Wrong side of the planet :P
A while back there was a grey gelding for sale advertised to be 16hh, I find few horses' heights are advertised correctly especially the Arabs but they are about. Just rare. There's a black stallion that would cross nicely over my girl that has a couple of 15.2hh purebred offspring so if I bred to him I would have a good shot at getting a taller Anglo baby [my girl is 16hh and has at least another two inches to grow, so I like my chances], but he looks like he's probably Egyptian bred and I want to stay away from the Egyptians because so many of them are bred to be super-hot... not a trait I want in a stallion for my mare because she is really quite sensitive.
I am totally in love with a friend's stallion, who is 100% Crabbet bred and a very chunky boy [my girl is quite fine, don't want to breed something that's TOO fine, so I do like a chunky stallion] with a fantastic temperament. I have met him a couple of times, and he's so quiet but has the most incredible presence about him. He's only about 15hh so on the extreme small end of the height range I'm looking for stallions in.
Not a show-ring Arab but I love him <3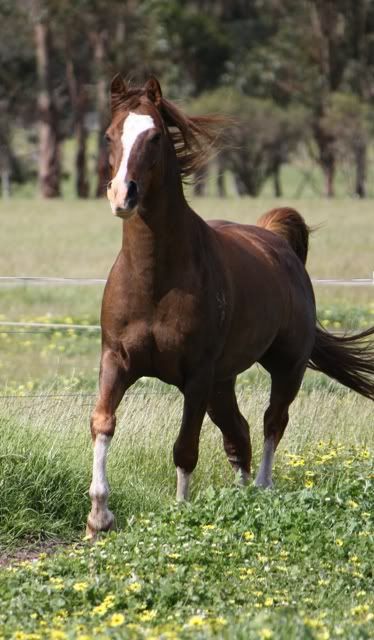 Shows off his awesome chest and a good bit of the size of his amazing hindquarter. I can't find any good side-on photos of him online, the only one I can find makes him look horribly downhill which he certainly is not!
I can't remember his bloodlines, but I know an Anglo Arab gelding that his owners bred [I think it's a Beraq baby, although it might be one of the last from their now deceased stallion Narbeyda] that is just lovely and incredibly versatile. I will admit that I am drawn to the fact that I would know 100000% what colour foal I would get from this cross, and I happen to like the red ones. But colour is certainly not my only criteria - I have seen several of his foals and every single one of them is just lovely.
My mare is the horse in the photo attached. She is only 2 so if she looks a wee bit wonky, it's because she's a baby. I'm pretty confident she'll be something pretty special when she's more mature.
Thoughts? Good cross, or keep looking? Since a bunch of Arab experts are already in this thread :P
---
REGAL PRINCESS
---
Last edited by blue eyed pony; 12-21-2012 at

08:46 AM

.
Blueeyedpony there are some very calm pure Egyptian arabians out there.
I have one you would think was a plow horse . she passes it on to her foals it seems also.
The horse with the most "heat " here is a 100% polish mare that has a straight profile
I think that will be a good cross. You might not get a dished face but I dont think you really want one . Shalom
It largely depends on what straight Egyptian lines you have in front of you. I had a 95% Egyptian, the other 5% old German breeding who was absolutely laid back. In fact, in the 22 years I had him, he spooked ONCE.
I do like the chestnut
I'd look into a stallion who can improve shoulder and neck set on your filly, and from what I can see, this boy might be just it.
And I second DB's statement about some, not all, Polish lines, they can be hypersensitive.