I forgot to put pics and a link to his pedigree:
Skip N My Assets Quarter Horse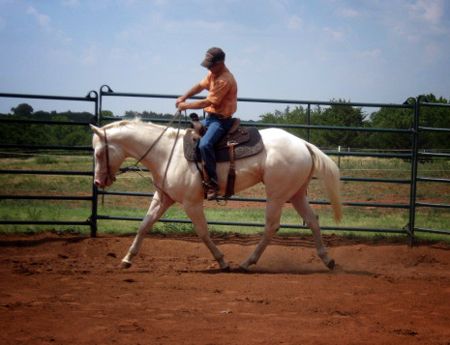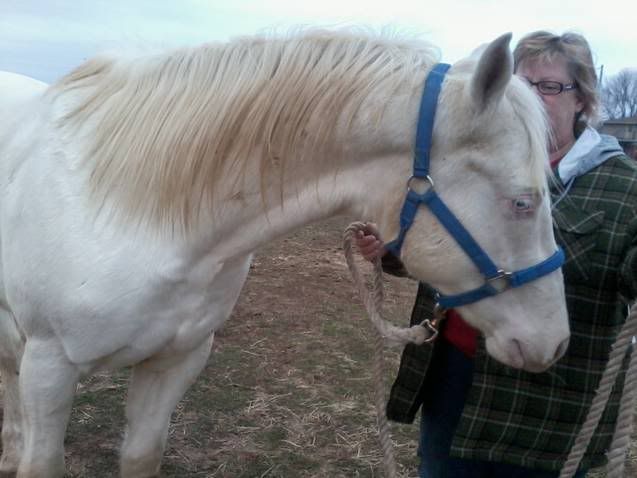 Skip's Sire: Dun Up The Assets, World Champion Stallion
Skip's Dam line includes Classical Skipper, a many time champion, line bred Skipper W stallion.
---
Temperment, conformation, pedigree - The three most important attributes when I choose to have a stallion around.
My avatar guy (Three time halter champion, although like DB, I don't put much stock into a show record - hard to when it's mostly all politics and you get crooked leg stallions winning the National Championship - but that's another story! LOL) can be showed and handled by an amateur handler and I would feel confident that all would be well. I can halter him and lead him through mares and with his "sound" he smartens up should be start thinking this his little head instead of his big one.
His sire line is one of the best, IMO, that has come out of Poland and has constantly proved itself over and over again in incredible athletes with unlimited potential. Movement, legs, bone, substance, power - all traits of the great Polish "E" lines. As my farrier said when he trims him "This is the type of legs and feet people should be breeding for."
I've been very pleased with the foals that he has produced so far, and can't wait for my next up and coming purebreds!
I did breed him to a few Morgans for Morab foals this year (one already on the ground) but I don't know if I'd cross him with anything else. I only stand them to two outside mares a year and I'm real partial to purebreds - it would have be a spectacular mare to get me to outcross on something other then an Arabian.
Ms Aurelius Arabian
My youngest guy is just and up and coming three year old and hasn't been shown yet, although I really wanted to play around with him in Sport Horse and Halter classes (he isn't really a halter horse - has way to much roundness and hip for what they are looking for nowadays) but just for the experience. Perhaps if I manage to get saved up for next season, he'll go.
His pedigree is extremely hard to find nowadays, this up close in a youngster. Beautiful, athletic, proven lines that were the foundation of the Arabian horses in North America. His pedigree was a HUGE reason for his purchase.
I bought this guy as a year and a half old but I could tell by his pictures then that he was going to mature into a stunning animal - so far (although he looks horrible with his winter coat still shedding out! lol) he is proving me right! There isn't much I don't love about his guy.
Temperment wise he's learning, due to not being handled much until he was almost two when I got him, but he's smart as a whip and very willing and you can't ask for much more in a hormone ridden three year old. LOL
I'll be breeding him to a few mares this summer so we shall see how he produced for me - although I expect nothing short of incredible. He doesn't have the "who's who" of the main ring halter horses today - but that's not my goal either. I'm looking for him to produce some incredible western horses - and his sire line (his dam line too, through Khemosabi) has been at the top of the working western divisions for quite some time.
He isn't standing to outside mares so only purebreds for this guy. :)
Glf Magical Khascade Arabian
---
Last edited by WSArabians; 05-29-2013 at

01:27 PM

.
I love both of your boys, WS, but I really like the grey. He's just so lovely!
Here is a photo of Mister Studleykins:
One from his driving days:
One from the show on the 19th:
It was his first show in a very, very long time and he was quite erm...vocal. Until the hat was put on. He's never been shown in hand, so I am thinking the hat partially covering his eyes worked as "blinders" and settled him. Or embarrassed him, lol. When he saw the driving minis warming up he was very intent on watching them, almost as if he was saying "hey! that's my REAL job guys!". It was quite cute.
Quote:
I love both of your boys, WS, but I really like the grey. He's just so lovely!

Thank you!
It's funny, because I went to look at two mares when I saw him and fell in love. Which is odd, because grey is probably my least favourite colour on a horse - there was just something about him. So I came home with him, his stud colt, and two mares. LOL
Your little guy is adorable!
Thanks, we have high hopes for his babies! I'm not usually a fan of greys either, but as you said he just has that *something* about him. :)
Posted via Mobile Device
Interesting thread, love it! All these stallion's have been quite good looking, and it's interesting to read the owner's perspective as to why their stud is as such.
Looking forawrd to reading more.
---
Superfine Aspen
2011 Warmblood Filly
Bumping this thread!
---
Superfine Aspen
2011 Warmblood Filly
Very interesting read guy's! bump!
---
The blood runs hot in the Thoroughbred and the courage runs deep. In the best of them, pride is limitless. This is their heritage and they carry it like a banner. What they have, they use. - C.W. Anderson
While mares can only usually, have one baby a year and stallions can have many, much the same thoughts on why they are breeding quality, can be said about the girls. Lots more members here have mares, so maybe we can include mares in this thread.

Lizzie