peppersgirl, I don't think there is any hope for horses not crossing the border branded or not. I think a deterrent only because the horse will be more readily identifiable.

I honestly don't think that the auctions are looking at the horse and/or paper work in a way looking for a stolen horse. Just looking at it to make sure it is in the shape it needs to be included in the sale. I bet they never look at a brand to match up paperwork if it is being run in loose. Just let the whole truck load in :(
You need to contact the ag commissioner in your state. I have been told that all brands must be registered , and in cattle a person is told where the brand is to be placed ! You can face prosecution if you use some one elses registered brand. You can design a brand and register it. I am in California, So for the Person in San Diego where did you find your info? I checked five years ago and was told by the Ag dept brands must be registered.
In Texas the brands are registered by county so like my brand is a heart with a D in it but if someone in another county liked it then they could register it as their own and have the brand made.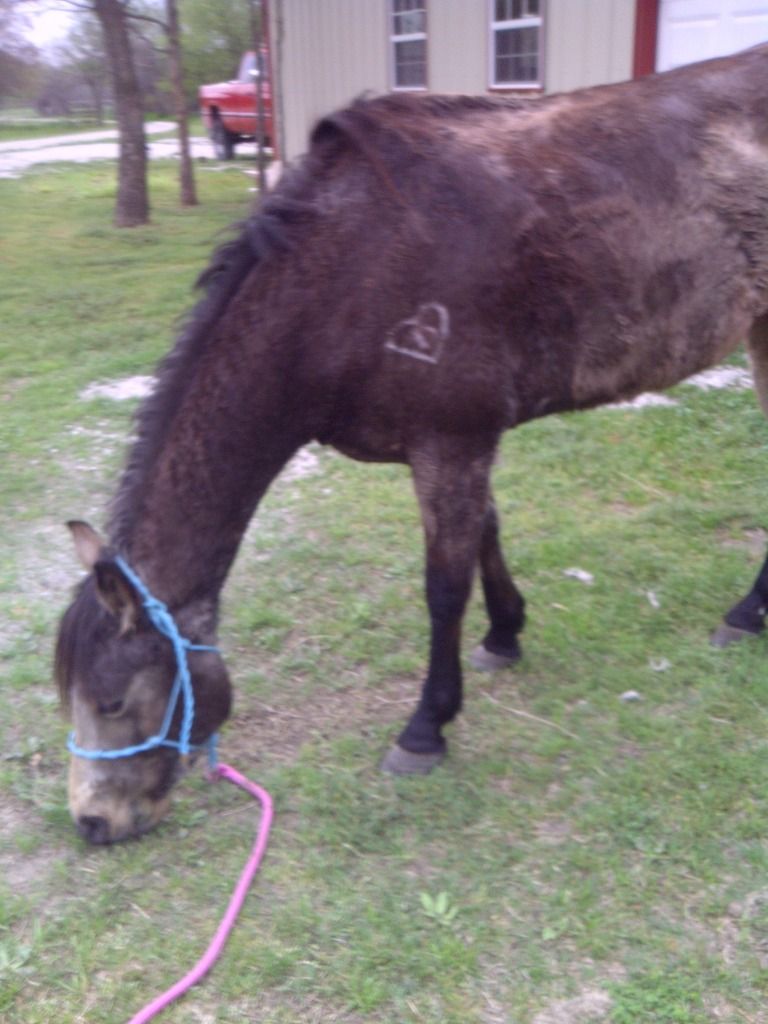 I will ask my vet and see if she knows and also look up the info with the AG department. Thanks for the replies. I know it would never completely protect, but could ad least identify a stolen horse visually.
So, Stevenson what would you call the garbage on my horse's hip? It is a brand as far as I am concerned and it is not registered....but it sure in the heck id's him even as ugly as it is :(
@WN,
You could always make it into another 4. Then your horse would be 444, not quite as bad as 666.
Sorry, back to your regularly scheduled thread...
Edit: that's assuming that's him in your avatar!!
---
Live well, laugh often, love deeply...An' it harm none.
---
Last edited by FaydesMom; 08-30-2012 at

05:58 PM

.
Most likely it was to identify the month/year the colt was born...some cases its dam, like some do for cattle but usually they are accompanied by a ranch brand. Some wont put a ranch brand on a horse they don't want affiliated with their ranch/breeding program.(not saying that's your case WN at all)
Fire brands on a horse are hard to read sometimes because guys that brand cattle forget or don't realize how thin hided a horse is compared to cow and will leave it on. Then it scars and blotches.


If you want to register a brand contact your local ag dept. Office. They will give you guidlines on the size, what area on the animal and how many characters may be used. On most applications they want you to list your 1st, 2nd, 3rd choice in the event it is taken. Also you can look on some ag websites, people "sell" their brands for that state. Prices depend on the age of the brand and desirability.
Some brands depending on the size and formation have a tendency to blotch and not be very readable especially at a distance. My advice is to pick something easy to read and brand.
---
I DON'T LEAD 'EM AND FEED 'EM, I RIDE 'EM AND SLIDE 'EM.
The ranch didn't brand any of they stock except to put the mare number and the birth year on them. Guess that might be a sign you have to many horses. I am so happy with Tango but a nicely placed number would have looked much better than using number 9 wire...sighs....