*EDiTED W/PICS* Items FOR SALE & WANTED
---
ITEMS FOR SALE:
17.5 Higher end Pro series HDR Close Contact. Wide tree, knee rolls, oakbark in color.
EXCELLEN
T
new condition. Only selling because i got a new horse & it does not fit her. $775
(will CONSIDER trades for a medium or regular tree)
81" Tough-1 Zebra turnout blanket.
EXCELLENT
condition, used twice- $70
NO turn zebra bell boots. Size medium. Very good condition- $20
Lime green & Black M/L Splint boots- $25
Used Chocolate half chaps. Length is 16" and will fit a 16"-18" calf. I need a black pair - $25
SMB- 3 Boots. Grey/White in color, size Large. Great condition, used a hanful of times. Small stain on one velcro strap, where i spilled thrush medicine- $60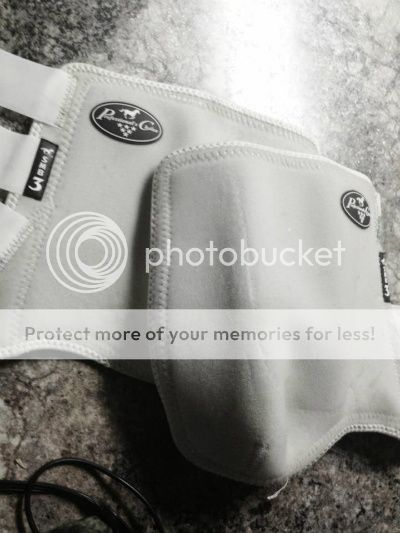 Dark Brown used english braided reins- $15
Used
Purple
grooming kit- $25 OBO
Used light brown barrel reins - $8
I have two pair of CUSTOM made western show chaps, were made for congress. One pair is a ladies S/M other is youth M/L $45 a pair
Purple Reversible English saddle pad. Used maybe 2 times.
CLEAN!
Good for wither relief. - $15
Troxel Schooling helmet. Used for about a month with helmet cover. Black in color - $25
* BUYER IS RESPONSIBLE FOR ALL SHIPPING COST*

ITEMS WANTED:


Full seat breeches sizes L, XL (
not looking
for a very expensive pair )
English schooling pads-
MUST
be in nice condition and looking for fun colors.
48" girth in nice condition
Oakbark leather
or looking for a fleece one.
Martingale -
Oakbark
in color
Used leather open front jumping boots- not looking for anything expensive, I have a expensive pair.
Used tall boots size 10 MUST be XWide or XXWide
Used
leather
half chaps size Xl
BUYER IS RESPONSIBLE FOR ALL SHIPPING COST!
---
ĎItís impossible to win when youíre trying so hard not to lose.'-
Bump
Posted via Mobile Device
Bump
Posted via Mobile Device
I would totally buy those bell boots if they had matching boots :)
Posted via Mobile Device
I have a really cute Equine Couture pad for sale, white back ground with pink polka dots and pink trim. Picture can be seen here:
Tack For Sale and Trade - Dragon On Horses
I only used it for a couple of months and took excellent care of it, if I do say so myself. Only selling because my BF bought me a pad that I had really wanted before I bought this one, and I feel kind of obligated to use the one my BF got me, lol.
---
RH Queen O Anywhere "Sydney"
2009 Sugarbush draft
Hi! on the HDR saddle, does it have a branding on it? Like an engraving on the leather? Please PM me! Thanks :)
Bumppppp
Posted via Mobile Device
I have a martingale, I only used it once. what size is your horse? Also have a pair if 28L white full seat breeches, never worn. I bought the wrong size and didn't realize it until I moved across country.
Not sure what size she is. She wears a 78" blanket. She's a medium built appendix
Posted via Mobile Device