14" Black Rhino Barrel Saddle with About the Horse Tree
---
Hey, so I'm thinking about selling my barrel saddle. I wouldn't at all, but after having a baby my butts just to big for it, and I sold my barrel horse.

Anyone whos been around any SERIOUS barrel racing has heard of Black Rhino saddles. They're pretty much the best, of the best, of the best. Every one of these is custom made. They have INSANE quality and are well known for their trees which have shoulder flare. I can vouch for the fact that they're really awesome on a wide shouldered horse and can allow any horse to open up with more free movement. This are serious, serious barrel saddles. I knew QUITE a few pro barrel racers who rode in these.

This saddle is VERY loved. It is a 14" with their #2 tree, which are equivilant to semi QH bars.

The saddle is in good used condition, with MANY more years of use left in it. You can see the wear on the rough out seat but otherwise its in really good shape. It has half breed tooling, rough out seat and leathers, silver berry conchos and a rawhide and silver laced cantle. Someone paid a fortune for this saddle new. I paid a small fortune for it used!!!

IF you are interested in this saddle please let me know and we can discuss price. This is not a cheap, mass produced saddle. It is a custom hand made saddle thats pretty much the best you can get. I can provide pictures if you are really interested. Honestly, unless you're serious about barrel racing, it probably isn't worth your time or money, but it fit me and my horse like a glove. The ONLY saddle that never sored him up.

I realize that if I sell, I probably won't ever be able to replace, ever... but I need the money.
working on pictures if interested, hit me up.
---
Last edited by chesterh; 11-19-2009 at

12:05 AM

. Reason: im dumb
Apparently no ones interested but...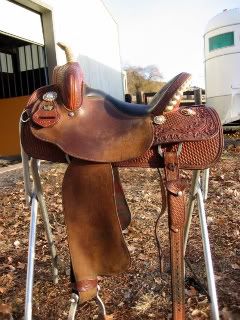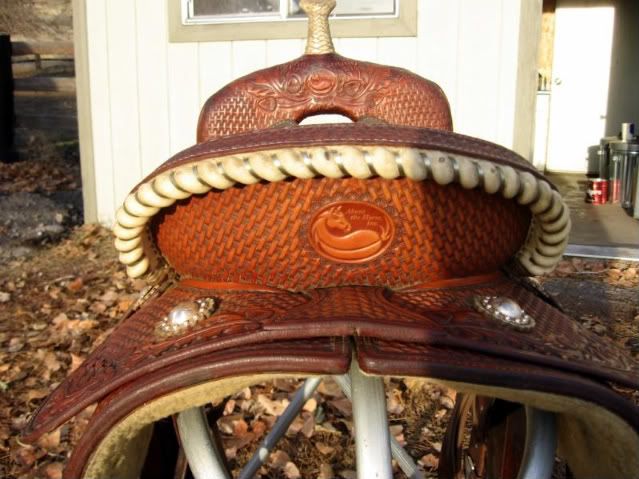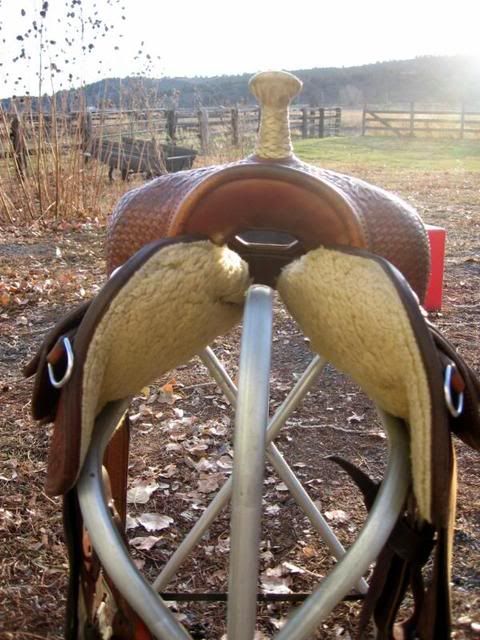 ---
Last edited by chesterh; 11-19-2009 at

02:29 PM

. Reason: im dumb
rhino saddle
---
hi, have you sold your saddle yet?
I wish it was an inch bigger. Dang it...
---
RIP Minnie, 1981-January 15, 2010
RIP Maggie Mae I miss you
It rides pretty big honestly. I was never small by any means and it fits me. I rode in it at 5'9 and about 155lbs.
How much are you asking for it??
---
RIP Minnie, 1981-January 15, 2010
RIP Maggie Mae I miss you
Oh Dang, did someone buy it or is Ebay just being weird??
---
RIP Minnie, 1981-January 15, 2010
RIP Maggie Mae I miss you
Someone bought it but wanted to pay by personal check so the deal fell through. I specified paypal only.

Anyway, I was asking $1800 obo but I'm willing to take $1600, possibly less with another 15" to trade.

I guess these saddles are no longer being made at all. I actually was talking to Carl Ammerman about getting one of his and when I told him I had this one for sale he commented how nice these saddles were, how few he had seen, and how I should be reluctant to sell...

Its more than worth every penny.