16" Western Saddle & 18" English Saddle For Sale
---
Maker is Double T. I know Double T's are not known for their quality, but this one is definatelty an exception.
*FQHB
*16" seat
*30-35 pounds
*Cherry-like color
*Like new, only used a handful of times
(Excuse the un-matching back strap, it doesn't come with the saddle)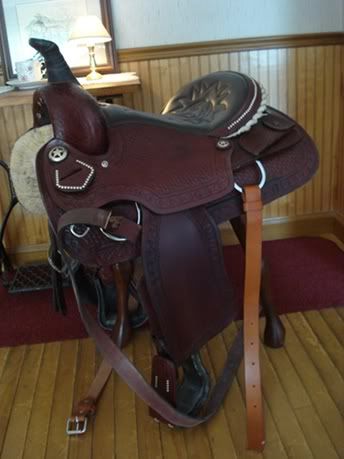 I am only selling this saddle due to it does not fit my horses, as they aren't "wide" and I
need extra money
for hay this winter in case I do happen to get a pregnant mare that needs my help. Asking $300 not including shipping, which should be around $50. Considering all offers!
Good schooling saddle! I would keep it, but it only fits one of my horses and I don't normally use a saddle on her unless someone comes out to ride, then I use western. So, sadly this saddle must go.
I am almost 100% sure that it is an 18". Will measure tomorrow after work to be sure.
No knee rolls, and the flaps are longer than normal. (So it seems to me, but I'm not an english saddle expert)
A few rubs on the cantle but doesn't affect it.
Comes with dark oil leathers that match fairly well, white fleece
saddle pad
, and used 5" irons.
Nice set, I love it, but just do not need it sitting in the barn.
I can also include a light havana, very unmatching girth, but it works. Its a fake kind of leather girth.
Pics: (just dust on seat in pics, will clean it up and get better pictures, but I was rushing)
Questions? PM me or post here. Asking $100 not inlcuding shipping. But shipping shouldn't be too pricy.