bump
make me an offer :)
---
"Action cures Fear, take a small risk every day". Jane Savoie
that is not an aussie saddle is a half-breed the traditional ones have no horn
hmmm ok I'm not the expert on Aussie saddles. this is my first one. i was under the impression that having a horn or not was a choice that is personal. All The Saddles from Down Under saddle company come in Horn or no horn models. I can show you the confirmation of that :) via their web site. I thought that was the whole idea is comfort and safety riding in back country on fresh cattle working horses... More geared as i stated before to whatever your personal tastes are with regards to style AND safety while working, but I could be wrong. They do make one "crossover" saddles that have more western type fenders and this is not one of those.(thats the one you may be thinking of?? I've seen many "Aussie" saddles with horns in fact i was under the impression that the horned was the "normal" and the without horn was the "other choice" no judgement LOL but as i say, I'm not an expert....
i will post a few pics for clarification purposes: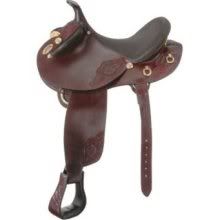 Is this the crossover that you speak of??
this is my current saddle I'm selling with a horn in black. its BRAND new, this model exactly :) NOW the web site has choices for with or without horn, that's up to the buyer. to horn or not to horn that is the question LOL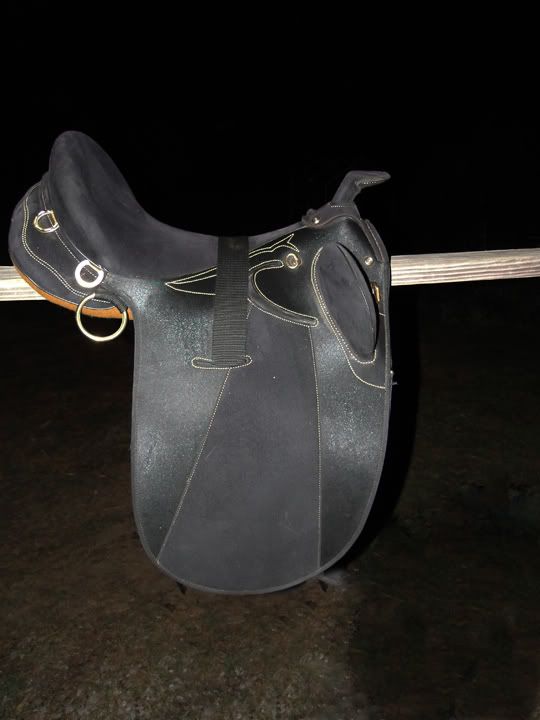 taken out on my porch an hour ago. this is going to make some lucky person a GREAT saddle!!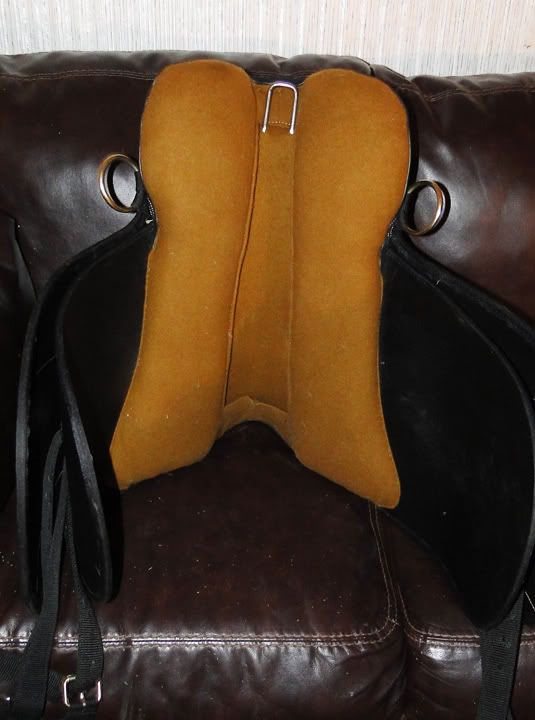 this is a great saddle in like new condition. it's been used twice for short rides and well kept in a non smoking household. If you hare interested give me a call and well see what lind of a deal we can make. I'd take 150. cash or trade for Tb racing things nice leather halters rain blankets etc....or ??
---
"Action cures Fear, take a small risk every day". Jane Savoie
---
Last edited by WildAcreFarms; 11-05-2011 at

04:06 AM

. Reason: additions
PM sent.

Just to verify it is 19" in their measurements ?
---
Last edited by Joe4d; 11-05-2011 at

07:59 AM

.
yes correct its 19"
---
"Action cures Fear, take a small risk every day". Jane Savoie
I wish it wasn't a 19" I would take it in a second! But I ride in a 15" western and a 17.5" english so I think it would be way too big! It would actually be for my mom and but we are about the same size.
the horn is a choice but once there on they are called an austrailian stock saddle half-breed
I don't know if this saddle has sold, but I just got this exact saddle in the endurance model (no horn or overgirth) with an 18" seat and have to say that for the price I am extremely impressed with the quality.
I haven't ridden in it yet but it's a nice solid thing and looks like a really good quality saddle. I added fleece sleeves to the stirrup "leathers" and changed out the stirrups for endurance stirrups. Everything is nice, tight and balanced. I just hope it fits my TWH. If it doesn't I think I will cry lol!

If anyone is looking for a low cost but good quality, lightweight Australian saddle I would recommend snagging this one :)
---
Last edited by silverdollarmagic; 12-06-2011 at

10:24 PM

.
Nope I haven't sold it. Haven't been on-top of bumping LOL.

it does need a home. Its a nice saddle I really have WAY too many saddles
around here tho ;)
---
"Action cures Fear, take a small risk every day". Jane Savoie
saddle is sold
---
thanks to everyone who made me an offer i just wanted to let anyone interested that the saddle is sold.

anyone wanting a cheap and durable and COMFORTABLE saddle would do well with this type of Aussie. they are tough as nails and have a really universal type fit. they are excelent for fresh or spooky horses as i don't see how you could fall off when using one, they really lock you in the saddle. :) well i might be able to fall off, but probably you wouldn't LOL.

happy shopping!
---
"Action cures Fear, take a small risk every day". Jane Savoie