4 Saddles for sale! Cheap! 3 western 1 english
---
I have 3 Abetta saddles for sale. They NEED to go! Buyer pays shipping. (shipping should be relatively cheap because abetta saddles are fairly light) I listed them a while ago but Im reducing the price. Pm me if you have any questions or want more pictures. Thanks for looking!
You can also visit
www.tackshack.webs.com
for more information.
*Make offers if you think the price is too high.
Abetta Endurance w/ Breast Collar!!!
-This is a lightly used Abetta endurance saddle. It is in GREAT shape and only has a tiny bit of rust on the rings. It comes with a breast collar. Itís extremely light and easy to clean. VERY Comfortable! Size 15. $300.00 obo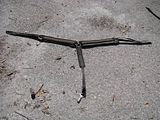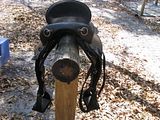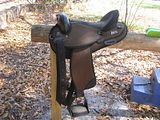 Abetta Saddle and Brildle
-This is an Abetta saddle with matching headstall (bit not included). The headstall has a broken buckle. I just tied a knot in it and it worked fine. It is worn and has some patches of missing material, but nothing a little electrical tape couldn't fix! Size 16. Great for trail riding. Its not the prettiest saddle but it gets the job done! (PM me for pictures of the missing material) Reduced! $85.00
Abetta Western Saddle
-This is a size 16 saddle. Extremely light weight. It does have a spot with missing material on the seat, and some rust, but with a little fix it is very useable. It would make a GREAT trail saddle! $90
A. Pariani Selleria Milano
This is a used, older saddle. It has been patched once. Would make GREAT schooling saddle and possibly open shows. Size 17. Needs new leathers and stirrups. $160.00