4 things that need to go.
---
I currently have 4 things for sale: Hunter Green Rope halter, green lead, pink Oster curry comb and body brush. I'm selling them because I've gotten newer stuff and I have no place for them.
I've only used the halter and lead once and the grooming supplies a few times.
Prices:
Rope Halter: $30(paid $40, yea my mom was riped off)
Lead rope: $15
Together: $30
Curry comb: $5
Body Brush: $10
Pictures:
Abby showing off the halter(the one time I used it)


Halter: took this a few minutes ago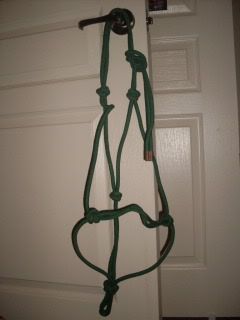 Grooming:


Lead rope:

If you have any question or you would like to buy, e-mail me at:
pink_flowers_56789@yahoo.com
You pay for shipping

---
-Horse racing is my passion-
Athena:15y Palomino QH & Shirley's Brittney:8y Bay OTTB