Back on Track Products!
---
Back on Track
products are specially designed to help relieve pain - drug free...
These state-of-the -art products incorporate a revolutionary fabric, interwoven with a polypropylene/polyester thread embedded with a fine ceramic powder.
Sounds fancy, huh? But what the heck does it do??
These products are designed to reflect a horse's own body-warmth to create a soothing thermal heat and these products help alleviate pain associated with inflamed muscles, ligaments, tendons and joints by promoting blood flow to the area!
These products also effectively help warm-up a horse prior to performing, and more importantly, can also help accelerate its recovery rate after strenuous activity.
Back on Track
products are great for being used for both treatment and prevention of stress related injuries.
There are numerous benefits of using
Back on Track
products compared to your regular horse items.
Back on Track
products is just simply an easy way to help keep your horse sound!!
Some equine products available are:
No Bow
Leg Wraps
Pillow Wraps
Combi Wraps
Polo Bandages
Exercise Bandages
Knee Boots
Hock Boots
Back Pad
Loin Blanket
Exercise Sheet
Saddle Pad
Summer Blanket
Winter Blanket
Indoor Blanket
Fllece Cooler
Light Mesh Sheet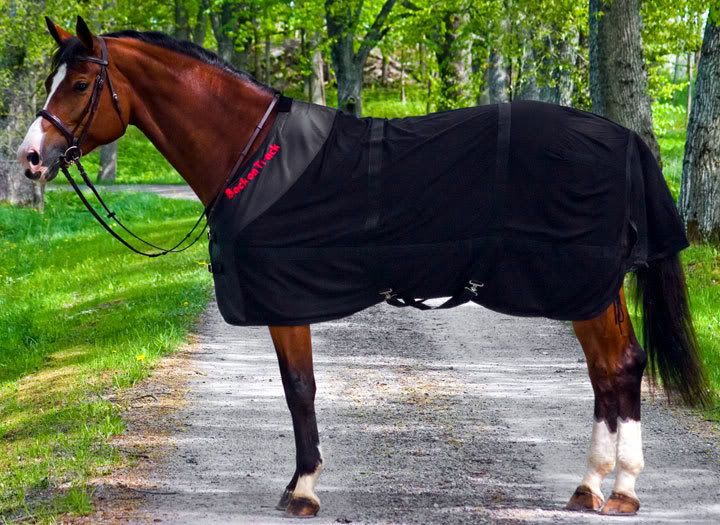 Light Mesh Sheet - Best Seller!

Black Saddle Pad

Exercise Sheet
Products are also available for human use for drug free pain relief!
If interested in investing in your horse's well being, please send an e-mail to
laceywilliams@comcast.net
or call at 609-420-9185.
Have the products delivered to you - for a bargain!
---
Gallop as if you'll die tomorrow, jump as if you'll live forever.