Barefoot Cheyenne with Accessories for Sale
---
Hello everyone! I am new to this forum and thought I would go ahead and list my Barefoot treeless saddle for sale. It is a used, brown, size 2, Barefoot Cheyenne with VPS. It has a newer style of Nubuck that is smooth. This saddle shows typical wear. Always stored covered and inside the house.
Also included are several used accessories: regular pommel insert, soft pommel insert, Barefoot western fenders, Barefoot leather western stirrups, Barefoot English leathers (leather cracked in places but nylon good), Skito Dryback pad with 3/4" firm inserts, and a pair of Skito shoulder shim inserts.
I am asking $750 for the entire package plus shipping. If you do the math, that is
a savings of over $428
!!! Will consider reasonable offers.
Since I am new to this forum and don't know many of you yet, I can supply references from the Yahoo Treeless Saddle Group that I am a member of. Thanks for your interest and feel free to ask questions!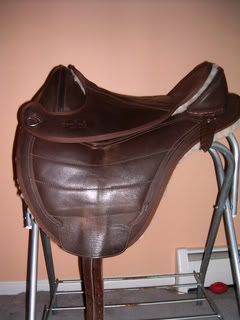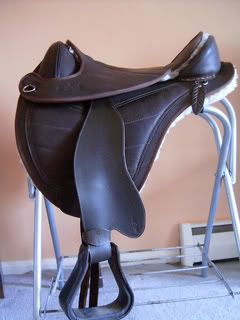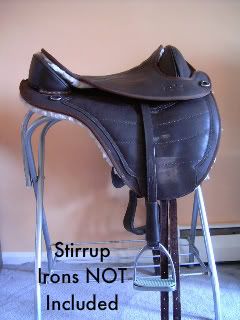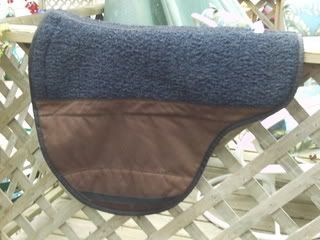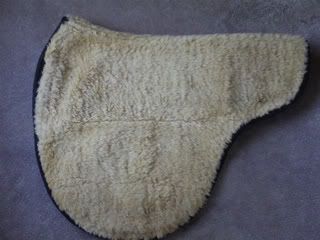 Cost for Package New
Barefoot Cheyenne: $649
Barefoot Soft Pommel: $39
Barefoot Western Fenders: $110
Barefoot Western Stirrups $40
Barefoot English Leathers $60
Skito Dryback Pad with 3/4" Firm Inserts: $220
Skito Shoulder Shims: $60
Total: $1178 + tax and shipping
---
Last edited by barefootjouster; 06-23-2011 at

07:46 PM

.
What does size 2 mean? what does it correscpond to ?
Hello tinyliny. According to Barefoot's website: Size 2 - women's size 8 / men's 32" and up - Actual seat size about 15.5"

I ride in a 17.5" English saddle, and wear a women's size 13, and this saddle has plenty of wiggle room for me.
Forgot to mention, that if anyone is on a budget I can also put together a package for $575 that would include just the saddle, western fenders with leather covered stirrups, soft pommel, and regular pommel. Thanks for looking!
It would be too small for me.
I am sorry Barefoot doesn't make any size larger than this one. Good luck in your search!