Beautiful quality tack/equipment/apparel for sale! - Also a Bates and Wintec!
---
Bates Caprilli 16" Less than a year old. Havana Brown Regular Flap 900$
Older model Wintec A/P. Medium tree 16.5" seat 75$
Ariat Hunter Dress Boot. Used less then 10 times. Size 7 Tall Height Regular Calf 70$
52" Stubben Chafeless Girth. Used lightly, in excellent condition. Elastic on one side and a d ring for martingale/breastplate 30$
Navy nylon halter with silver hearts conchos around the nose and up the cheek pieces. Horse size. Black leather crownpiece w/ silver fittings. Used once when I moved my horse to a new barn. 10$
Navy blue polos. Never taken out of the bag. Comes with carrying case and bag. 12$
Medium Gullet for Wintec/Bates saddle. never used. 5$
B Size Mini/Small pony halter. Never used, still in bag. Leather 10$
Car basket thingy. Has loops so you can attach it to the headrests on car. Adjustable Great for holding stuff. Never used. Red with horse embroidery on the front. 7$
Curb chain. Came with my minis bridle but it was way too big on him. Could be used on a pony, arab, or cob, it's that big. You can see how big it is compared to the girth strap on the saddle pad. 5$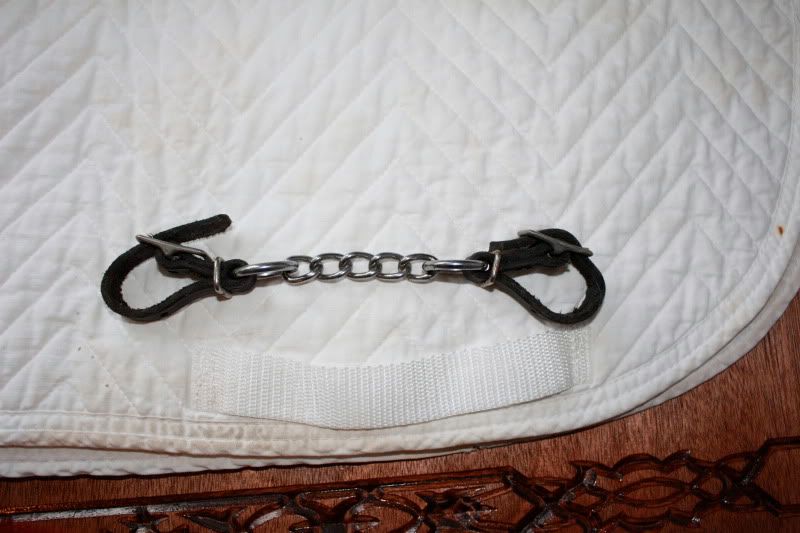 Longer crop. Missing strap. Used. Free with other purchase.
Also, I have a lot of horse magazines I will sell in a package. Probably 50 magazines, from Horse Illustrated to Equine Journal, John Lyons, Horses USA, etc. Read once and then put on a bookshelf. 25$ for all.
How much to ship that Wintec to Ohio?
if the wintecs not sold can you send me pics please
Weanling
Join Date: Jul 2009
Location: The great, white expanse of Maine...ugh!
Posts: 400
• Horses:
3
What size tree is the Bates?
---
And now, the men of the Second Armored Division with their famous close-order swanning about.
right now it has the XW in it, but it is adjustable and I can send it with the extra wide and medium gullets ( they are the only ones i have)