circle Y show saddle for sale $2,000 obo
---
Beautiful circle Y show saddle, lots of silver & gold stars. In excellent condition except for a small scuff on the horn, which is not noticeable unless you stick your face right up close. Very comfortable, very pretty, amazing saddle.
16" or 16.5" seat depending on how you measure it.
FQHB ( 7 1/2")
Circle Y - 2007 model.
$2,000 + shipping obo ( make an offer dont be shy)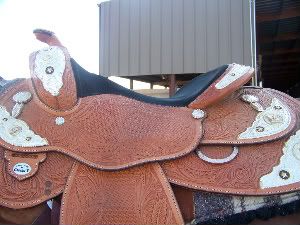 please e-mail me at
movinlowandslow@yahoo.com
( i don't get on the forums much so this would be easiest way to contact me.)
make me an offer [:
anything reasonable i might except.
---
I ride western pleasure because i can handle
perfection.