Circle Y Show saddle set - $1500
---
We have a 15.5" Circle Y, semi Quarter Horse Bars, Show saddle for sale. As a set it includes the matching breast collar, bridle and reins. It is a BEAUTIFUL set, very sad to say it doesnt fit my dad's mare! We paid upwards of 2200 for the set(VERY hard to find the bridle, reins and breast collar to match!) The saddle is an 1989, it is in GREAT condition!! Always stored inside, oiled and cleaned regularly!! Only used a hand full of times!
Asking 1500 obo, would be willing to consider trade for horse trailer! With Paypal payment would be willing to meet within 2 hours! Can ship...you would pay shipping!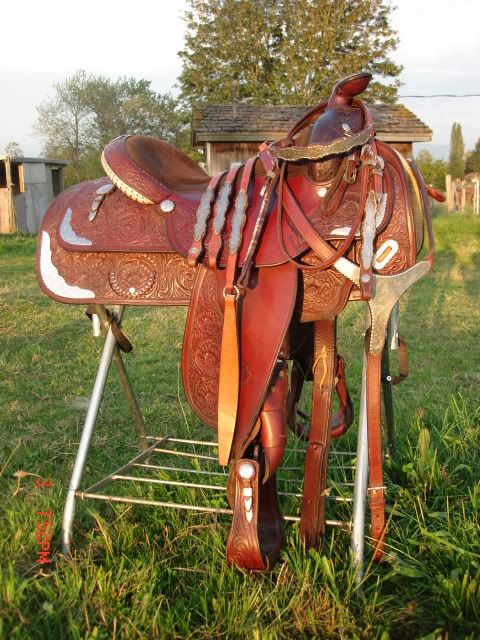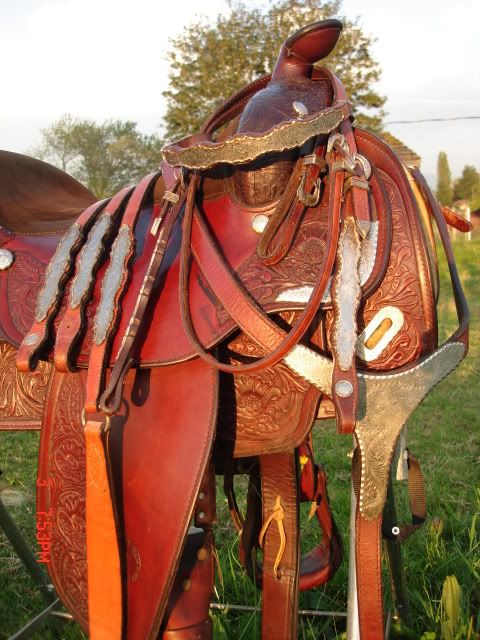 Just received this info from Circle Y about the info from the serial number:

According to the serial number 236515511208905, this is a show saddle (2365)
with a 15 1/2" seat (155). The saddle finish is walnut (1). The (12) is
the tree vendor's id number. This saddle was manufactured in August of 1990
(0890). The last (05) tells me that this saddle was the fifth saddle in a
job of 10 when made. This saddle has a semi-quarter horse bars tree with a
gullet measurement of about 6 3/4". It also has a 4" cantle; an 11" swell
and weighs about 34 lbs.
reduced to 1350 shipped!!!!
My dad is willing to reduce it once more....final reduction!!

He will take $1150 shipped, or $1000 flat out if you can pick it up!!!
That's a really good set for $1000.
If I were closer, and it were my size, I would totally snap that up.
Have you guys tried ebay?
Im holding off on ebay for a little while...because of the fees. But this will be going there this next month if its not sold!!!!

But thank you!:) And thank you for the bump!:)
Bump Bump for the beautiful set!!!
Bump for the beautiful saddle set!!!