Courbette Saddle & Breastplate/Martingale, rope halter
---
The halter & saddle are located at my mom's house in MN, & the breastplate is located at my house in FL. Buyer pays shipping. I'd possibly be interested in a trade for a quality 17.5" wide-tree jumping saddle (I'm partial to Stubben, 32 tree), but otherwise I really need the cash! I'm open to reasonable offers.

Rope Halter
brand new blue (with a slightly purplish undertone) rope halter with rawhide across the nose & cheek pieces. asking
$12
.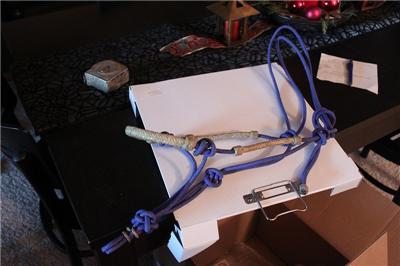 Courbette Square Raised Breastplate + Standing Martingale Attachment

Courbette Square Raised Breastplate (with attachment) [F 4654 Square Raised Breastplate] - $318.60 : Horse On Course, Your source for fine equestrian products.
Newmarket (tan) colour, horse sized. Quality leather (either German or Swiss-made) + stainless steel hardware. Brand new, tags still attached. Retails for $350, asking
$200
I could possibly sell the breastplate & attachment separately.
Courbette Husar Fels-Bach AG All-Purpose Saddle

This is an older Courbette Husar Fels Bach AG all purpose english saddle. It was made in Switzerland out of quality leather and has wool flocking (unlike the newer Courbette saddles). I bought it used about 5 years ago & used it for trail riding, but since it will not fit my current horse (who needs a size medium/wide), it has just been sitting around un-used for the past 3 years. It has been stored zipped up in a saddle bag inside of my closet. It was sold to me as a size 17, & measures 17" from the center of the cantle to the front of the button, 16.5" to the back of the button. It was originally sold to me as a "medium" tree size, however I believe Courbette saddles tend to run a bit narrow, so I'm listing it as a "medium/narrow", just to be on the safe side. No actual tree size is listed, but I measured the gullet at the front of the saddle, & it is 5" across. It measures 15.5" from the stirrup bar to the bottom of the flap, & across the top from the cantle to the pommel is 16". The saddle does have knee rolls. All billets are in working order. This saddle is an older model, & does show signs of use, however it is in very good condition for its age, & has MANY quality years left in it. There are a few scratches on the cantle (see pictures), but nowhere is the saddle torn or breaking. It's not been oiled since I last used it, but since it has been stored indoors, the leather is in good shape. Asking
$350
.
Bumping this up! Make an offer!
BUMPING. I still have all of these, and I REALLY would like to find them a new home! I really want to get my boy a new saddle, so I will entertain ANY offer!!