Courbette saddle for sale. Must sell ASAP!
---
I just bought this saddle last week and sadly it is too narrow for my chunky monkey horse.
This saddle barely looks used, leather is soft and supple with just barely noticeable rub marks from the leathers. Saddle would be great for a high withered TB or TB type horse. Put me in a real nice spot for jumping, and has a deep enough seat that I would feel very secure cross country.
Asking $350 + shipping.
It is also on ebay:
Beautiful Courbette Classic 17.5 in, medium tree - eBay (item 270682683836 end time Dec-27-10 14:41:26 PST)
Due to the fact that I just got conned out of my other saddle on ebay (and of course ebay sided with the buyer) I need to sell this saddle ASAP to pay the deduction to my paypal account.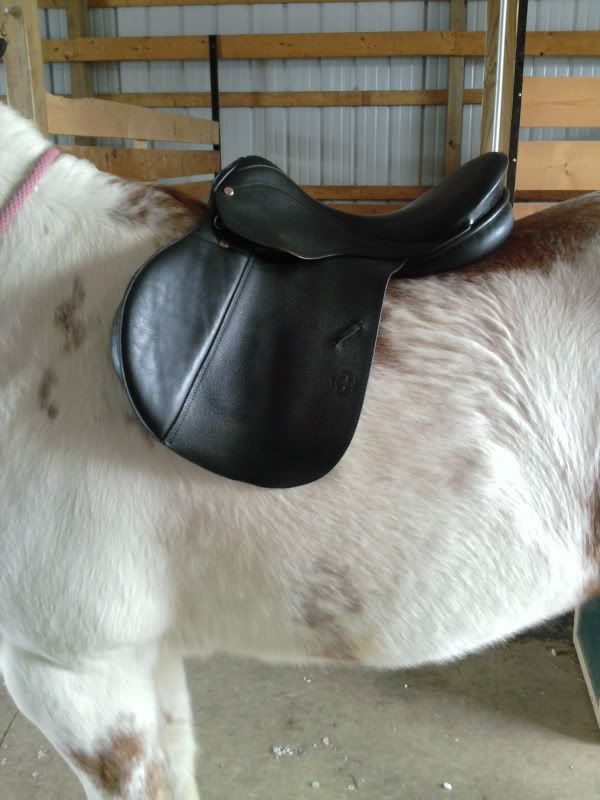 Can get more pictures if wanted.
---
RH Queen O Anywhere "Sydney"
2009 Sugarbush draft
QH, what happened? How did you get conned? Dang, this makes me sad and angry for you.
Basically the buyer only allowed a week for the saddle to arrive via parcel post in a very busy time of the year, then reported me to ebay and ebay gave her a refund. As far as I know the saddle is still in transit to her, but she won't return my emails or any other attempts to contact her. So now she has a saddle on the way to her that she hasn't paid for.
---
RH Queen O Anywhere "Sydney"
2009 Sugarbush draft
Banned
Join Date: Jul 2009
Location: In a land far far away, or so I wish.
Posts: 12,825
• Horses: 0
Did you not get tracking on it?
I hope you got delivery confirmation or you will be out a saddle and the money. Paypal will automatically rule in the buyers favor if they state they didn't receive the item and you did not get delivery confirmation.
---
The outside of a horse is good for the inside of man.........unknown

I did get tracking, but not delivery conformation. The tracking just says that it left my home town.
---
RH Queen O Anywhere "Sydney"
2009 Sugarbush draft
How did you send it? USPS, FedEx, or UPS?

All of them have on-line tracking, so you can see where it is in transit.

Once they receive it, you can use that to hammer ebay about having your transaction amount reinstated.
I used USPS. I tried to contact the post service but I have to wait 5 more days before they will do anything. I all ready asked about that SR, Ebay basically told me that the only way I will get my money back is if the buyer undoes the claim against me, so in other words I have to hope and pray that the buyer is honest about it.

So now I get to sit and twiddle my thumbs and hope that the buyer gets the saddle, she hasn't replied to a single email either on her regular email or by ebay email trying to get this worked out.
---
RH Queen O Anywhere "Sydney"
2009 Sugarbush draft
Yeah I tried that, the only information it gave me was that it has left my hometown.

Ebay is making me do ANOTHER appeal. I swear I have done five appeals since this whole mess started on saturday, including reporting the buyer for a mis-use of ebay buyer protection.
---
RH Queen O Anywhere "Sydney"
2009 Sugarbush draft