Custom hand braided nylon tack
---
I make tack out of nylon parachute cord, and have time to take some orders right now. If you are interested or have questions, you can send me a PM, email
acordingtoyou@gmail.com
or visit my website at
A-Cord-ing To You Custom Tack - Quality hand braided nylon tack made just the way you want it!
Advantages of paracord tack I make
- Very easy to care for (or not care for if you are so inclined
)
- Strong and durable
- Won't rot or fade
- Has great feel and maintains it over time
- Huge variety of color choices
- Affordable
- Completely custom so you get exactly what you need or just want!
If you are wondering "I wonder if she can make...." there's a good chance the answer is yes. I can make almost anything that is usually a "strap good" out of leather or web, and "rope items" as well.
Some examples of common items....
*Please note I'm giving price ranges as an idea...actual price depends on exactly what options you choose. Contact me for a quote*
Reins
Gaming/roping reins - $15-25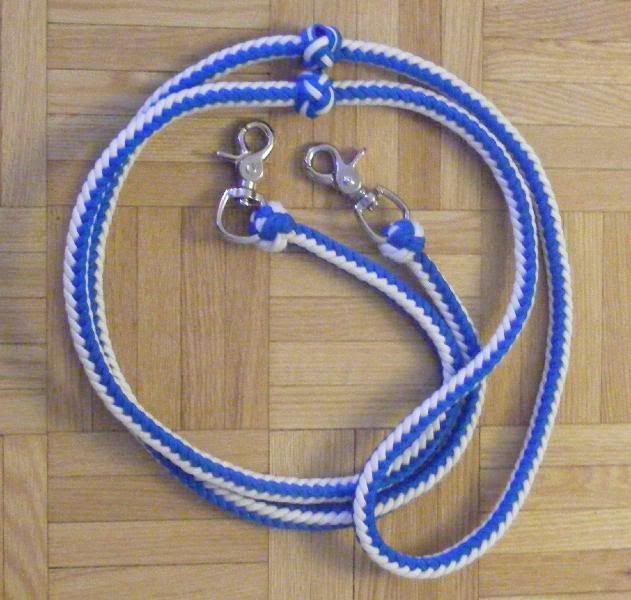 Longer trail/training "loop reins" - $20-35
Split reins - $30-40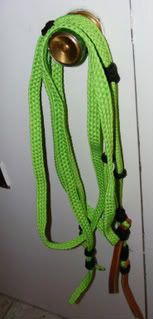 Headstalls
Single ear (no throatlatch) - $15 - 30
Browband - $20 - 35
English - $35 - 45
Accessories
Noseband and tie-down - $25 - 30
Breast Collar - $25 - 40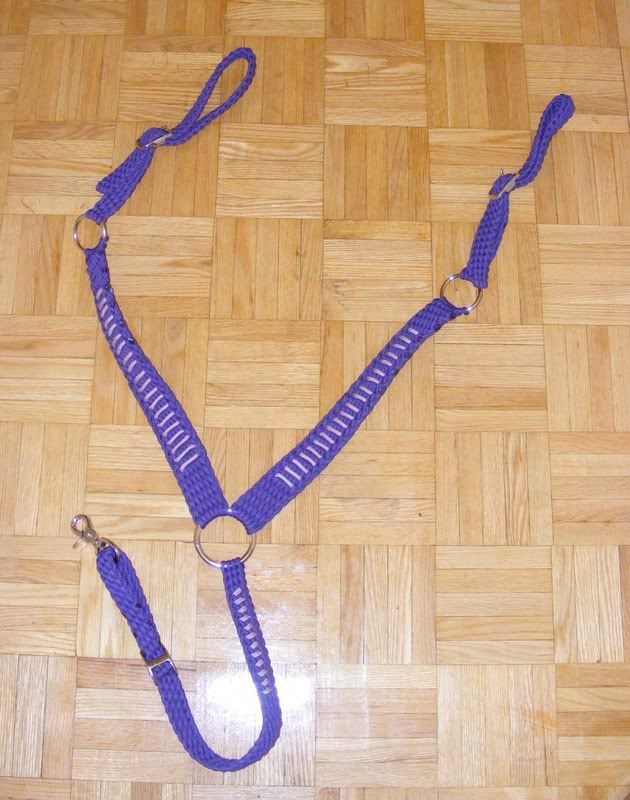 Halters and Leads
Flat halter - $25 - 40
"Cowboy Halter" (these may look crazy but are amazing and very easily adjustable) $25 - 30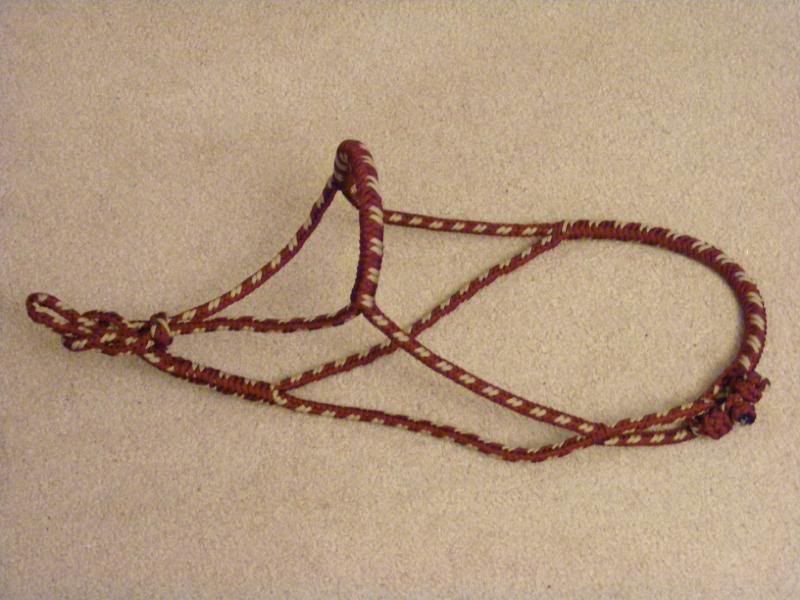 Lead ropes - $15 - 30
Trailer Ties or Cross ties - $10 - 35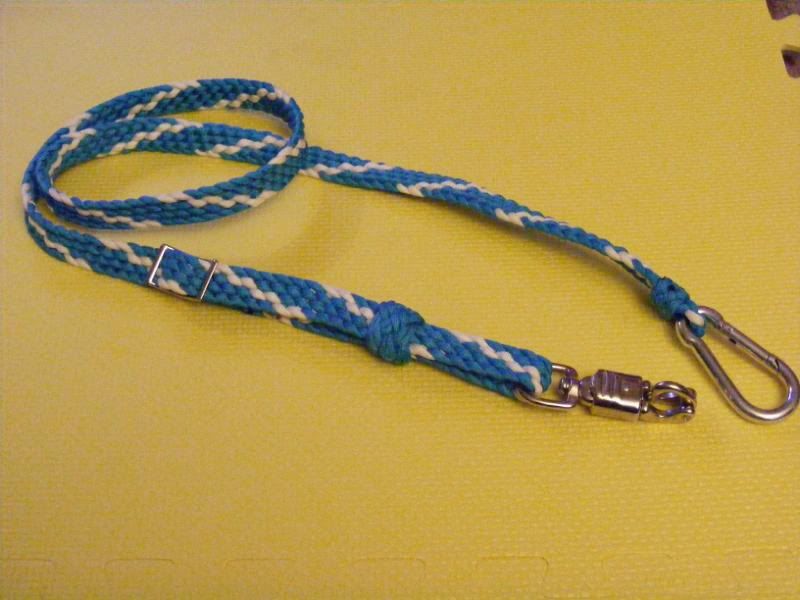 Dog Items
Collars - $5 - 20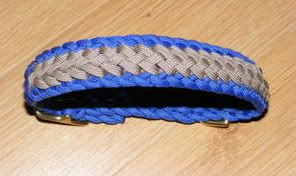 Leashes - $10 - 20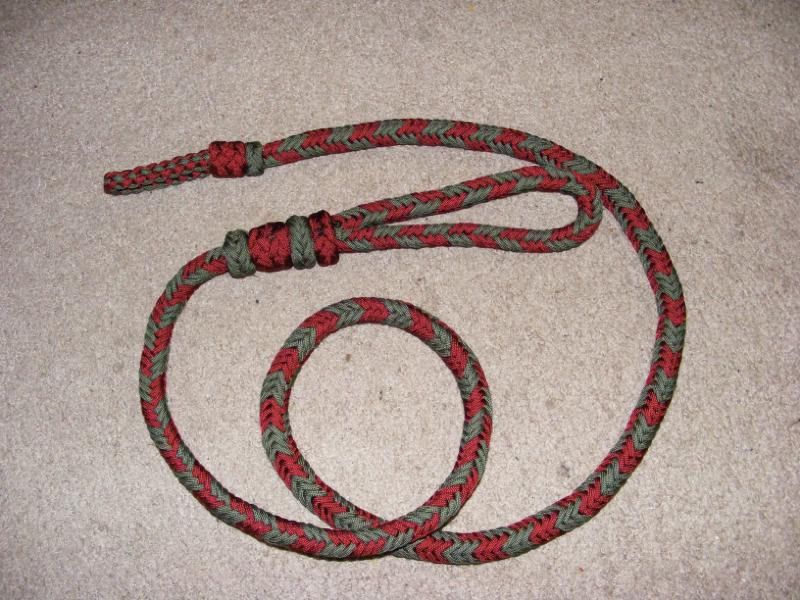 By no means is this a complete list...if you have something in mind, just ask
Payment
- PayPal preferred but money orders are ok too. 50% deposit is required before I start work on custom items, with the remaining 50% plus the shipping due when the item is complete.
Timing
- I do my best to fill orders in a timely manner, but do keep in mind they are hand made and this is a hobby, not my full time job. Small items can be completed faster than complex items or sets. Allow 2 weeks on average.
Shipping
- is via Canada Post from Ontario. For US customers usually around $7 for a small item, $10-15 for more items or ones with lots of metal pieces.
---
Last edited by Pally; 04-09-2009 at

10:37 PM

.
That is very interesting. You are very talented. If you could give me an estimate, how much would a throatlatch headstall 1 inch wide with a heavy duty buckle like what is pictured on the one ear bridle sized to fit a large draft and a pair of 3/4 inch split reins 9 feet long with leather poppers cost. Also, would it be possible to get them in either brown or black?
---
Always remember that feeling of looking at a big, open country over the ears of a good horse, seeing a new trail unwind ahead of you, and that ever-spectacular view from the top of the ridge!!! Follow my training blog:
http://robertsontraining.blogspot.com/
I wish I had the money right now. You are very talented, and I'd love to have a headstall/reins/breastcollar set for the beach! I hate taking my leather stuff. I'll bookmark this though, and when I get the money for some extra shopping, I'll definitely let you know!
You have
talent
!
I am genuinely impressed.
I love the 'Cowboy Halter'! That would be soo awesome in bright colours like the pink and green 'Flat Halter' or in the blue and green 'Browband' one!
If only I could afford them (and the Postage!).
Keep up with the good work and good luck!
Thanks for the kind words everyone. That just made my day a little brighter.