Custom Horsehair Bracelets/Necklances/Angels (Free Shipping)
---
Okay, these went over so well on my local forums, I've decided to expand and offer them to a wider audience.
~~~~~~~~~~~~~~~~~~~~~~~~~~~~~~~~~~~~~~~~~~~~~~~~~~ ~~~~~~~~
These are great way to memorialize an old friend, or keep a piece of a favorite pony close at hand. If you send me the horsehair, I'll make it into a four-strand braided bracelet (or necklace, if the hair provided is long enough). I started to make these when I was looking for something similar for myself, facing the prospect of losing my old friend, and discovered that they could be
very
expensive and could take a long time to get back!
Tail hair ONLY (mane hair tends to be a lot finer and difficult to work with, as well as being less trong). A bracelet takes a
minimum
length of a foot of hair and ends up between four and six inches long, depending on the wearer, with about another inch and a half of chain to adjust it. A necklace, about eighteen inches, ending up about 10-14 inches, with about two inches of chain play.
These items come with an adjustable closure - lobster-claw and chain, with a charm hanging off the end of the chain. The ends are NOT super fancy, plain barrels, but they do the job. If you have a preference on the charm and if I can find it, I can add something other than the heart design shown.
Bracelet Only: $30
Necklace Only: $50
Set of Both: $70
Angel: $5
I will wash and dry the hair, braid it into the desired item. A measurement of the neck/wrist is extremely helpful, but these are adjustable and thus somewhat forgiving. If no measurement is provided, I'll just use a basic 'standard' measurement.
I know that sometimes this hair is all that a person has left to remember a lost friend. For that reason, any extra hair will
not be reused and resold
, each donation sent is for one job only. Any hair left over (aside from small trimmings) will be returned with the final product.
Hair from up to four horses can be used. I will usually try to keep the colors separate (if the donor hair is from several different animals), but I cannot guarantee perfection in that regard. I will not charge for shipping: mailing
to
me is up to you, of course, but I won't charge to send the product back to you (as long as it's standard, first-class. If you want super-fast overnight, we'll talk).
I have been trying to get these done as quickly as possible - I usually try to have the products mailed back within a week of getting the hair.
Sorry about the blur on some of the pics, apparently my camera hates me... but you get the idea. I will be uploading more photos once I get them off of my camera.
~
Hair donated by a palomino.
A set (with hair donated from two horses)
Gawd, sorry about the blur!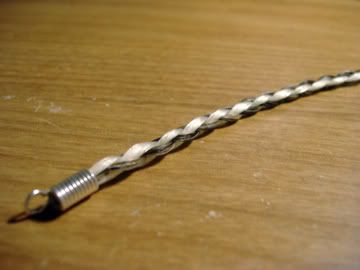 A close-up of one end (with the two-tone).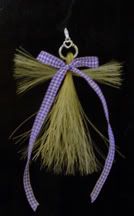 Angel (
about
3 inches long, 2 inches wide)
If you want an angel, please make sure you mention a
color preference for the ribbon.
Oh I would LOVE a bracelet. I have a very small wrist so I'll have to measure. Do you think you could either find a horse charm or a music note charm?
Absolutely.
These are what I can get (through ordering, I'll run by my local place and see what they might have tonight). I've never ordered out for the charms before, so I can't guarantee how fast they'd get here for me to use. The nice thing about these people is that they allow me to order one charm at a time, so I'm not stuck with a huge surplus of charms.
Running horse
Big Lick
Prance
Head
Good Luck!
Good Luck 2
MUSIC
I need to get another $20 on my Paypal account so I can get one. I like the good luck 2, could you see if they have a Treble Clef? (another kind of music note) Or some stars? (my horse's name is Starlight)
Yes they DO have a treble clef.
STARS
Sheriff's Star style
Scrolled star
Swirly star
~
So I'm clear on what to order, it would be all three? The Luck 2, treble, and one of the stars?
Can you put 2 charms on it? How much would that be?
Okay, don't order them until I can get you the money though, I don't want to accidently waste your time. I have to make a couple payments this week so I'm not sure how much I'll have. It may have to wait another week. If you don't mind.

But I'd prefer just the treble clef and the good luck 2.