Devon Aire L'Cord field boots size 8.5 slim (US)
---
Devon Aire L'Cord Ladies Field boots?
They are used, but hardly show any wear besides being broken in.
A few slight rubs on the inside calf (where it rubs the saddle) and a few scuffs on the toes.
They are already broken in, and have already dropped, so you can save yourself that pain ;)
They are a size 8 1/2Slim, Ladies (US size)
They really are great boots. I only used them for one show season, and I have now outgrown them.
After every show I wore them at, I cleaned them promptly afterwards. They have been cleaned with leather cleaner after every use, and they shine & just look great.
I'll get pictures soon.
They come in original box, with boot-savers (things you put inside to maintain shape)
I paid $175 for them new (at Dover Saddlery) but the list price is $205 (so the box says)
I'm looking for at least $100-$150 (I know, I'm dreaming :P), so I can replace them. All offers will be toyed with.
I WILL POST PICTURES LATER.
But I can post a stock picture: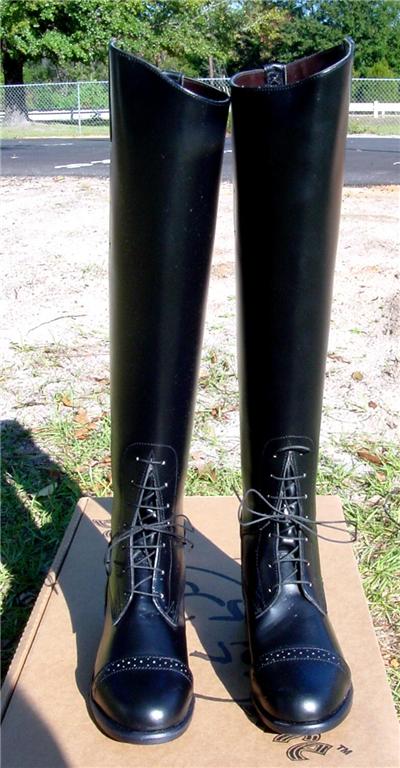 Please note that the boots in the above picture are NEW. The ones I am selling are USED, and I will provide pictures soon.
HI,
They are verry nice, have you the sice in cm?
I think i would buy them becaurse in Swizerland they are more expensive...But the transport can be a problem?! In the end they are so expensive as the Swizerland one
....
i dunno but they look very nice maybe look on ebay for a price range you should get a fair bit for em on there
Fortuna - I can take a measure for you in CM :) What measurements would you like?
Shipping would probably be $30-$40 USD because they will be shipped in original box, which is quite large.
I will go take some measurements and some pictures and will post them later.

carla- Thanks :) I looked...no one has the exact same ones as me, although they do have similar ones with a few modifications, that are going for $130/$140. I think maybe $120-$125 would be what I'd look for.

Thanks everyone :)
Alright, so my price is $125
Shipping $10 within the US, $20-$30 overseas (depending on where you live)
all my prices are in USD - I can convert to other currencies if needed.
measurements
toe - heel: 12" or 28.5 cm
bottom of heel - top of boot(at back): 21" or 52.5 cm
calf is 13.5" or 34.5 cm around widest part
pictures
please view my photobucket album:
http://s150.photobucket.com/albums/s107/hburke_horses/
other info
these boots are in used condition. they have already dropped around the ankle and at the top. they have signs of wear on toes (some pictures will show - it's only from being broken in). they were used for 1 show season (30 or so shows) and were cleaned promptly after and before each show. they come in their original box. there is one scratch on the boots, on the left boot near the top.
picture
shows this.
these are a size 8 1/2 slim, US size. Which is a UK size 6, to my knowledge. please refer to measurements.
any questions, please ask :)
HI,
thank you for the answer.But the shoes are to big for my feets :( sorry...
oh i'm sorry :( how much too big are they? because that is measured on the outside from toe to heel, so it's probably off a little bit.
i have 2 interested parties - will keep you guys updated :)
it wont let me view the pictures :( says i need a password