Get a Free Stall Sign
---
Once month I will Draw a winner for a free stall sign.
(all you pay for is shipping)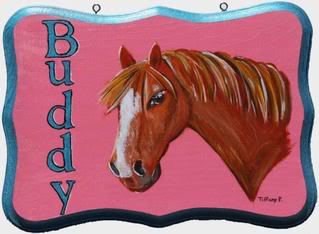 How to participate
-Name:
-E-mail Address:
Chose a Plaque Style
Chose a Color(s) or Design for the plaque
Color for the name
Name Font
If you chose a standard picture I will need to know what color and markings to do for the horse.
Detail the show name and or barn name of your horse.
Inform Tiffany of your color preferences.
Detail all peculiarities about the horse and your ideas for the sign.
To mount your plate, I attach hooks on the top and
include a chain.