horse driving harness for sale
---
Brand new leather driving harness. Should fit a large horse to light draft. I bought it 2 months ago only to find out it doesn't fit my horse. It is black with brass trim. Has everything you need except the bit. I have close up pictures of everything, so don't be shy about asking for more info. $200 b/o The measurements are as follows:
• Measurements are given fully opened
• Bridle bit to bit 50" width 3/4" Throat 45" width 1/2"
• Noseband 31" width 1" Browband 17" width 1"
• Overcheck 56" width 1/2" Blinders 5x5" metal stays
• Crupper 43"
• Breeching 46" width 1" straps 3/4"
• Hip strap 50" width 1 1/4"
• Trace's 86" width 1"
• Breast collar body 48" width 2" Shoulder strap 38" width 1"
• Reins total ">360" 180 each width 3/4"
• Gig Saddle outside 109" width 1" inside 85" width 1"
• Black leather brass trimmed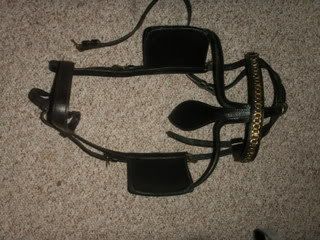 ---
Last edited by Mike_Admin; 03-02-2011 at

05:32 AM

.
how large of a horse? i am looking for some harness to start my arab in and also where could i purcase harness??
Oh man this is EXACTLY what I need (My horse is a Percheron QH cross... 17.5HH but without the big draft bulk). I wish I could afford this SO BAD. :p
Barrelracer, I have one made of American leather. It was used on a smaller standardbred. Bot it for my walker and no way jose - he's too round. There's an extra headstall, both are blind bridles. Breastplate style. I'd like $200 and that would include shipping to the US. The reins are A1. If you are interested pm me with your email and I can send pics.