Large list of tack & show clothes for sale
---
Hi everyone! Haven't been doing much posting lately but glad to be back :) I have a ton of tack and show clothes for sale. Western, Saddleseat & some Hunter stuff too. Buyer to pay shipping. May trade some for hunter show show clothes (street size 12/14). If you have any other offers just let me know. I have pictures available of everything :)

1. Reed Hill Saddleseat show boots, Black, Sz 10 $30
2. Reed Hill Saddleseat show derby, Black, Sz 7 1/8 $25
3. Hobby Horse, Blue/Gold show jacket Sz L $10
4. Hobby Horse, Green/Gold show jacket Sz L $10
5. Reed Hill full-seat Saddleseat show jods, Black, Sz 18/34"
6. Black saddleseat work jods Sz 40" $5
7. Men's work jods, Blue, Sz 38 $5
8. Men's Saddleseat show suit (Jacket, jods & reversible vest) - $25
9. Black western show chaps – Sz L, $30
10. Hobby Horse Sand/Tan Circle Y show chaps s/silver accents Sz XL $50
11. Hobby Horse Brown show top w/ bling, Sz XL $40
12. Red/Black saddleseat caveson set $10
13. 76" Red, cheaper sheet, good for staying clean at shows $5
14. 78" Camo pattern sheet, buckle front $20
15. Radon neck sweat, used but still good for home use $5
16. Medium, black no turn bell boots $5
17. Pink lycra saddle cover (fits hunter/dressage saddles) $5
18. 42" brown Ovation girth, like new $15
19. Purple stall guard, older but very useable $5
20. LaSalle leather surcingle & crupper w/Walsh pad (excellent!) $250
21. Circle Y one ear western bridle, medium oil, w/med port bit & split reins $20
22. Black square dressage pad $5
23. Reins – Rope draw reins $5
Purple barrel racing reins $5
Western engraved reins $5
Schooling reins (braided & plain), set of 5 - $15
24. Saddleseat training chains, double strand $20
25.Bits - Snaffles- (can be used for SS or hunter double bridles)
Screw mouthpiece (harsh) $10
Slow twist $5
Curved thick twisted wire $10
Western Twisted wire copper $5
Big O ring smooth snaffle $5

Curbs
Western curb bit, medium port $5
Saddleseat mullen mouth/baby curb $5
Saddleseat medium port curb $10
Saddleseat high port w/roller $10
Is the 75" sheet still for sell? If so is it good to use as a stable sheet? Straps still good and intack and is it open or closed front?
---
Awesome Miss Take- Storm- 15 yr APHA PHBA Mare
SS Catalena Doll- Claire- 2010 AQHA Filly
Circle Y one ear western bridle, medium oil, w/med port bit & split reins $20

Can I see a picture of this? Is it a show bridle or just a schooling bridle? Thanks!
Here's the Circle Y bridle. Like new, only used 3 times
Nice-looking bridle, but I was looking for more of a show bridle. Good luck selling it!
Pics of Show jods and work jods please =) And are the green and blue jackets saddleseat?<- if so What size would large tanslate into? and pics?
---
The Truth Harsher Than One Would Think
Camo sheet - stable or turnout?
---
~*~Never approach a bull from the front, a horse from the rear or a fool from any direction. - Cowboy saying~*~
KissTheRing, the blue and green jackets are western show jackets, sorry for the confusion!
Here are pics of the jods, I can take individual ones if you'd like.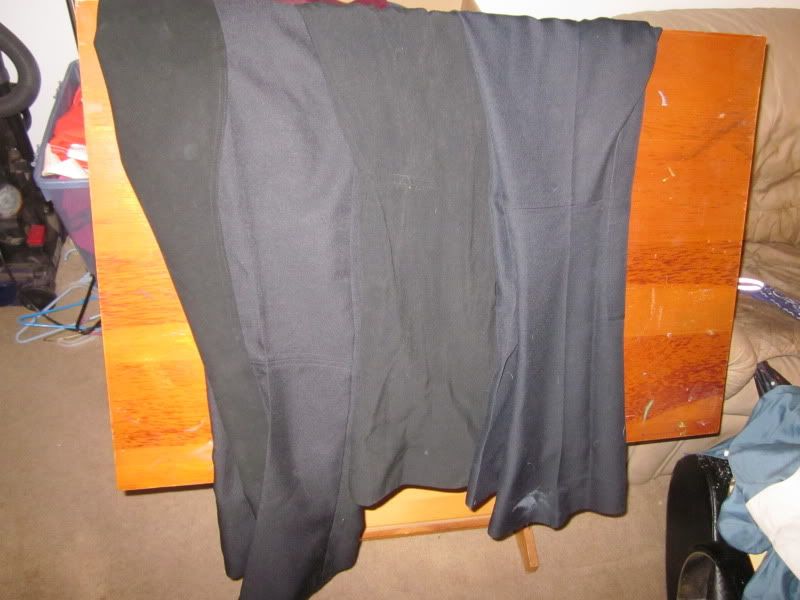 Idlepastures, the camo sheet is a turnout. Thinner, but has a tail flap and padding for the withers. Double buckle front. Here's the color scheme: