Leather (Foal to Yrlg),Nylon Hse Halters & Lead Ropes - New and Used
---
Leather (Foal to Yrlg) & Hse Nylon Halters and Lead Ropes - New and Used
JUST in.
If you need Pictures right away, please let me know!


Halters

1. Perri's Brown Leather Foal Halters, double crown straps, come with a little grab strap - retails for $27 - 2 new - $18 ea, 1 Used $8

http://www.perrisleather.com/product/97548/160/_/"Grow_with_Me"_Leather_Foal_Halter

2. Gatsby Yearling Brown 3/4" Leather Halter New with tag, snap throat, adjust chin, single crown buckle - $14

3. 2 - used Brown 3/4" Leather Halter - appears to be Yearling, buckle both sides on crown, stiffer leather.

6. Gatsby Brown Leather Weanling Halter, new with tags, snap throat, adjust chin, single crown buckle - $13

6. Used but still useable Weanling or Mini - smaller 5/8" wide brown leather, adjust chin, snap throat - $5

8. 2- Gatsby Weanling replacement 1/2" brown leather chin straps NWT- $3 ea

http://www.horseloverz.com/1/gatsby_..._112136478.php

8. Black Nylon Horse Sz Halters - 2 New - $5 ea

Lead Ropes - all with Brass Snaps

15 - Navy & Royal Cotton or Nylon 8' to 10'- NEW $5 ea
1 - shorter 67" cotton navy/Royal/lt blue/black lead rope - used - $2
2 - Hamilton 9'-10' USED w/brass snaps and poppers - brown or hunter green - $8 ea
Nope, just bought a pretty pink halter for Angel, really can't do leather as well
Is that Angel in your avatar picture there? Ahhhhh
Pictures WOULD be nice - here are some grooming products:
Lead Ropes:
Be Nice L $18 obo?
Yes that is my little Angel, Haflinger x Arab and even at a barely a month old, I am her devoted servant....*sigh* I own a lot of horses, this little girl owns me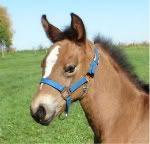 Mmmmmm add a handful of hoof picks to my basket please, I'll take all in the pic thanks
Okey dokey.
on the hoof picks.
And Angel is darling - what a face!
Yeah, I'm going to but luminous yellow tape and tie on very pick, maybe I will always be able to find one when I need it
All of the leather halters are sold (horse, foal to yearling).

Lots of lead ropes still available!