Lots of Stuff For SALE! MUST GO!
---
Well I finally quit being a pack rat and went through all my stuff. I have lots of stuff for sale. Let me know if your interested. I accept Paypal and Ship USPS (they are the cheapest). Make Offers
Here is some of the things I have:
Shipping boots $20.00
Correction bit $15.00
Tom Thumb $5.00
(2)Curb Bits $3.00
Pony Curb Bit 4 1/2" $2.00
Leather Check book cover NEW $10.00
Hoof Polish Clear NEW $5.00
28" Girth Neoprene $5.00
12 Foot Lead Rope NEW $20.00
Draw reins $8.00
(2) Lead Ropes $2.00 pair
Western Leather Reins $3.00
Nylon Cinch Strap LIKE NEW $3.00
Grazing Muzzle NEW Tough 1 $20.00
Splint Boots Perfomers 1st Choice $10.00
Rope Halter with lead $8.00
Rope Halter $4.00
Weaver Fork $8.00
Purple halter LIKE NEW $5.00
Blue Saddle Pad $10.00
Weaver Halter Light Blue $5.00
Purple Pad (Sale Pending) English Saddle : black, synthetic, narrow tree, 18" seat $35.00 (Does not include stirup leathers or irons)
Couple books: $10.00 each
Horses for Dummies
1001 Images of Horses
Kelly Marks Perfect Manners
Visit
Dun It Right Show Horses
or
Tack pictures by fitzycent4dot6 - Photobucket
for pictures and more info
Thanks For Looking!
---
I am interested in your synthetic english saddle. blue saddle pad, and western reins
Im interested in the purple halter.Is that horse size or Mini size?
Oh and can I see a pic of the weaver fork? AND is the grazing muzzle mini or horse?
hrsjmper32- i think i just sent you a message?? The english saddle is probably sold. If not I will let you know. Everything else should still be available
VMK- Everything is horses sized
I reorganized everything so here is a link for all the stuff.
htt://www.dunitrightshowhorses.com/sale-barn.php
---
I just noticed this but the 12 ft lead rope is $10 not $20! That would be alot for a lead rope lol! Actually make it $8 haha!
---
Ok I will take the western reins,tom thumb bit, 12 ft lead and the english saddle (if it is still available after thursday) So just PM me will prices and shipping charges. Thanks
If I could see a picture of the shipping boots that would be great!
I added some more to the website. A couple of sleezy's, pads, fly sheet, hanging organizer, Showmanship outfit, reining belt buckle and more.
Visit it DunitRightShowHorses.com in the Sale Barn for pics and prices!
Sir Drake these are the shipping boots. I believe they are Gatsby and are pretty good shape. One velcro strap is missing. Could easliy be repaired and they are still functional without it anyways.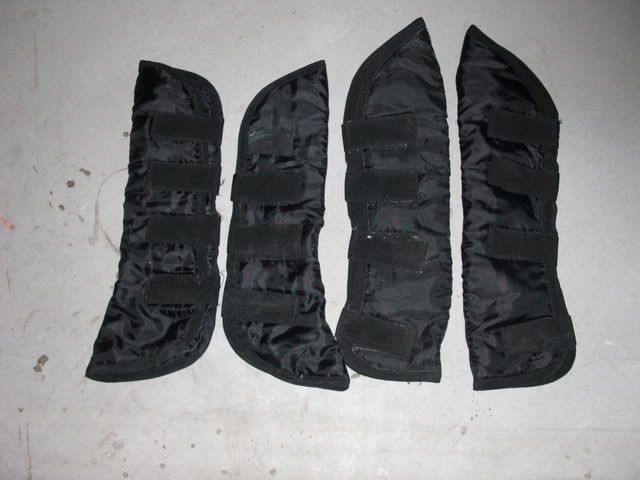 ---
Ok. I will get back to you about them once I sell a few things on here. I am in the process of selling right now, so I will have a few extra bucks soon. Is it ok if I PM you? Or would you prefer a direct email?

Thanks,
Laura & Drake
---
All I pay my psychiatrist is the cost of feed and hay, and he'll listen to me any day. ~Author Unknown