MANY horse items for sale!
---
So I need to get rid of this stuff. Christmas is coming and a few birthdays and I have too much stuff. I am also trying to get back into the model horse hobby and it can be pricey. I will entertain trades or offers. Please note: prices do not include shipping and I like to use flat rate boxes. Buyer is responsible for shipping charges also.
Cob bridle, raised and padded with a contrasting "rust" color. On left side cheek piece there was a break. Do not have the missing piece. $10
I am pretty sure this is a Circuit(Dover) bridle, matches the other one I have exactly. Cob size. Square raised with matching reins $20
Interesting set of reins. They are laced going both directions. Tear in the lace but hasnt impaired their use. Could probably be super glued down. $5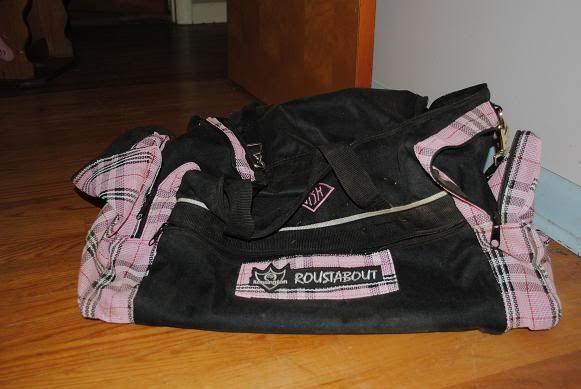 Kensington Roustabout bag in SmartPink. It has a monogram, could probably get it removed. BIG bag, lots of room and pockets. Lightweight. $30
Rhino pony saddle pad. Velcro billet straps and velcro girth keeper. Some wear around girth keeper. Same print as their pony blankets. $10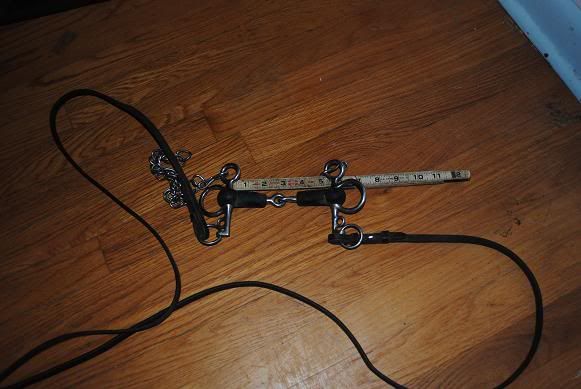 5" Jointed rubber tom thumb pelham. Great condition. Curb rein is a little bit smaller than the other curb reins I have. Horse size, just thinner. $25 for the set or $15 for bit and $10 for the rein.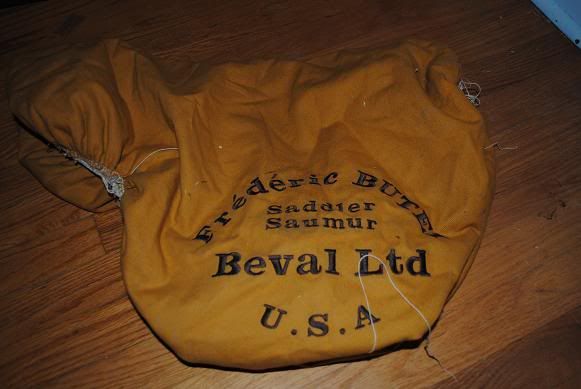 "Frederic Butet" saddle cover. Got it when I purchased my Butet but, was upset that I spent so much on a brand new saddle and got a crummy cover...the elastic is fraying, still works but the frays could probably be cut off. So I went back to Beval and they gave me a new one for free. These covers are wonderful, very thick and durable outer layer with fleece lining. Theyre 50 new from Beval. $25 from me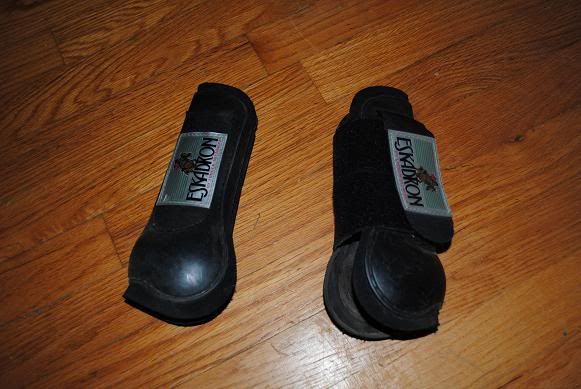 Pony sized eskadron open front boots. Very cute little boots. Exterior has some scuffs but that is what they are made for. Elastic is very tight. Wonderful condition. $55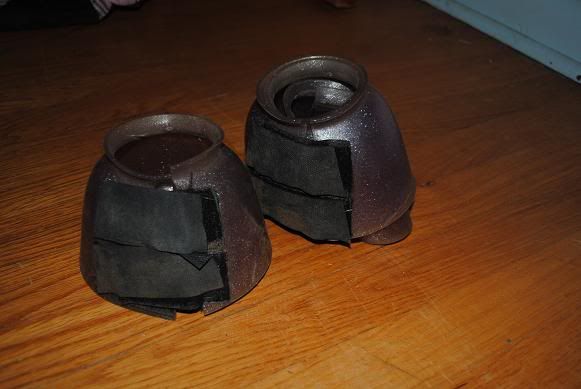 Two pairs(4) Centaur purple glitter bell boots. Size medium. $15 for all 4 or $8 per pair.
Ribbed rubber bell boots with velcro. Gum colored, size medium. Have had these for years and have ridden many horses in them. Still in wonderful condition. Could use a little soap and water, the footing in our indoor is stuck to them. $10
White Equigel pad. Used 1 or 2 times, have two of these pads for some reason and I have about 10 different hald pads/gel pads etc...dont need this. $50
Cotton lunge line, off white, with chain. Some knots in it from people borrowing it. I have two of these for some reason also. $7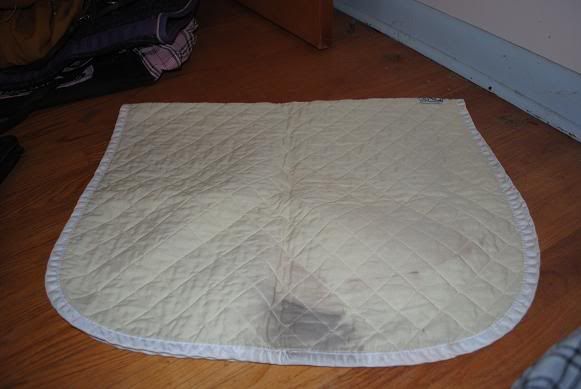 Wilkers baby pad. A pastel yellow with white trim. Used it once when wearing my tall boots during the summer and they "bled" on it. $7
Carlyle french link D ring. A more rounded D. 4.75" $10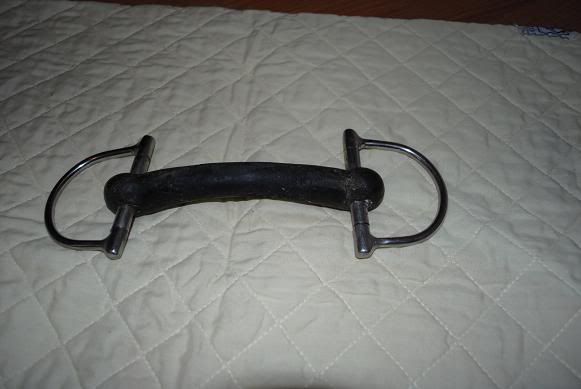 Rubber mullen mouth D ring, never seen one like this before. 5" $10
Feel free to PM me with any questions :) Offers and trades will be considered. My horse is very large (17.3) so if youre going to propose a trade, please keep that in mind. Also I mentioned I am getting back into the model horse hobby, If you have any mint condition newer models of Breyer, Peter Stone, customs, bodies, tack etc let me know.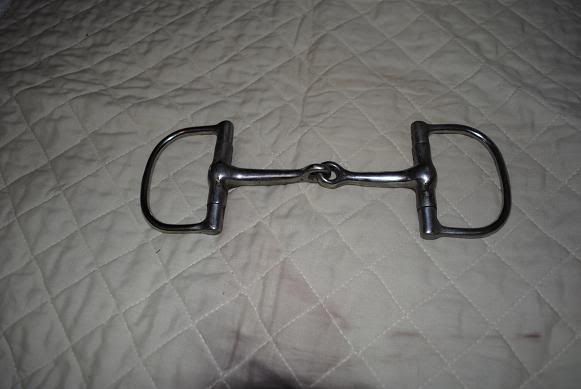 Jointed racing style D ring. 4.75" $10
Two brand new navy polo wraps. I only use two so these have remained in the package and have been sitting around over a year. $7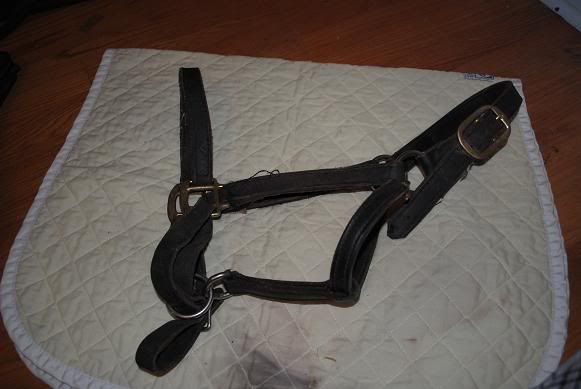 Perri's leather halter. Cob sized, very dark brown. Great for turnout which is what I used it for. Has been beat up a bit. $10
Cob sized bridle, raised with fancy browband. Browband has orange/rust crystals and orange/rust padding. $15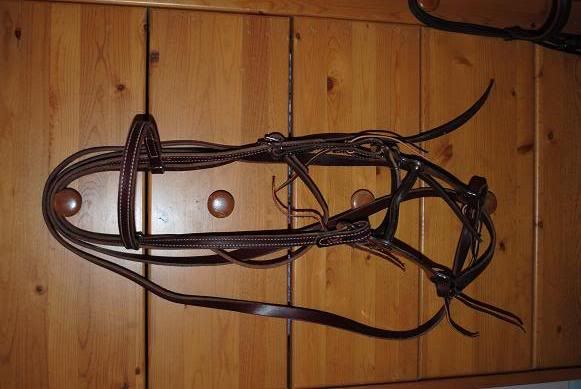 Weaver pony bridle. Includes headstall, bit, curb, and split reins. Headstall has never touched a horse. I used the bit, curb and reins once. Bought it for my pony but he is more of a cob size. $20
Back On Track saddle pad. I used it once but it is a little bit large for my liking. It is supposed to be theraputic, with ceramic fibers to keep the muscles of the back warm and relaxed during work. My horse seemed to enjoy it. $60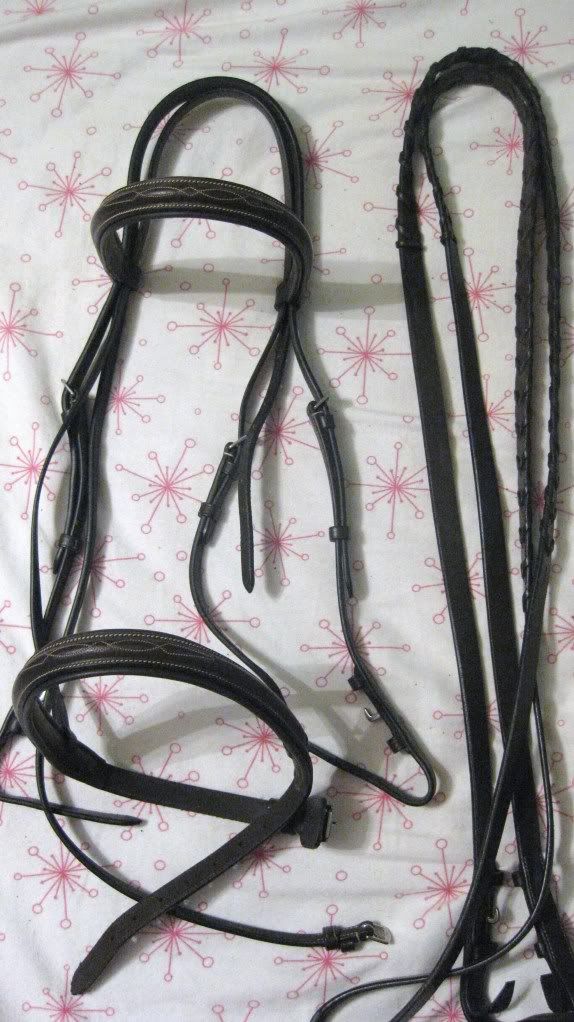 Raised, padded, fancy stitched. Beautiful bridle I purchased from Schneiders a little over a year ago. I used it for about 5 shows. It is oversize and comes with matching laced reins. To look at it, you would think it is new. $30
Im interested in the dover cob bridle and maybe the orange crystal one. Can you post a better pic of the browband, Please?
What would shipping be to 48439?
Sorry, it is a bit dirty...it was the last one I took a picture of and I forgot I had another bridle so I had already cleaned up my soap & water.
I havent dug out my boxes yet but I guestimated it would be 3 pounds(which is probably more) and it will be ~$7.05...if you really want them I will get the correct weight once packaged up :)
---
Last edited by ohsareee; 11-05-2010 at

12:27 PM

.
Definitely interested in the back on track pad! Pm me please!
---
Bandera
6 yo Hano x Canadian
Crescent Star Eventing Team
Do you have any of the used cob size bridles & could you send or post more clear pictures? My email is
rockhorseranch@comcast.net
Thanks!
Nancy
I was interested in your pony saddle pad!!! Is it western or english?
Is the sneiders bridle? about what size is "oversized"? Do you think it would fit an arabian? Also is the dover bridle available still?