Need to Sale or Trade ASAP
---
I am trying to get money to pay for my application fee for schooling, and also looking for some show items. Will get pictures asap, or PM me.

For Sale:
Marron and White Tiedown Noseband - $10

Red/Green/White Saddle blanket - $20

Black, Leather Driving Harness (needs to be repaired) - $150

Nice Wooden Saddle Rack, Make a very good show saddle rack, has two shelves, and bridle rack in back, and Cutting horse Pic on front-pic can be changed. - $100

Black, Nylon Bridle (needs Conway Buckles) - $5

3 Leather Back Cinches (assorted) - $5 each

15in western saddle - $75

Davis Poltice Boots - $15

2 Curb Bits - $5 each

Driving Bit, smaller - $5

Port Bit - $5

Green, Hay net $5 ??

Black, Cantle Bag - $5

Also have Old English Saddle, stirrup hanger on one side is broken. I have used it for getting yearlings and new colts use to saddleing - make an offer


Want:

*Turquoise SMB Boots

*Purple SMB boots

Orange SMB Boots

Red SMB boots

Royal Blue Saddle Blanket/pad

*Turquoise Saddle Blanket/pad

*Purple Saddle Blanket/pad

*Skid Boots

Leather Split Reins

Leather Bridles

Longe Lines

Leather Show Lead
Pics of the english saddle? Also seat size and tree size?
Saddle and saddle rack pics and measurements?
---
Ω Horses are a projection of peoples dreams Ω
I'm interested in the harness. What size is it? What needs to be repaired?
Pictures:
Davis Poltice Boots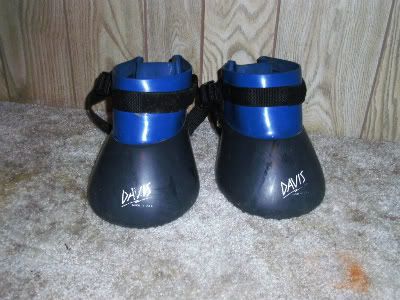 Bits
Harness -needs trace straps and tugs, hip strap needs to be sewn back to the crupper strap, and the crupper needs a new buckle.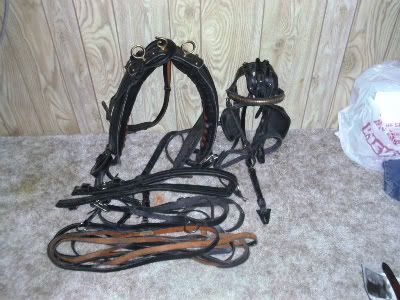 English Saddle - not sure the sizes
Western Saddle
Saddle Rack - I built this. If anybody is interested I would be willing to build another one for you.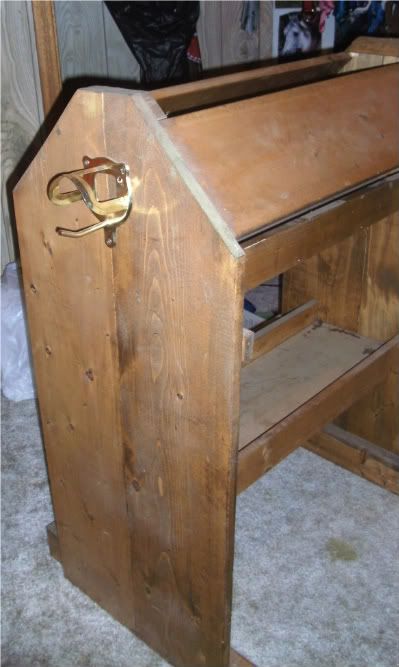 Also, I make Custom Clocks. If anyone would like a clock with a picture of their horse on it, just let me know. Clocks are made on oak/oak plywood with picture and then barcoat poured over top. PM if interested.
sure thing, give me about 10 minutes to get pictures
here are pics of the back Cinches....in the pic they look darker then they actually are, because I just got done scrubbing and oiling them. :)
Thanks for the pictures!
The one on the bottom (lighter color) - the buckle for cinch connector is intact/works?
If so, I'll buy it (shipping to 80108?) or can apply to partial trade of reins? Reins only cost $5 to send & I know the back cinch would be more probably. Let me know.