NEW Classic equine ESP felt top round/barrel pad
---
Brand new ESP pad. 31" X 32". Top layer is 3/8" thick wool blend, middle is 1/2" memory foam, and 5/8" orthopedic hospital grade felt bottom. I bought it for a saddle I purchased, but then saddle ended up being junk and not fitting my mare. I bought another saddle and need a bigger pad for it. I am asking only what I paid for it $136, so no offers please, I might trade for a Pro Choice or Weaver tough enough to wear pink pad, or contour pink/brown esp pad (slightly used, but clean is ok). Shipping would probably be around $14, its pretty bulky.
---
Last edited by horseluver250; 04-18-2010 at

08:11 AM

.
I've got an almost new pink/brown pad. Will find the pics I took and info. Got it for my new saddle and it doesn't fit it right......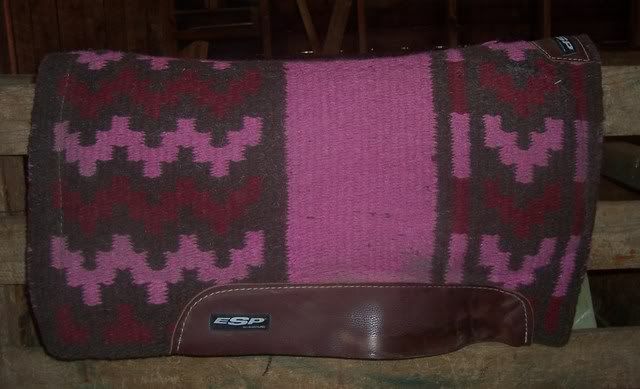 Here's a link to the description
Classic Equine ESP Contoured Striped Saddle Pad -Pink
Only used a few times, very clean. Only sign of wear is were the cinch rubbed it. I love it but just doesn't work with my saddle and i need something smaller. Would be happy to trade if you want it.
Sent you a PM Appyluvr, I'd definately be interested!